By
Looking for somewhere off the beaten path to take your lunch today? Due to some smart city developments, we here in San Francisco are fortunate to have over 50 privately owned public open spaces (POPOS) tucked away on roof tops, in alleys, behind buildings, or in foyers, and available to anyone.While some of them have huge planters with exotic trees, stylish benches, vertical gardens, or local art, some are missing the feel-good factor. So we visited them all and picked our favorite oases.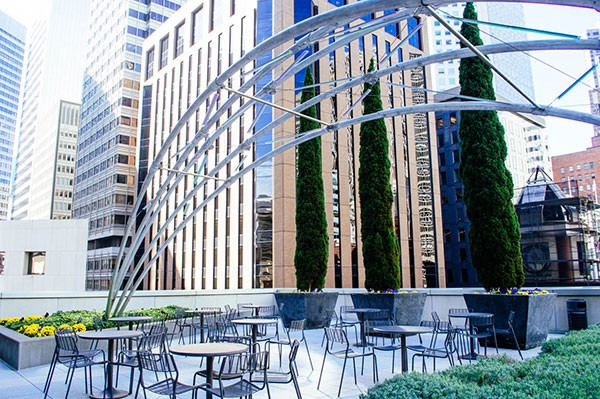 150 California Street
Located on the 6th floor between sky high buildings, this rooftop garden has a nice seating area, well maintained flower pots, art on display, and a metal arch spanning the terrace, giving it a futuristic feel. It's one of the most hidden and rarely visited. Just enter the lobby at 150 California and let the friendly receptionist know you'e going to the rooftop garden. // Open: Mon–Fri, 9am–6pm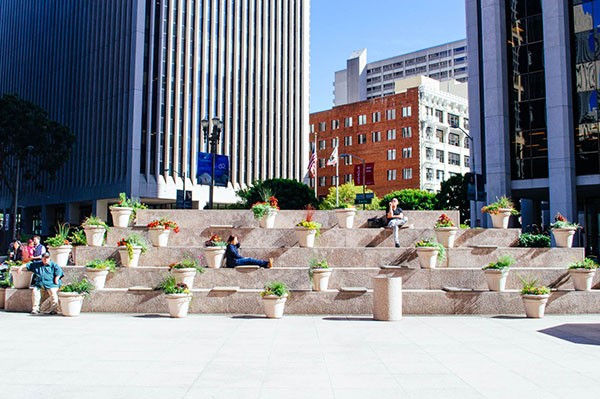 101 California Street
The three five-storied triangular podiums in front of the building make a huge impression with all the flowerpots and seating cushions in between. A water fountain ensures a pleasant soundtrack. And if you forgot to bring your lunch, pop into Michael Mina's Ramen Bar—one of SF's best new ramen spots. // Open: At all hours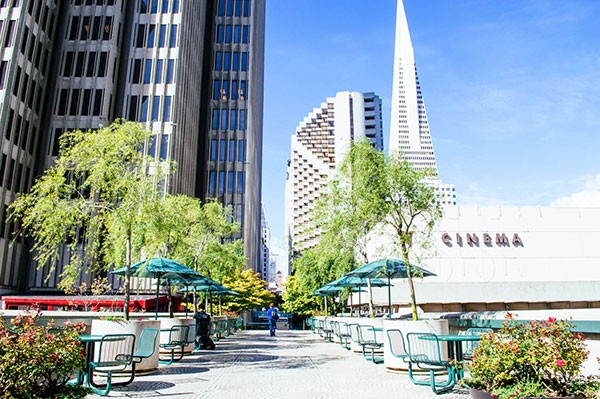 Embarcadero Center
Embarcadero Center is home to many shops, offices, and a cinema, but you'll also find garden walkways above street level. Enter through the east or west entrances, take the stairs up to the second level to find yourself in a floating oasis with tables and chairs between trees, water fountains, and roses. The walkways stretch over three blocks and offer great views of FiDi buildings. // Open: At all hours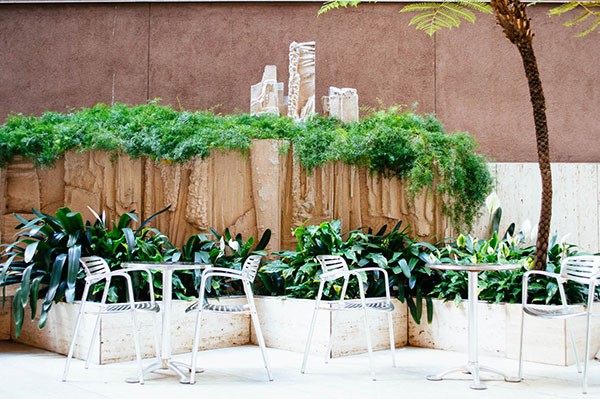 100 Pine Street
Hidden directly behind the lobby, the garden at 100 Pine Street is the most modern of the POPOS. Small with metal chairs, black granite floors, sculptures, and a pleasant fountain, this gem feels like a museum. It gets less sunlight, but the materials and the design make up for it. There is a small café bar on the site. // Open: All week, 9am–6:30pm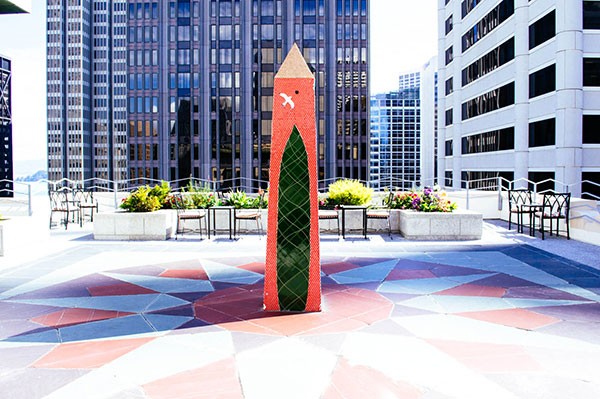 345 Sansome Street
Already the lobby of this building is impressive with its spacious entry and the moody 20's feel. But don't be intimidated, just take the elevator to 15th floor and step out into sun filled terrace high above the city. This huge space has tables & chairs, as well as benches under trees. You can soak up some sun, take in some amazing views of the city form the elevation, and even catch a glimpse of the Bay. // Open: Mon–Fri, 9am–6pm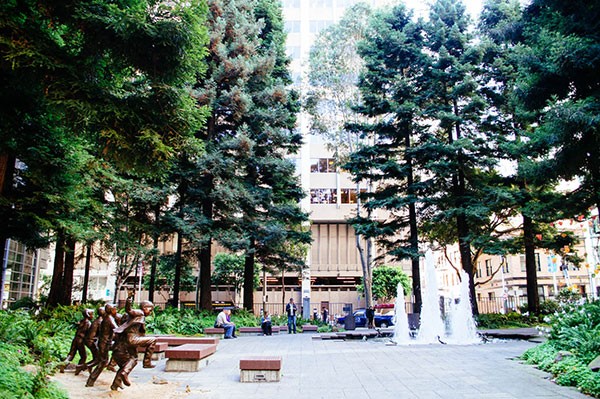 Transamerica Redwood Park
It's quite the experience eating and relaxing under the redwoods at the base of SF's famous Transamerica Pyramid. Where else can you get a mix of grand trees and an architectural icon in an urban environment? This spot feels very special. // Open: During regular business hours.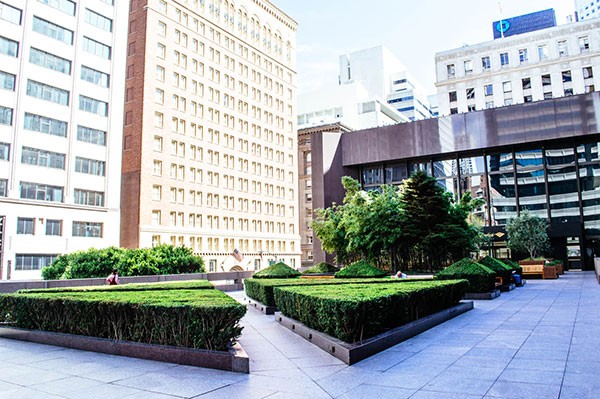 555 California Street
A huge black granite sculpture decorates this spacious plaza placed a few steps above street level. If you're looking for privacy, the northeast corner of bamboo and olive trees in stays mostly empty. // Open: At all hours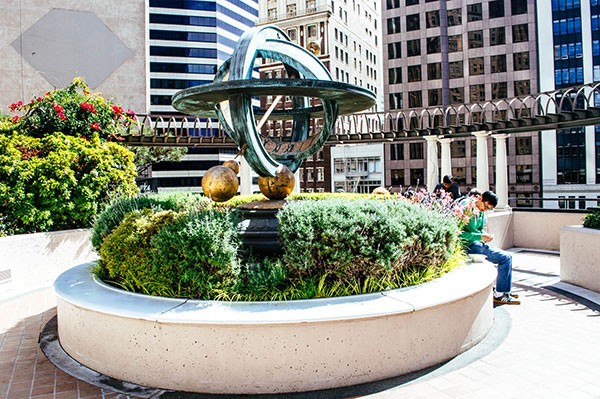 Crocker Galleria at 50 Post Street
This space isn't so secret and is rarely empty, but the rooftop terrace at Crocker Galleria is still a great spot to for lunch. Grab something from the many food spots lined up in the open air marketplace, take the stairs to the top level, and you will see the sign leading to one of the most popular POPOS in downtown SF. Open: 10am–5pm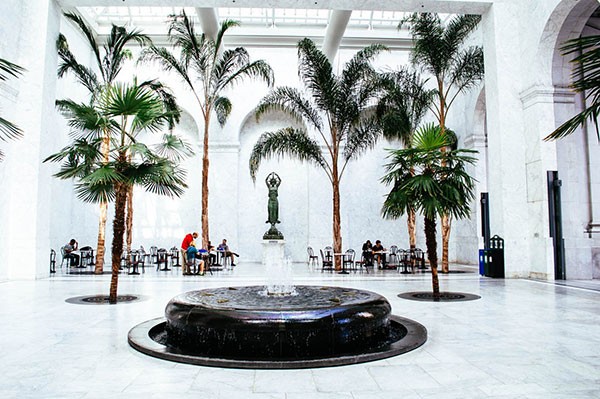 City Group Center Plaza at 1 Sansome Street
Found inside the former London-Paris Bank built in 1912, this space comes complete with glass roof, white marble floors and walls, black marble fountain, ceiling high palms, and a bronze statue that lends the plaza an elegant Old World vibe. Open: At all hours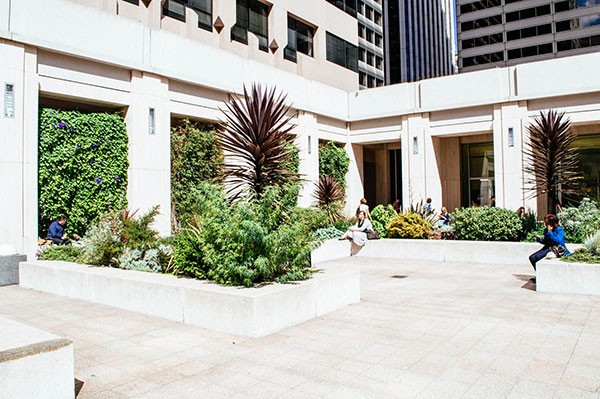 50 Fremont Street
With white stone seating and vertical gardens, this plaza is great if you enjoy modern style and don't care if it gets a little bit crowded during lunch time. There are several fast food places to grab a quick lunch, but on Mondays from 12pm–3pm a farmers market invites you to stock on some fruits and veggies for the week. Open: At all hours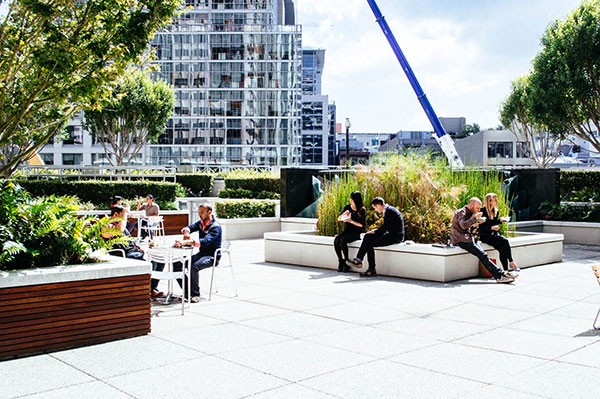 100 First Street
Find the entrance of this upper level terrace on the Mission Street and enjoy a very hipstery scene. Jazzed up with modern fountains, benches, sculptured grass and seating levels this is one of the prettiest POPOS in the city. During normal 9 to 5 business hours, it's more start-up than corporate.
Open: At all hours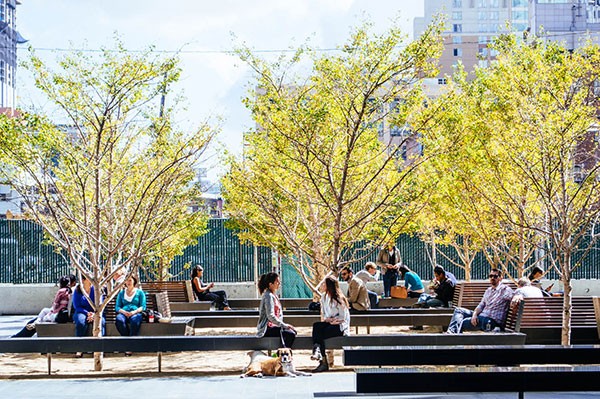 555 Mission Street
When entering this plaza on Mission Street next to the LEED Gold office tower, you're greeted by Jonathan Borofsky's huge and colorful Human Structures and three unique sculptures of heads by Ugo Rondinone, set in front of a green living wall. In the back, benches are inviting you to have a break under Gingko trees. Open: At all hours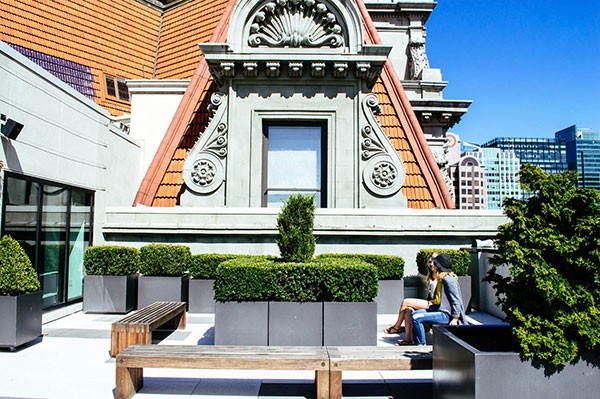 1 Kearny Street
The newest edition to SF's POPOS (and probably our favorite) is the high in the sky rooftop at 1 Kearny Street. Small, but cozy with wooden benches, trees, breathtaking views, and one ornate building facade, this place is not only perfect for a quiet lunch, but perhaps even a romantic daytime tryst.
Note: Enter on 23 Geary Street and take the elevator to 11th floor. The lobby attendant will tell you some rules about how to behave, but will eventually guide you to the rooftop. Open: Mon–Fri 9am–5pm
DON'T MISS A BAY AREA BEAT! SUBSCRIBE TO OUR NEWSLETTER.