By
Can the forlorn stretch of boarded-up theaters and neglected storefronts known as Mid-Market be transformed into a destination for the arts? The city is putting $11 million into it through the Central Market Cultural District Loan Fund. Below, the key players that are helping to transform the area. 
1. Ma'Velous Coffee and Wine Bar and Gallery serves the nearby opera and theater crowd, which comes for the chic eco design, an expansive painting from street artist Eddie Colla, and work from up-and-coming Oakland photographer Lea Bruno. 1408 Market St. (at Polk), maveloussf.com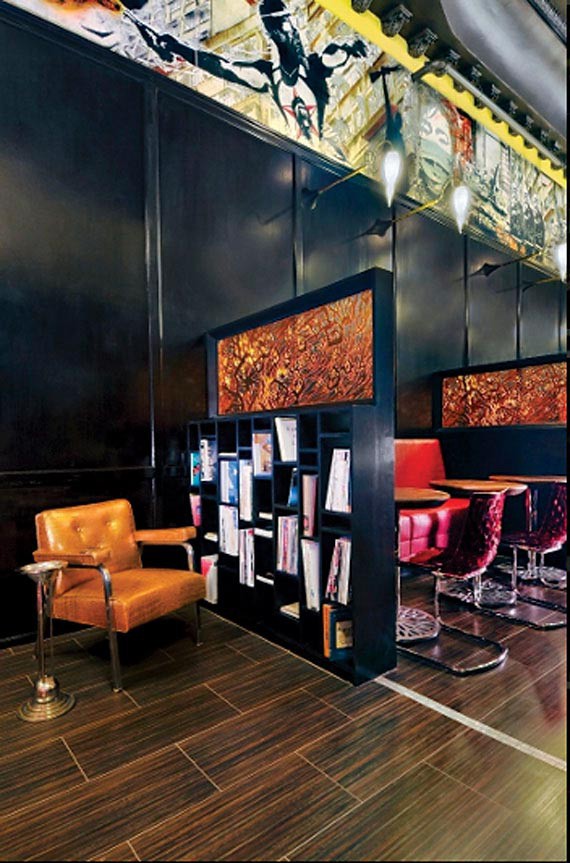 2. Thanks to a sweet payroll tax break, Twitter is set to move into the SF Mart building next summer and expand its workforce into the thousands. That's a whole lot of coffee breaks and lunch money coming into the neighborhood. 1355 Market St. (at 10th)
3. Through the end of July, check out Art on Market Street's annual poster series displayed in bus kiosks throughout the neighborhood. Included is work by SF artists Ian Huebert and Elisheva Biernoff, who depicts six defining moments in the city's history. Market Street, between Eighth Street and Embarcadero, sfartscommission.org/pubartcollection
4. The producers of Tony Award-winning Wicked chose The Orpheum as a testing ground before taking the musical to Broadway. Now playing: the hit Billy Elliott through Sept. 17. 1192 Market St. (at Hyde), shnsf.com/theatres/orpheum
5. The message behind Karen Cusolito's installation of two 20-foot flower sculptures at U.N. Plaza evokes the change the arts community hopes to see in the neighborhood. The piece is called Market Street Blooms and will be on display through November. 1123 Market St. (at Seventh), karecuso.com
6. In 1997, The Art Institute of California opened its fashion-centric SF branch. Since then, the school's expanded to include courses in fine and culinary arts. 1170 Market St. (at Seventh), artinstitutes.edu/san-francisco
7. Now in its second year, the outdoor Arts Market features SF artisans selling their crafts, plus live music, dance, and DIY workshops on Thursdays, throughout the summer. United Nations Plaza (at Seventh), artsmarketsf.org
8. Alonzo King LINES Dance Center is home to the modern ballet company, which celebrates its 30th anniversary next year. The center also holds more than 100 classes weekly for pros and dance lovers. 26 Seventh St. (at Market), linesballet.org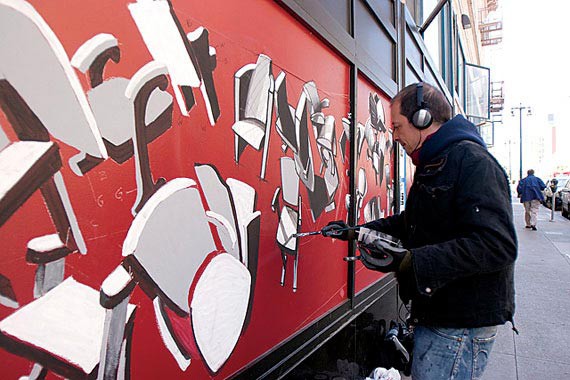 9. The mural 20,000 Missing Seats by Argentine painter Rafael Landea pays homage to the city's defunct theaters. It's part of the SF Arts Commission's "Art in Storefronts," an exhibit of six installations in neglected spaces and five murals covering boarded-up walls along Market. The series is one of four from the ARTery Project, funded by a $250,000 National Endowment for the Arts grant. 1020 Market St. (at Taylor), sfartscommission.org/artery
10. Through December, the Luggage Store Gallery is playing host to Central City Hospitality House's Community Art Program, a drop-in fine arts studio for the homeless that also includes a gallery. 1007 Market St. (at Sixth), luggagestoregallery.org
11. In April, Black Rock Arts Foundation moved from Bayview into the David Hewes Building. The Burning Man–related organization is collaborating with the SF Arts Commission on several projects, installing whimsical sculptures along Mid-Market. 995 Market St. (at Sixth), blackrockarts.org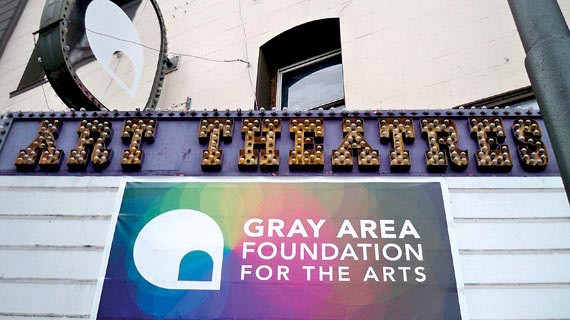 12. Founded in 2008, Gray Area Foundation for the Arts' artists-in-research studio and public classes are where technology meets art. And around the corner at 998 Market St. is the foundation's new exhibit space. 55 Taylor St. (at Turk), gaffta.org
13. Up-and-coming clothing and jewelry designers get exposure at Archetype Boutique, which opened last year in March. 984 Market St. (at Taylor), shoparchetype.com
14. In the '80s, U2 and The Clash performed at The Warfield. This summer, Gillian Welch, Owl City, and Iggy and The Stooges grace the stage. 982 Market St. (at Taylor), thewarfieldtheatre.com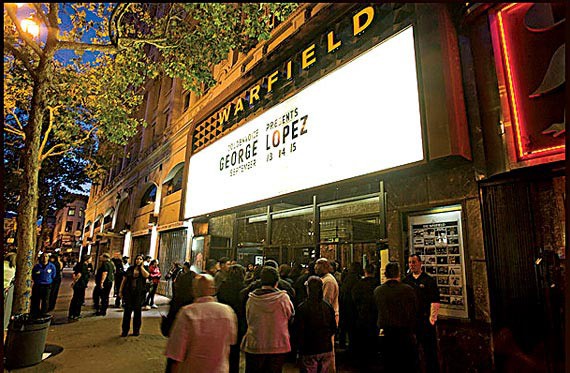 15. Artists and the DIY set stock up at Blick Art Materials, which opened in August and boasts a huge selection of stretched canvas. 979 Market St. (at Sixth), dickblick.com
16. The American Conservatory Theater has its eye on a rundown triangular lot it's looking to develop into a new $100 million campus outpost with a small theater, housing for actors, classrooms, and retail space. 970 Market St. (at Mason), act-sf.org
17. Soon, architecture firm Gensler, which redesigned SFO's Terminal 2, is set to begin building CityPlace shopping mall. It's one of the first projects to use the $11 million Central Market Cultural District Loan Fund. 935–965 Market St. (at Turk), discovercityplace.com
18. Sept. 23 kicks off the second annual 24 Days of Central Market Arts. The outdoor theater, dance, and art festival takes over Mint Plaza the first weekend and then expands with satellite performances (most of them free) from troupes all over the city for the following three weeks, through Oct. 16. 88 Fifth St. (at Mission), centralmarketarts.com 
Photos by Ma'Velous, Michael Kraus, Lydia Gonzalas
DON'T MISS A BAY AREA BEAT! SUBSCRIBE TO OUR NEWSLETTER.