Every summer during July and August, Portland tries to make up for the soggy punishment the Pacific Northwest doles out during the year's other 10 months. When those blessed few weeks of temperatures in the 80s and 90s show up, there's only one thing to do - dig out your picnic basket and head to one of these five amazing Portland picnic spots.  
Overlook Park (North Portland)
Perched in the hills overlooking the Willamette River and downtown, Overlook Park has everything you need for a perfect picnic – picnic tables with or without shelters, nice grass lawns and plenty of pathways with disabled access. You can also work off some of that wine, meat and cheese at the track, on the baseball and soccer fields or basketball and volleyball courts. And with an off-lease dog area, you don't need to leave the puppy at home.
Reed College (Southeast Portland)
Reed College has that gorgeously academic feel of an old, prestigious college (it was founded in 1908), with a mid-campus nature walk called The Canyon and, complete with a natural little beaver pond called Reed Lake, an old amphitheater and the aptly-named Great Lawn. Whether you choose those popular spots or some other corner of the Reed campus, you can't really go wrong here.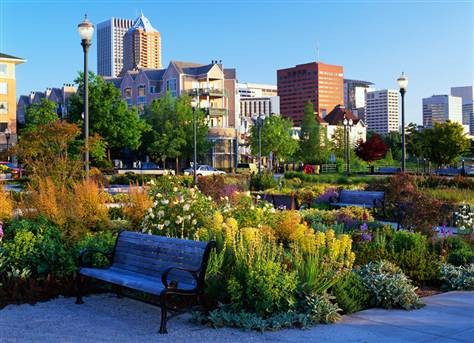 Photo courtesy of WhyMovetoPortland
Waterfront Park (Southwest Portland)
First of all, understand: If you don't like crowds, Waterfront Park isn't the place for you. But set up shop on the 30-acre green strip on the banks of the Willamette and you will be treated with one of the best people-watching opportunities in the city, along with a spider web of trails, historic statues and a fountain for hot days. When people recite that informal Rose City slogan, "Keep Portland Weird," they're talking about Waterfront Park.
Cathedral Park (St. Johns)
In 1806 William Clark (yes, of the Lewis and Clark expedition) landed at the spot where Cathedral Park now sits under the majestic St. Johns Bridge. Chances are you can pack a better lunch than Clark did. While you're at it, take an afternoon to stroll through this beloved and historic green space, let the dog off the leash and laze about under the 400-foot bridge spires that give the park its name. And in honor of those great early explorers, you may also want to bring a watercraft to put in at the canoe launch and boat ramp.
Pittock Mansion
Early Portland pioneers Henry and Georgiana Pittock knew how to live. Their mansion, nearly 100 years old, sits on 46 acres of land 1,000 feet above downtown Portland in the Northwest Hills. Today its rolling grounds and stunning views – on a clear day from various spots you can see downtown Portland, Mt. Hood, Mt. Adams, Mt. Ranier and Mt. St. Helens – are open as a public landmark, full of classic picnic spots and walking trails. If you feel up to it, you can splurge the $8.50 for the self-guided tour of the eclectic mansion, but parking is free and so are the views.
By Joe Hansen. Joe is a freelance writer based in Portland.