By
Just because it's wet outside doesn't mean you have to stay holed up inside your apartment on a Friday night. Oakland is chock full of rad indoor activities to keep you dry and entertained all weekend long. Choose one and off you go.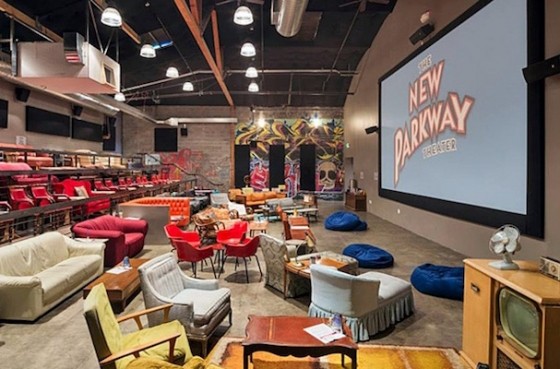 Dinner and a Movie 
The New Parkway Theatre off Broadway in Uptown Oakland plays blockbuster hits, small independent movies, and flashback flicks all from the comfort of the various couches and armchairs gathered in front of the giant screen. There's also a full service dinner and beer menu serving comfort food and 12 local brews, along with your typical movie snacks. They even make their popcorn fresh and unbuttered so that you can season as you please at the concession stand. We recommend Oscar-nominated Brooklyn for all that haven't seen it yet, but tonight's marquee is also showing The Hateful Eight and Anomalisa among others.  // 474 24th Street (Uptown); thenewparkway.com
Or, if it's thundering outside, set an eerie mood with a movie at the historic and dramatic Grand Lake Theatre. Head there on a Friday or Saturday evening for a special performance, when a mighty Wurlitzer organ rises for a brief concert before the show. For those who are late to the Deadpool fandom, Grand Lake is still playing the raunchy superhero movie. // 3200 Grand Avenue (Grand Lake); renaissancerialto.com
Need dinner recommendations? Peruse our annual list of 100 things to eat in Oakland to grab a bite before the movie.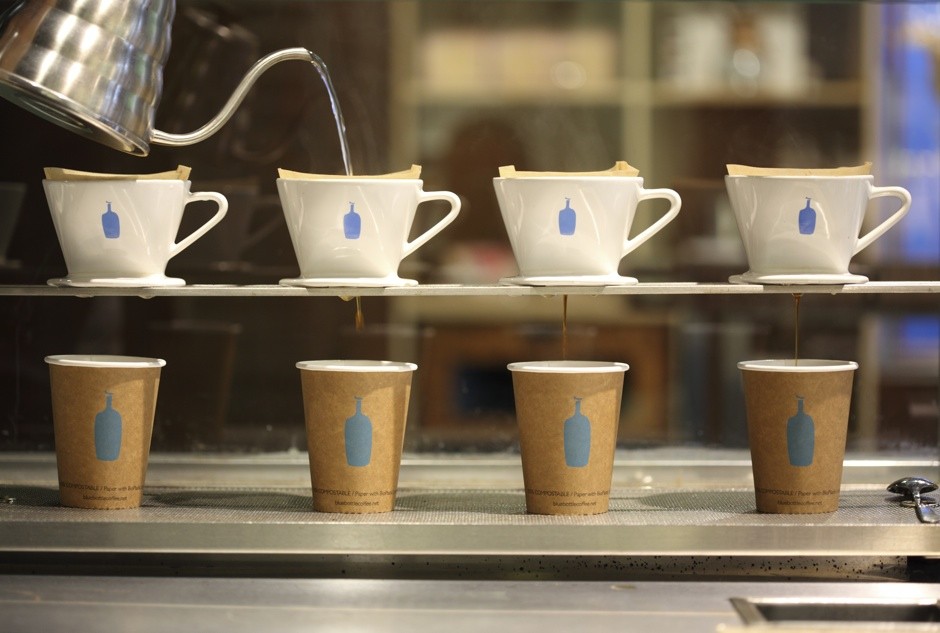 Get Educated + Caffeinated 
Ever wonder how Blue Bottle baristas makes that perfect latte? Do rainy days make you want to drink tons of coffee and learn something new? Perfect. Blue Bottle offers a free public discussion and tasting of their coffees at the Oakland Roastery every Sunday at 11:30am and 3pm, as well as a "How to Brew" series at 1pm—no reservation necessary. So grab a pastry and get sipping. // 300 Webster Street (near Jack London Square); bluebottlecoffee.com
Trouble and toast more your vibe? Finally get your butt over to the new Trouble Coffee in West Oakland and see the all-white space that everyone has been fussing about (and filling your Instagram feed). // 1545 Willow St (West Oakland)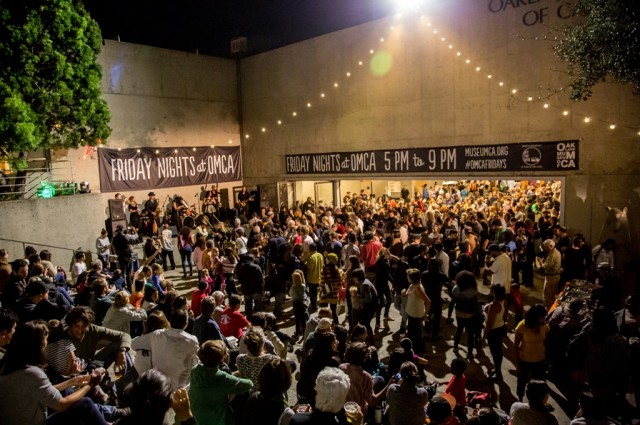 Travel Through Time (With Snacks) 
The Oakland Museum of California is one of the best museums around. Conveniently located across the street from Lake Merritt BART station, you needn't get wet while traveling there. This month you can explore the work of Oakland-born, Los Angeles-based artist Jedediah Caesar, who imitates geological processes in making his sculptures, sometimes encasing found objects from the urban environment in clear or colored resin. Or else a new exhibition in the Gallery of California Natural Sciences takes a look at the wildly diverse and intricate world of one of the most important creatures to human agriculture and the natural environment: bees. Make a day of it with food truck fare and live music at the museum's weekly Off the Grid party on Friday nights. // 1000 Oak Street (Lake Merritt); museumca.org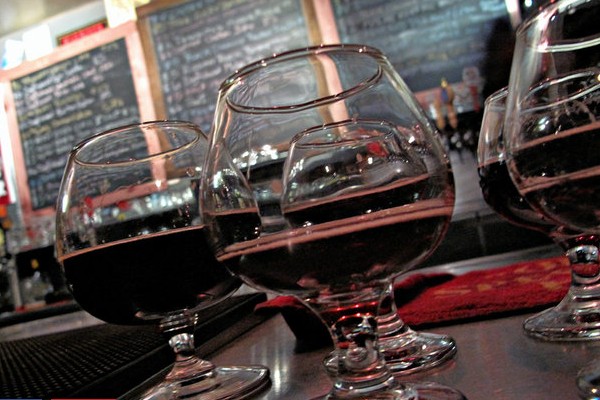 Drink (and Eat) Your Blues Away 
A toasty day at Beer Revolution will have you warmed up in no time. Oakland's best specialty bottle shop, the walls here are lined with rare brews in addition to the 47 different beers on tap. Perch at one of the barrel tables situated around the bar, and order something from next door neighbor, Souley Vegan; they'll deliver on plates straight to the bar! It gets pretty cramped though, so make sure to arrive early. // 464 3rd Street (Old Oakland); beerrevolution.ca
For those who love a Belgian beer, The Trappist should already be on your radar. Cozy up to one of the wooden tables at this old-timey bar and make your way through the well-curated list of aged ales, rare brews, and delectable sours. Don't forget that the back and front bar serve different menus, so you have a lot of drinking (err, tasting) ahead of you. If you're in need of sustenance, Swan's Market (only a block away) offers everything from filling Mexican fare to Japanese rice bowls to oyster po' boys. // 460 8th St (Old Oakland); thetrappist.com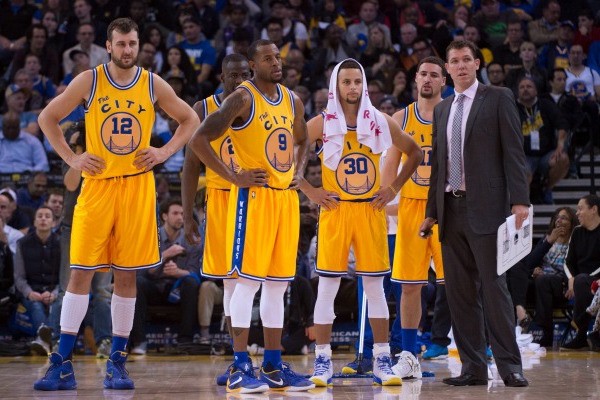 Root for the Home Team 
Cheer on the Golden State Warriors with tickets to a rainy day home game. This weekend the Dubs take on back-to-back games against The Trailblazer and The Suns, so grab your tickets now (they're getting pricey), buy some blue and gold face paint, and prepare for an epic night of hoops, beer, and hotdogs. // Oracle Arena; nba.com/warriors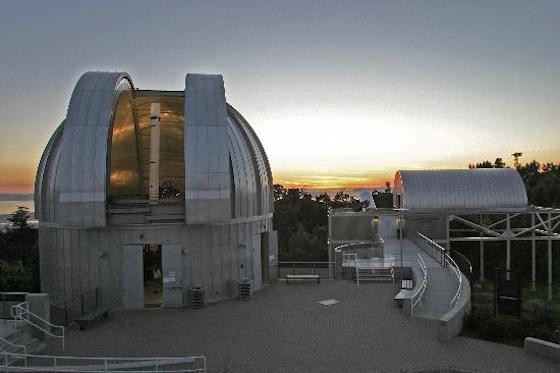 Explore Space  
Chabot Space and Science Center is the East Bay version of Cal Academy, and just as cool. Plus, it's the largest public telescope facility in the country with free telescope viewings on Friday and Saturday nights. Best of all, they have laser light shows to the soundtracks of Led Zeppelin, the Beatles, U2, and Pink Floyd. Immerse yourself in the darkness of the planetarium and enjoy the trip. // 10000 Skyline Blvd (Oakland Hills); chabotspace.org
DON'T MISS A BAY AREA BEAT! SUBSCRIBE TO OUR NEWSLETTER.