Start May off right by sampling some delicious cocktails. Here are six of our latest favorites around town — some are ideal for brunch time sipping, while others are meant for an early evening tipple. A toast to spring!
Dirty Work at Bergerac
Who's making it: Anthony Parks
What's in it: This cocktail may do some dirty work on your sobriety, but it's deliciously smooth on the palate. The blend of Pueblo Viejo Reposado, lime, pineapple syrup, mole bitters, cardamom, and sparkling wine has the agave-citrus profile of a margarita, with a wonderful added level of depth and spice. 
Why we love it: What's spring without a go-to tequila drink? The addition of cardamom here is nothing short of revelatory — it makes the Dirty Work equally suited to a sunny afternoon brunch and a foggy spring nightcap. Now that's San Francisco-style versatility that we can get on board with.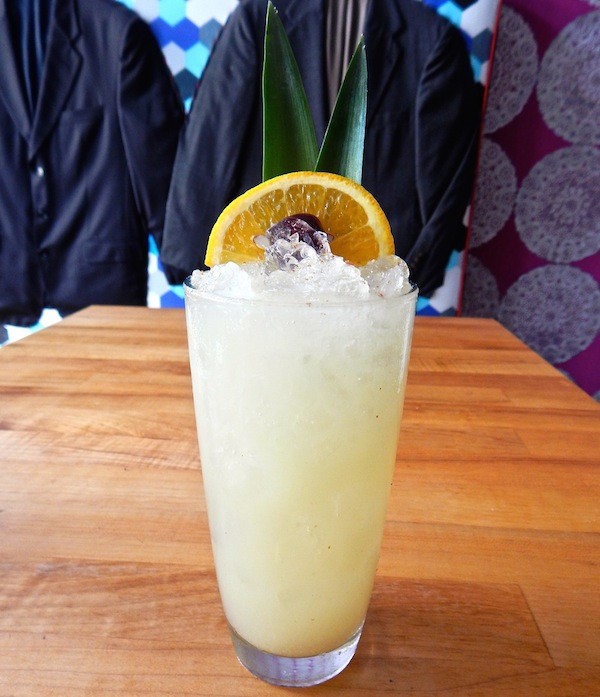 Photo: Lolo Pina Colada
Pina Colada at Lolo
Who's making it: David Gallardo and Leon Vasquez
What's in it: It's not blended, but Gallardo and Vasquez's take on this classic beach drink is just as luxurious thanks to the addition of horchata. El Dorado Demerara rum, pineapple, and lime round out the mix. 
Why we love it: Nothing says spring break like a Pina Colada. Lolo's version is decidedly more delicious than the sugary-sweet ones of memory, but will still have you feeling all kinds of tropical (can we talk about the brilliance of spiked horchata for a second?). Make like you're on vacation and try it with Lolo's delicious, fruit-topped Tacos Tropical.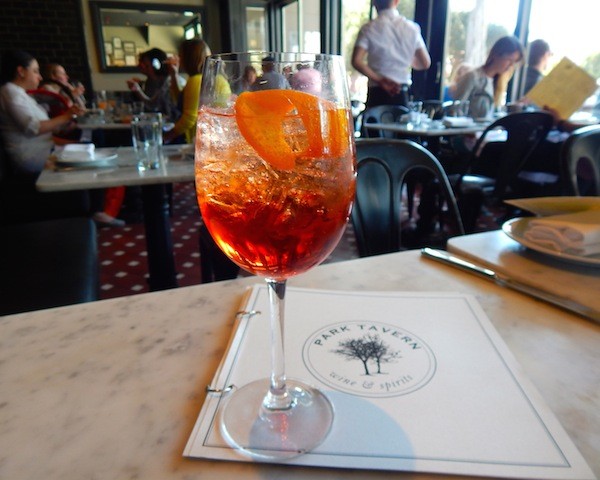 Photo: Ryan Robles
The Aperol Spritz at Park Tavern 
Who's Making It: Patrick Poelvoorde
What's in it: As dangerously drinkable as it is gorgeous, this classic brunch cocktail is made up of two parts Aperol, three parts prosecco, and one part soda. The bright, citrusy flavor will soon banish bad bottomless mimosa brunches from memory.
Why we love it: This is the ultimate session cocktail, and is something you will (happily) find yourself drinking all day, or at least all through brunch. The bright, sweet flavor is a particularly nice complement to heartier brunch dishes, like Park Tavern's amazing corned beef hash, or the classic Marlowe burger.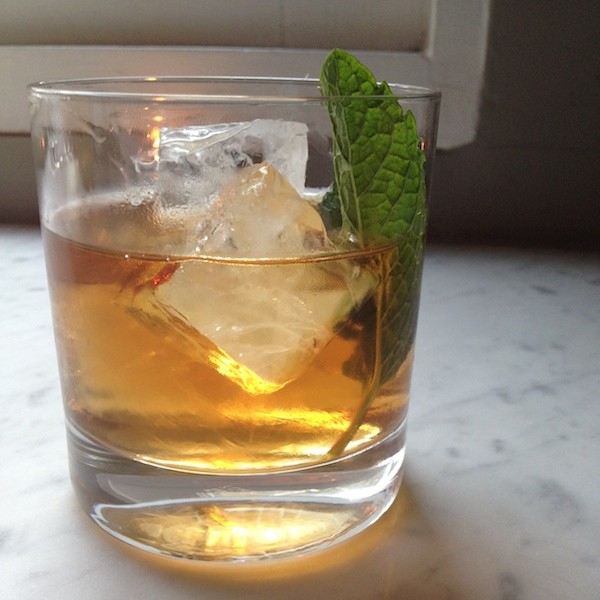 Photo: Lauren Sloss
The Old Scout at Hard Water
Who's Making It: Erik Adkins
What's in it: We love a bourbon cocktail that really lets the spirit shine, and the Old Scout at Hard Water does just that. Featuring Old Scout 7 year whiskey, yellow chartreuse, Salers Gentiane Aperitif, angostura, celery bitters, and a sprig of fresh mint, the rich, spicy taste of Old Scout headlines the show, and is lent notes of refreshing herbal flavor from its accompaniments. 
Why we love it: This drink tastes like a grown-up, bourbon-lovers' spring dream — it doesn't have the sweetness of a julep, but is just as balanced and sippable. Our new Derby Day go-to, perhaps?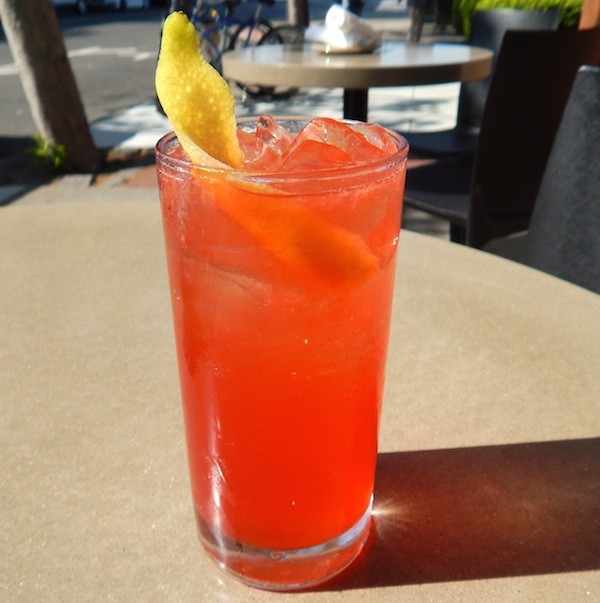 Photo: Ryan Robles
The Daredevil at Fog City 
Who's Making It: Dustin Sullivan
What's in it: Hello, new favorite afternoon drink. An even better twist on a classic Campari and soda, the Daredevil blends the bitter Amaro with Fever Tree ginger beer, lemon, and soda. It will be hard, but try not to guzzle this baby down.  
Why we love it: This is a drink that will appeal to bitter beginners and aficionados alike. Seriously, good ginger beer may make everything better. It's only available during Fog City's "Oyster Club" happy hour, which runs Monday to Friday from 4:00 - 6:00 p.m. (and also includes $1.50 oysters).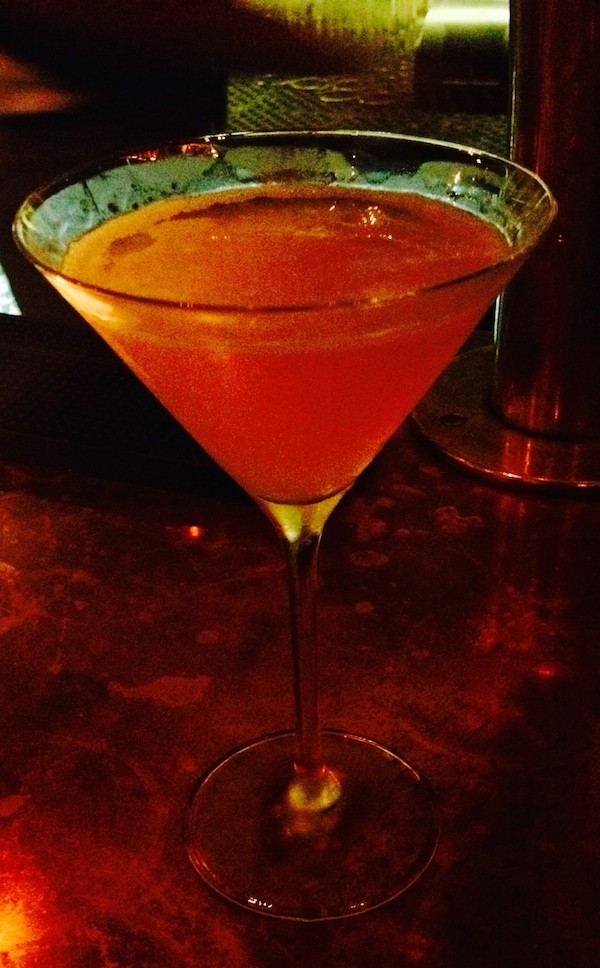 Photo: Lauren Sloss
Apple-tini at The Square
Who's Making It: Claire Sprouse
What's in it: Forget the bright green horrors of appletini's past. This sophisticated, balanced blend of Calvados, Leopold Brothers' sour apple liqueur, honey, lemon, and St. George Absinthe has the flavor of rich, ripe fruit, with just enough booze to remind you that you are, in fact, drinking a cocktail. 
Why we love it: Sprouse notes that, in many of her drinks, she's giving a wink and a nod to favorite drinks of the '80s, when the Washbag (Washington Square Bar and Grill) was in its heyday. Get in the spirit and pair an utterly decadent meal to go with your drink(s). Hello, chicken liver mousse. 
Follow Lauren @laurensloss.