By
Three restaurants just popped up in the 650 (area code). There's Cajun seafood cooked up with the veggie of the moment, corn at a new joint in San Mateo—fans will probably recognize the name from the original San Francisco outpost. And Mountain View is having something of an izakaya and vegetarian pupusa moment, with newcomers that serve up dishes that are light, bright and totally fun.
Boasting a menu that is both familiar and even mildly exotic for denizens of the Inner Richmond District in San Francisco, Cajun House 2 in San Mateo brings fried alligator gumbo, fried oysters, prawns, Dungeness crab and crawfish to the table. Saucing the goodies from your paper bag of "from-the-sea" goods is something of a must here, allowing you to debate the merits of garlic butter versus a kicky house Cajun sauce—there is even a super spicy "explosive" sauce for the truly fearless in your group. Warning, the double-bagged treats are served at a fresh and hot temperature, proceed with caution (it may be wise to sip some water before digging in). The menu has categories that intrigue: the "Get Down N Dirty" section is where you'll find the likes of Alaskan King crab leg and Boston lobster. Garlic noodles are a draw, and the fresh oysters tend to be a popular staple; sausage and corn round things out and make an especially strong accompaniment to the crab. There is also Gold Peak lemon tea and draft beer to keep meal time cool. 251 South B Street, San Mateo, 650-685-6868.
Izakaya fans should check out Gochi Japanese Fusion Tapas opened in Mountain View. Yes, it is the sister restaurant to the original Cupertino location--where the crowds are definitely more plentiful at this point. Linger over plates of fermented squid, Kaisen iroiro salad and black cod with miso—with a soundtrack that is mellow and jazzy in a traditional Japanese setting. And yes, you should take those shoes off if you sit at a bigger table here. One of the most popular--and surprising--dishes is the Mentaiko pizza, which combines enoki, snow crab, cheese and other savory elements. 1036 Castro St, Mountain View, 650-965-8301. Closed Mondays.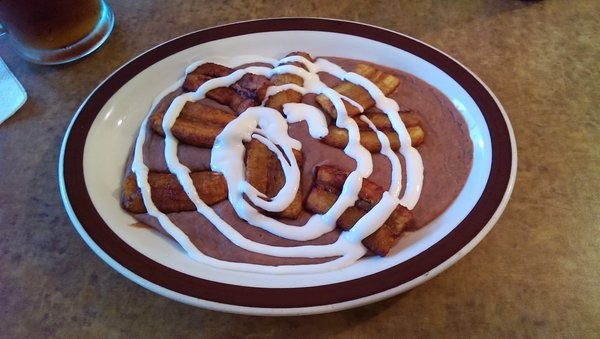 Platanos fritos con frijoles y cremaat Yam Leaf Bistro. Photo courtesy of Chad o./Yelp
Speaking of melted cheese, a newbie on the pupusa scene has popped up in Mountain View over at Yam Leaf Bistro, in a space that for years housed a Salvadorean restaurant called El Calderon, which was owned and run by Lita Lopez. Although Lita retired, she has helped the new owners with their pupusa and enchilada menu, which is all vegetarian. Soy meat is used to replace the traditional meats, or you can stick to melty cheese with a side of oregano-laced cabbage curtido. In a sweet business story twist, many of the same staff from El Calderon are now a part of the new restaurant's operations, which means you can nab a special "Lita's Pupusa" for lunch or dinner here. The salsa is hot and freshly made, and the killer app can be found in the house guacamole, which is hearty enough for two hungry eaters to share. 699 Calderon Ave, Mountain View, (650) 940-9533 
Follow @mladdfood 
DON'T MISS A BAY AREA BEAT! SUBSCRIBE TO OUR NEWSLETTER.