With warmer weather officially here for the sunnier pockets of the Bay Area, interest in getting away from that computer screen and chillaxing with pals beckons, particularly at lunch and the sleepy hours of three to five p.m., when happy hour dreams can become a reality. These three restaurants are new to the 650 (area code)—and offer ample opportunity for sustenance, fun and maybe even a little sun… in the (beer) garden.
In downtown Mountain View, frothy action can be had indoors and out at Steins Beer Garden & Restaurant. Thirty-one beers are on tap—with one "mystery" tap that changes seasonally with a high-tech. There's also a TV with a one-of-a-kind magic glass—an "only in Silicon Valley" kinda tale of the ale. Steins opened this spring and has a beautiful outdoor beer garden, although the indoor space is a fair setting to spy servers offering the beer of the day and worth-the-calories poutine.
Nab short rib beef sliders by a kitchen crew headed up by Chef Colby Reade, who cooked in San Francisco and now lives in nearby Campbell. Steins has a weekday happy hour from 3pm to 6pm with $3 off select daily beers, half off appetizers, and half off house cocktails (our money is on the beer garden cooler with No. 3 gin, lime juice, basil, cucumber and soda). Current happy hour beers include New Belgium's Hoppy Bock, Stone's Sublimely Self-Righteous and Lost Abbey's Serpent's Stout. Sports fans may spot local legend Ronnie Lott, who just last week was sipping a "quick Drake's Alpha Session and a Hitachino Classic." Or geek out over the TV made by Innovative Media Display in San Francisco that disappears into the wall and becomes all the more hypnotizing the more suds your sample. 895 Villa Street @ Bryant Street, Mountain View.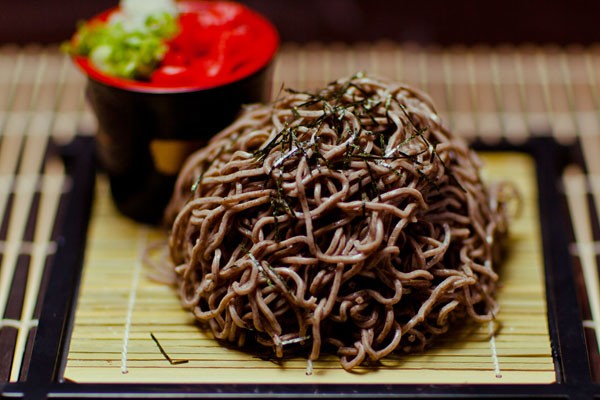 Foster City denizens are bellying up for a ramen-y Japanese fix at Kenta Ramen with filling bowls of spicy ja ja ramen, Lion King rolls or skin-on chicken karaage, otherwise known as Japanese fried chicken. This new spot appears to not have the long lines and waits (SF folks may love the easy parking, too) but word is spreading about Kenta's spicy ramen with noodles, stewed pork belly, sliced tofu, corn and the ever-desirable soft-boiled egg component. Okonomiyaki is another popular choice here—clock-watchers note that you will wait a good fifteen minutes for that particular savory pancake that is traditional is Japan. Insider tip: pork chahan fried rice is a good base for sharing many of the dishes, and the lemon served with many plates is not just a garnish—give it a gentle squeeze to help accentuate that porcine goodness. Those hoping for a Monday pick-me-up should plan accordingly because Kenta is completely shuttered on Monday. 1495 Beach Park Boulevard @ Marlin Avenue, Foster City.
Last month, The Plant Café Organic opened its sixth location with a light-filled location on a pedestrian friendly area in Burlingame. The Plant has freshly made juices, salads, pizzas, and sandwiches including a decent chicken panini, and their veggie burger is actually worth cheering over. Even diehard carnivores should give this one a chance (good for the Earth, I Feel Schlubby) given it is a flavorful and filling way to spend a meal and still have room for a cute and definitely tasty peanut butter cupcake. The Plant burger is made with Bulgur wheat, mushroom, lentils, cashews and beets—although an allegedly "top-secret" recipe, we think there's must be something about the inclusion of those beets. Other healthful dishes from Executive Chef Sascha Weiss come with a promise of nary a chemical or GMO. 1395 Burlingame Avenue @ Primrose Road, Burlingame.