WARNING: If you consider yourself a person sensitive to the vulgarities of excess, or balk at the thought of paying $15 for a beer, or cringe at the idea of paying a $50 cover for a daytime activity, or never considered going to Mexico for Spring Break, or find silicon one of modern man's greatest weaknesses, or prefer to keep your DJs and your pooltime separate, or don't trust lazy rivers so close to seas of strip clubs, or consider yourself above celebrity-gawking, or find neck tattoos and Affliction apparel to be a clear sign of society's regression, the Vegas pool scene may not be for you.
But wait—this is Vegas, surely no place for self-imposed austerity measures and/or moral standards, or even good taste. Shrugging away inhibitions and conservationist attitudes is kind of the idea here, and the pool clubs of Vegas are here to facilitate that process. They're also a fine place to escape the trappings of endless flashing lights and uniformed conmen trying to dupe away the contents of your wallet. Here are seven worth compromising integrity for: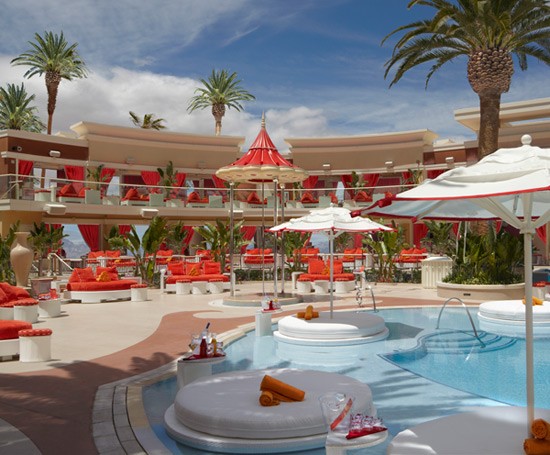 This is the holy grail of Vegas pools, escapism at its logical apex. The white/orange/red aesthetic has the upscale vintage feel of an Austin Powers hedonistic getaway. The pool itself is a sprawling series of segmented ovals with lily pad beds lining the circumference, available for rent (recommended for medium-sized groups of 6-8 people). Larger groups are encouraged to ante up for uber-luxurious cabanas equipped with lounge chairs/makeshift beds, flat screens, automated mist, personal speakers, a refrigerator, etc. The bungalows below (the cabanas are on the second story of the perimeter) are even more ridiculously customized, with showers and personal mini pools. Smaller groups are wise to roam freely and claim a spot by the pool, which in case you were wondering has stripper pole showers in the middle. Yes, this is the class of Vegas pools, but it may also be the priciest.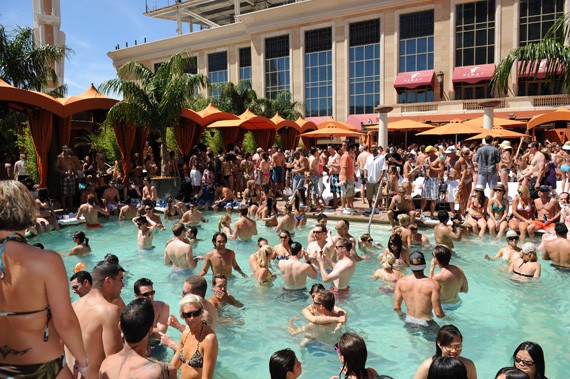 If you prefer your pool clubs intimate, Tao is a relatively modest bet. The pool is one of the smaller on this list, about the size of a volleyball court (and water volleyball would indeed be a great idea here, which they regularly hint at by pouring inflatable beach balls atop the pool dwellers). The theme here is vaguely Balinese, but all matters of design are quickly forgotten as the water fills with young 20somethings and world-renowned DJs flood the air with tech-house and top-40 hits. Celebrities are routinely spotted here—Michael Strahan, Jamie Foxx and Reggie Bush took a load off here weeks ago. The exclusivity quotient seems to be high here, so come early and avoid lines and cover charges.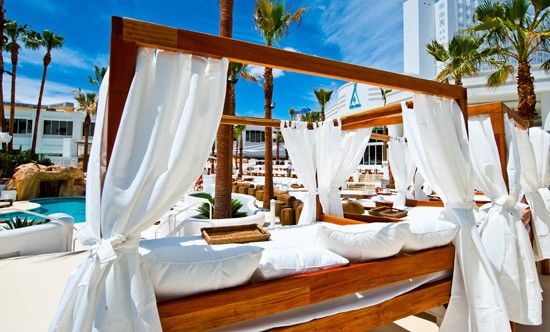 The most recent addition the Vegas Pool Club club brings a brand name that has bought up some of the world's most speculated beachfront properties, including Miami, St. Barth's and Koh Samui (which we can personally report is far and away the class of Thailand's growing beach resort culture). So how does a true beach club make a name for itself in the desert? A good start would be to treat every guest like a VIP, which it does with sleek loungers, opium beds and swim-up bars and blackjack. And from the how-has-this-not-happened-yet files, the 15,000-square-foot club is also keeping its doors open at night, which should be the Vegas standard in the summer (as we can't remember the last time we needed a coat there at night, booze jackets notwithstanding).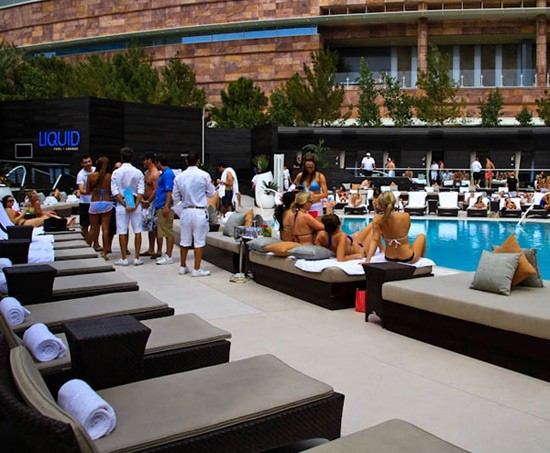 Much like Tao Beach, this is another intimate and secluded spot, with more of an emphasis on the high, pampered life (although the party gets going when the pool toys are stirred into the mix). Liquid has earned a sterling reputation in large part due its gastronomic focus. Longtime Vegas exectuive chef Brian Massie has earned rave reviews from Yelpers and professional critics alike with contemporary American leanings. Rumors of $5 Patron shots and $2 Coronas on Thursdays make us believe this is one of the better bargains on the strip for whetting a whistle and and getting wet at once. The douchebag factor is reportedly very low here, too, which we tend to appreciate.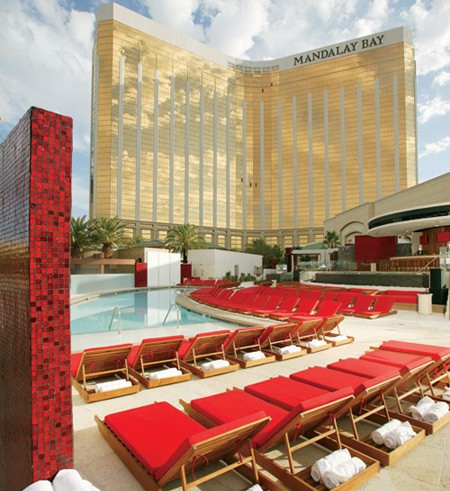 Moorea Beach Club (at Mandalay Bay)
The topless beach club can be a risky proposition. On the one hand: liberation, the natural beauty of the female body, the erasing of tan lines, etc. On the other: camera-phone-wielding perverts, morbidly obese revelers, sagging body parts and severely imbalanced girl-to-guy ratios. That's the standard roll of the dice at Moorea Beach Club, which has decided to allow European sunbathing once again, after a one-year hiatus on the policy. So no, do not bring the kids here, and dudes—bring an extra wad of cash for the cover. Peep shows aren't free.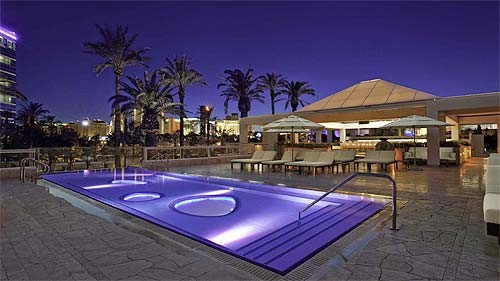 Rehab—the Hard Rock's daytime poolside clusterbang—gets all the press, and does deserve credit for bringing the buzz to Vegas pool clubs. But SKYBAR is the Hard Rock's halfway house back to reality... sort of. Spectacular views of the Strip are the main attraction up here—way up here—on the hotel's rooftop. The sequel to Rehab opened last year and quickly found a welcoming demographic, particluarly at night; a more refined crowd seeking rehab after a day spent Rehab. The pool is small but elegant—and free from the overflow of chlorine that poisons (or unpoisons, depending...) the larger cesspools. And while you're in it, take a look down, because people are looking up, through bottom-glass cutouts in the floor of the pool, seen from SKYBAR's sister pool, the also-new-in-2010 HRC pool. That makes three pools at the HRC, all worth a looksy.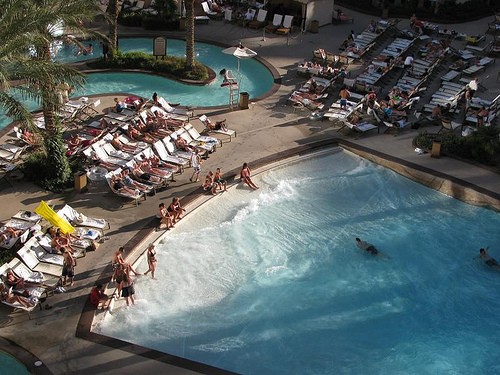 The kid inside us yearns for what the Monte Carlo pool has: a sprawling 400-foot long lazy river and—OMG—a wave pool! OK, so this might not be what the daytime fist-pumping reveler would prefer—family's are welcome and common—but there is a live DJ and drink service, which combined with the wave pool has all sorts of slippery-sloping implications. Plus, here we have beach volleyball, and some exercise is always welcome after a hard night of consuming everything in sight. In sum, if the other six pools are escapes for the adult from the circus of the oppressive casino, this is an escape for your kid from the oppression that is Circus Circus.