It's summer in the city, which means more of your waking hours will be spent enjoying happy hours in the sunlight and imbibing on thirst-quenching cocktails at the amazing watering holes SF has to offer. Between sips, let your mind relax and wonder about a different road, another choice, a larger life.
We've partnered with Russian Standard Vodka and asked some of the city's top mixological talent to concoct delicious drinks with Russian Standard Vodka as its star ingredient, and base the name of the cocktail and its ingredients on a deeply-held ambition: maybe a frozen drink inspired by climbing the tallest peak, or salted rim to evoke sailing the open sea...
Each week, we'll present a different, specially made cocktail from one of our seven chosen mixologists, along with the recipe and the story that inspired it.
Try all the cocktails over the next seven weeks and "toast" (i.e. vote for) your favorites by selecting one below. The bartender with the most "toasts" will be celebrated at an exclusive, invitation-only event, which will be featured online and in an upcoming issue of 7x7 magazine! VOTING IS NOW CLOSED. Stay tuned for the winner, announced Wednesday 7/25.
Don't forget to also submit your full name and email address below—we'll make sure you get an invitation to the big celebration! (Must be 21 and over to vote, and for entry to the private event.) One randomly selected "toaster" will receive a $100.00 tab at the winning venue!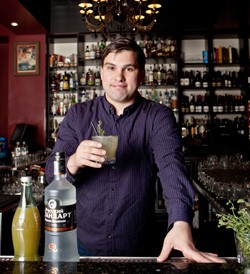 Bartender: Zachary Taylor
Bar: The Brixton
2140 Union Street
Cocktail Name: Oberon's Tonic
Ingredients:
• 1.5 ounce of Russian Standard Vodka
• .75 ounce Thyme-Tarragon-Lime-Vanilla Cordial
• topped with Tonic Water and garnished with fresh thyme
Bartender's notes: One of my biggest motivations is to achieve a truly symbiotic relationship with the planet, and the idea of pushing the green movement past its current limits is a daily challenge. I've chosen to only ride a bicycle, which has allowed me to keep my roots with growing up in a much more rural environment.
I love the outdoors, and I wanted to capture that essence and bring it into a nice, refreshing cocktail which can be enjoyed throughout the summer. I'm always intrigued by how much flavor can be added by using high quality herbs in cocktails, and I've always loved the smell of fresh thyme whenever I've come across it when I've gone hiking. I believe I've captured a lot of great flavors in a very concentrated cordial.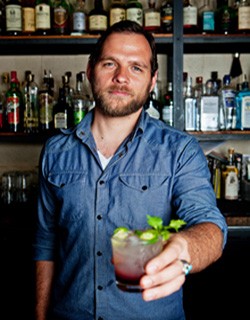 Bartender: John Ottman
Bar: Churchill
3198 Churchill Street
Cocktail Name: Jalapeno Business
Ingredients:
• 1 1/2 oz Russian Standard Vodka
• 3/4 oz fresh lemon juice
• 3/4 oz jalapeno & serrano pepper syrup
• Fresh Cilantro
• 1/2 oz Combier Cassis (to float)
Bartender's notes: This drink is much like a dream of mine: Work for the Russian Intelligence as a spy while living in Mexico, working side by side with their government. I'd use my resources to stage a billion-dollar money exchange, fake my own death, take all the money, and flee to another country. Nothing reminds me of Mexico more than jalapenos and the smell of fresh cilantro. When not drinking tequila, nothing is more refreshing than vodka. I envision myself drinking this cocktail on a hot day in Oaxaca City in an open air cafe, like a scene out of "Desperado."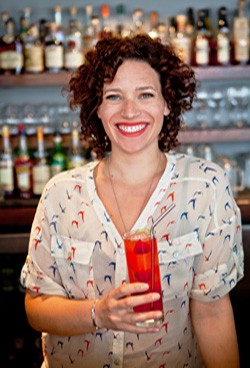 Bartender: Allison Webber
Bar: Jaspers Corner Tap & Kitchen
401 Taylor Street
Cocktail Name: Ruby Summer
Ingredients:
• 1 1/2 oz. Russian Standard Vodka
• 1/2 oz. Liqueur 43
• 1/2 oz. lime
• 3/4 oz. Lillet Rose
• 2 oz. raspberry water
• 6 drops Bitter Cube Bolivar Bitters
• carbonate with a Perlini
Bartender's notes: Like my grandmother and great grandmother I was born with a love of seeing new places. Every few years I'll throw caution to the wind and take off for a few months. It's gotten harder as I've grown up and gotten jobs that I don't plan on leaving any time soon. When immersing myself in a country where I don't speak the language, I remind myself that the excitement of exploring can happen simply by taking the wrong bus or hopping in a car and detouring down a road I've never noticed before. One day, I'll have seen the sun set on every continent and maybe a few of those amazing little islands in between.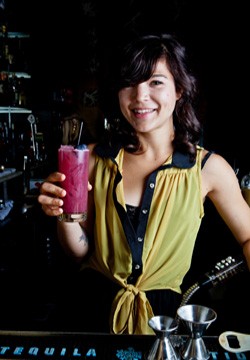 Bartender: Melissa Boyd
Bar: Otis Lounge
25 Maiden Lane
Cocktail Name: The Pink City
Ingredients:
• 2 oz Russian Standard Vodka
• .75 oz Cardamom infused Coconut Milk
• .75 oz Ginger Solution
• .75 oz Fresh Lemon Juice
• Heaping Barspoon of house made spiced Blueberry Compote
• Shake all ingredients except coconut milk with ice, Double strain over rocks into a collins glass, top with coconut milk and a splash of soda. Garnish with fresh blueberries.
Bartender's notes: Something on my bucket list is to travel across India on a luxury train stopping in all of the beautiful cities and enjoying the scenery in a slow way that we have come to forget about in our fast-paced, day to day hustle. One of my favorite cities in India is "The Pink City," where the majority of the buildings are covered in terra cotta. This inspired the cocktails hue. This drink uses traditional Indian spices and ingredients (Cardamom, Ginger, Coconut Milk) as well as the beautiful local blueberries San Francisco is currently enjoying. And yes, I love Wes Anderson.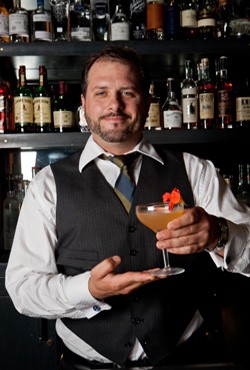 Bartender: Patrick Poelvoorde
Bar: Park Tavern
1652 Stockton Street
Cocktail Name: Alpine Meadow
Ingredients:
• 1.5 oz. Russian Standard Vodka
• 0.5 oz Edmond Briottet Manderian Liqueur
• 0.5 oz Domaine Cauhape Jurancon 2006
• 0.25 oz. fresh lemon juice
• 6 drops of house made sarsaparilla-black truffle bitters
• 3 sprays of Green Chartreuse and Nasturtium flower to garnish
• Combine all ingredients except Nasturtium and Chartreuse in a Boston shaker and add cold ice. Shake until well chilled and double strain into a chilled coupe glass sprayed with Chartreuse and garnish with Nasturtium flower.
Bartender's notes: I was inspired to create the "Alpine Meadow" from the ideas of duality and change. I very much enjoy spring snowboarding and would love to do so in the Alps. Riding at that time allows one to experience the dual sensations of the floral spring air combined with the crisp cold of the snow. This cocktail enjoys the same qualities, going from bright acidic citrus when chilled to the earthier tones of truffle and sarsaparilla as the drink warms. The Russian Standard Vodka acts as the medium for those changes by providing the silky mouthfeel much like the mountain provides the platform for one the most enjoyable activities on the planet.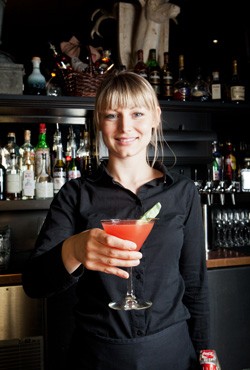 Bartender: Jackee Princeau
Bar: Reed & Greenough
3251 Scott Street
Cocktail Name: Southern Gentleman
Ingredients:
• 2 oz Russian Standard Vodka
• .5 oz agave
• .5 oz lemon juice
• 3 dashes of rhubarb bitters
• 3 chunks of fresh watermelon muddled w a pinch of salt
• Served up in a cocktail glass rinsed w 2 drops of liquid smoke.
• Garnish with watermelon rind
Bartender's notes: I've always wanted to drive coast to coast to explore the inner workings of America. I think someday I would like to travel the southern route of the United States; Arizona to Texas, New Mexico to Louisiana, and then back through all the northern states to get home. I would go to all the best BBQ restaurants, local farms, and festivals, and indulge in all the American culture that we don't necessarily get to experience in California. Has anyone ever been to the Cracker Barrel? I heard it's the best comfort food west of the Mississippi.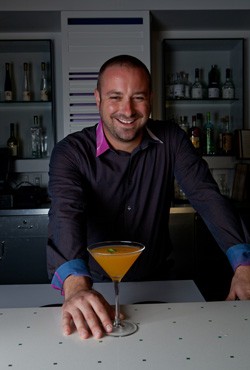 Bartender: Erik Tennyson
Bar: Upstairs at W San Francisco,
181 3rd Street
Cocktail Name: The Devil Goes to Moscow
Ingredients:
• 3 oz. of Russian Standard Vodka infused with local organic apricots, lemon zest, and housemade organic tarragon honey
• 2 drops of the Bitter End Grapefruit Bitters
• 1 tip of a tarragon spear for garnish
• Combine all ingredients into a cocktail shaker and double strain into a cocktail glass, floating the tarragon on the surface.
Bartender's notes: A dream of mine had always been to take the Trans-Siberian Railway, a nearly 8000 kilometer trek from Moscow to Beijing. When the opportunity arose last year, I took it. To start the trip in Moscow, I headed to the GUM department store just off the Red Square. It's a huge glass ceiling trading post which was a Soviet food distribution depot that become one of the largest luxury malls in existence. My friend bought some beluga caviar, and I bought some Russian Standard Vodka Platinum. As we pulled out of the station, I sipped Russian Standard for the first time, and it earned a special place in my heart. Combining that passion for travel and Upstairs at W San Francisco's commitment to using fresh local ingredients, I created this cocktail using local organic apricots and organic tarragon infused honey made in house. The name comes from the drink's fiery orange color and another passion of mine – literature. As an amateur scribbler myself, one my favorite works of Russian literature is "The Master and Margarita" by Mikhail Bulgakov.

PLEASE DRINK RESPONSIBLY. Russian Standard® Vodka. Product of Russia. 100% Grain. 40% Alc/Vol. ©2012 Imported by Russian Standard Vodka, NY, NY.

Bartender photos: Kira Stackhouse | nuena.com