Just when you thought your happy hour routine was getting mundane, a sexy new bar addition in SoMa shakes it up.
With a comprehensive libation list of craft cocktails, beer, wine, and six punches on tap (yes, punch!), Novela reveres classic literary heroes in its design, booze, and spirit. Opened in summer 2013, the space dazzles with a prismatic wall of vintage books mixed with gold and crystal chandeliers, and black-and-white accents (there's even a card catalog). Bar stars Kate Bolton and Alex Smith conceived a menu inspired by your favorite summer book reading (think Atticus Finch, Holden Caulfield, and Jay Gatsby). But no book reports are expected here -- with 3,500 square feet to play around in, it's ideal for a date, a pow wow with friends, or a celebratory event with a group.
Thirsty yet? We got the inside scoop on a couple of drinks that, frankly, we're counting the minutes until 5 p.m. so we can get our hands on these: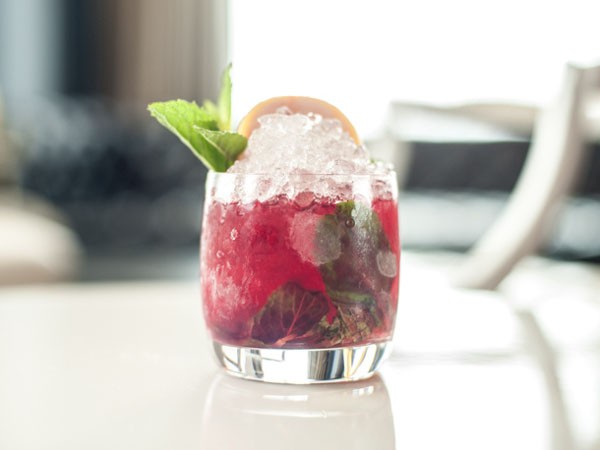 LEOPOLD BLOOM (above)
Ingredients: Hibiscus gin, house made pineapple syrup, mint 
Inspiration: Alex Smith & Kate Bolton wanted to offer a complex spirit-driven cocktail option on our list that was fun and fruity for a more cross-gender appeal than the classic stirred whiskey drink.  They are both fans of gin and like to infuse things and make syrups from fresh whole fruits.  with all these things in mind, this twist on the Mint Julep was born!
HUCKLEBERRY FINN (below)
Ingredients: Aged rum, grapefruit marmalade, angostura bitters, tonic, lemon
Inspiration: Bolton and Smith don't generally like to re-invent the wheel, but they do like to think of new, creative permutations of classic components. In the Huck Finn, a house made marmalade lends a bright, fresh complex sweetness that is balanced out by the zesty lemon juice and the double whammy of bitter Angostura and quinine in the all natural Q tonic water.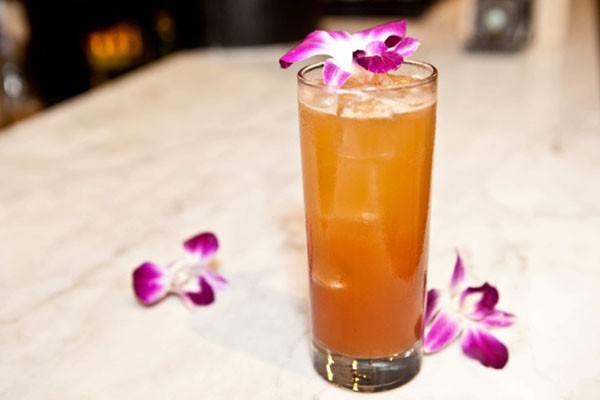 Novela crafts such exquisite cocktails that we decided to showcase them on the cover of 7x7's latest Nightlife Guide. And to kick off its launch, we're hosting a big bash on Wednesday September 25, 6 - 8 pm at the book-themed hangout. The event is free and open to the public, but an RSVP is a must, so make sure you get yourself on the guest list here so you can sample punch, sip on complimentary cocktail specials, and relax in the glam library space.
Novela is open Mon - Fri: 4:00 pm - 2:00 am, Sat - Sun: 7:00 pm - 2:00 am, 662 Mission Street (between New Montgomery & Annie Street alley), (415) 896-6500.