We here at 7x7 are very excited to get the ball rolling on our newest product, a Wedding Sourcebook for the Bay Area. We'll be publishing it this January (after all you crazy kids get engaged over the holidays), and are still looking for fabulous Bay Area weddings to feature in the guide.
---
As we lead up to the publication of our guide, we've decided to publish weekly blog posts on all things Bay Area weddings. We'll be writing on the elegant to rustic, modern to traditional: Wedding tips and resources that reflect the style of the Bay Area.
We decided to start off by showcasing a fabulous San Francisco wedding that recently made its way to our inbox. So without further adieu...
You could say that Emily and Stephen's relationship had a painful beginning. Stephen, a computer software engineer, met Emily, a physical therapist, while rehabilitating after a serious motorcycle accident. As he healed, their love blossomed.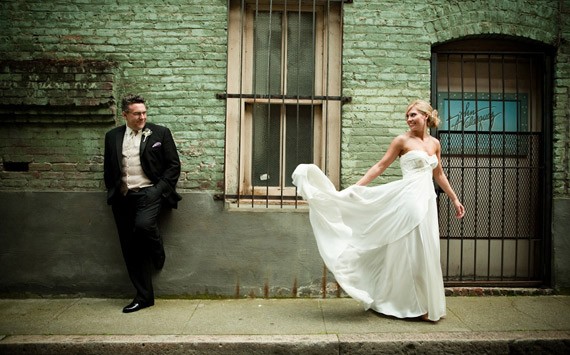 The couple, who live in Kirkland, Washington, decided to marry in San Francisco in a ceremony that was as elegant as it was uncommon and low key.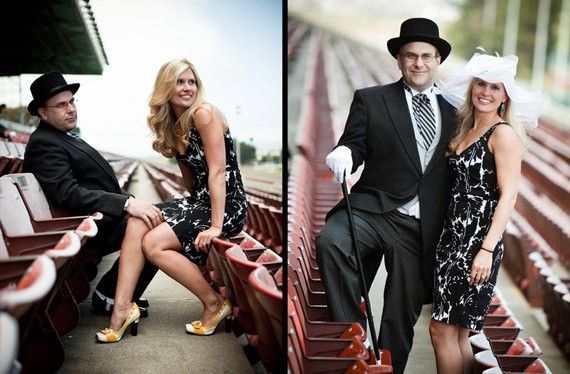 The fun started the day before with all the guests (29 people attended) hopping on a bus and joining the couple at Golden Gate Fields for an afternoon of horseracing and gambling.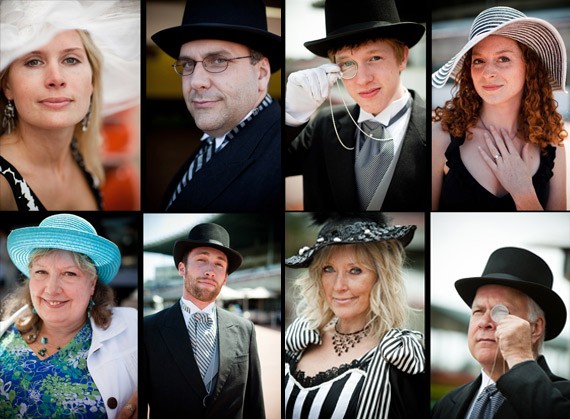 The happening was a cross between My Fair Lady and the Kentucky Derby, complete with Queen Elizabeth-worthy hats, bowlers, ascots, spats and canes.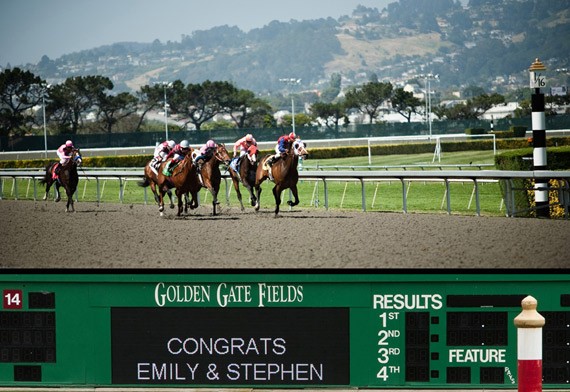 The event was planned in honor of one of their first outings as a couple, a day at the races the bride calls one of their best dates.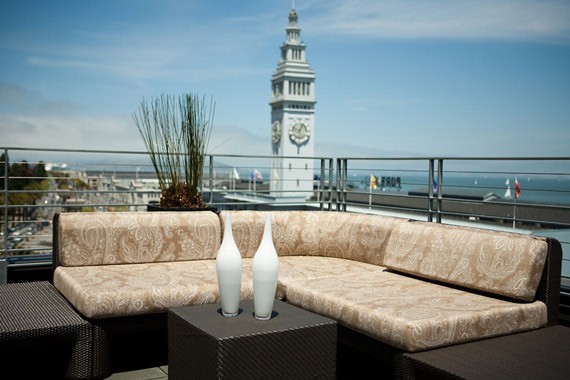 They married the next day at the Hotel Vitale. Jennifer Janzen of MAP Events, the coordinator for the affair, says: "The wedding party was small, but there were many great things about that. The couple was able to interact with every guest. It made for a very intimate, very special wedding."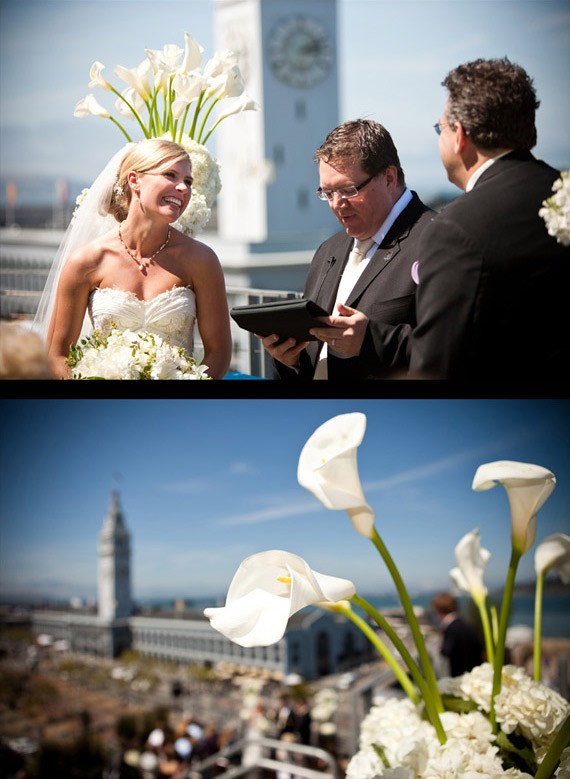 The large terraces off the penthouse suite in the Hotel Vitale provided a scenic setting for the ceremony and before-and-after cocktails. The whole event was short and sweet (the bride's aunt and uncle officiated and the groom gave a tear-inducing toast), with welcoming cocktails, wedding vows and post-ceremony drinks and buffet wrapping up in just three hours. After it was all said and done, everyone changed clothes and hit North Beach for pizza and dancing.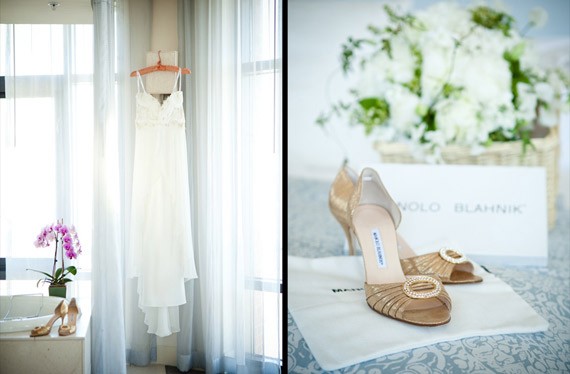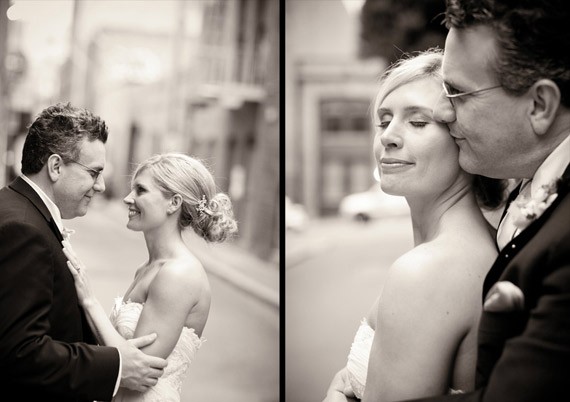 "This wedding is proof that you can have a really beautiful event on a small scale and without breaking the bank," says Janzen. "It was a very personal and very beautiful wedding—and it was so low-key I don't think the bride stressed about a thing."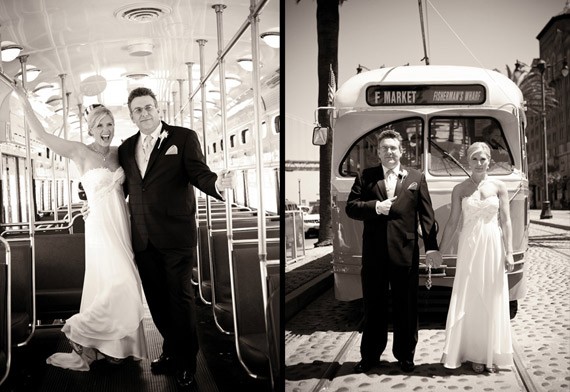 Photography tip: Janzen suggests choosing unexpected San Francisco scenes for photos. "Instead of the Golden Gate Bridge, go for the Bay Bridge. Instead of cable cars, try trolleys," she says. "You get a great San Francisco atmosphere without that 'been there, done that' feeling."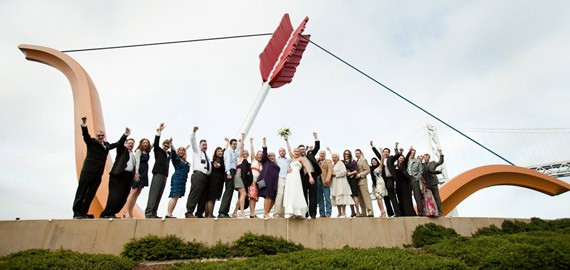 Details
Venue: Hotel Vitale
Coordinator: MAP Events         
Photographer: GB Photographers
lowers/Decor: Nancy Liu Chin Designs
Rentals: Hartmann Studios  and Classic Party Rentals
Cake: Cakework