By
Oh, January, that fickle month when we all try to get a little health back into our lives after a particularly decadent month of holiday revelry. For us downtown working stiffs, that means salad-lunch — every day. But a health-kick does not need to mean a sad pile of wilted greens in a plastic box. We've rounded up eight crave-worthy salads from the Ferry Building to Mid-Market for your lunchtime needs. And yes, you can add pork to that — you're having salad, after all. It's definitely still healthy.
Trout Salad from The Golden West, $8.75 
Sandwiches are usually the first things that come to mind when thinking of Denis Leary's always-excellent downtown lunch stands. But you can get similarly creative, delicious combinations in salad-form, too. Go for the trout salad at The Golden West; the smoky, salty fish is laced with dill and studded with apples and fennel. Oh, and you get a hearty wedge of Leary's fantastic fresh bread on the side, too. 8 Trinity Alley
Chicory and Mustard Greens Caesar Salad from Il Cane Rosso, $9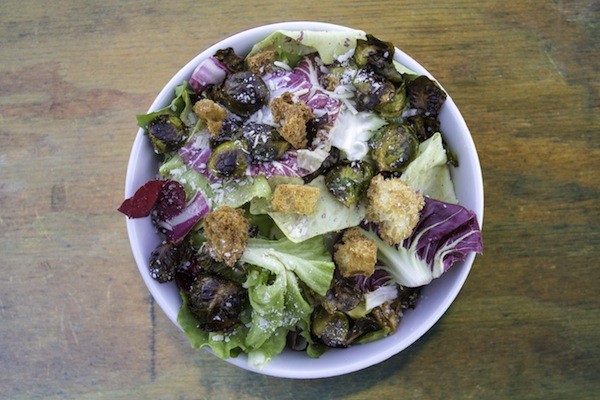 Photo: Erik Simon
It's not all about the slow-cooked meats at Il Cane Rosso. The always-packed Ferry Building spot can be counted on for creative salads that showcase seasonal greens, too. We're loving their current riff on a Caesar salad, made with chicory and mustard greens. The earthy, bitter base is set off with nutty roasted Brussels sprouts, anchovies, and punchy lemon-anchovy vinaigrette. Their menu changes somewhat regularly, so get this winner while you can. Oh, go ahead; get a half sandwich, too. We won't tell. One Ferry Building #41
Lemongrass Pork Salad from Spice Kit, $7.75
The Spice Kit salad is pretty delicious in general — cucumber, radish, mango, and spicy peanuts are tossed with punchy sesame vinaigrette. You know what makes it even more delicious? Adding a healthy serving of their braised roasted pork, rich with lemongrass flavor and smoky with hints of char from the grill. Because pork on salad isn't just a good idea, it's a great idea. 405 Howard Street
Lemon Garlic Kale & Quinoa Salad from Working Girls' Cafe, $9.95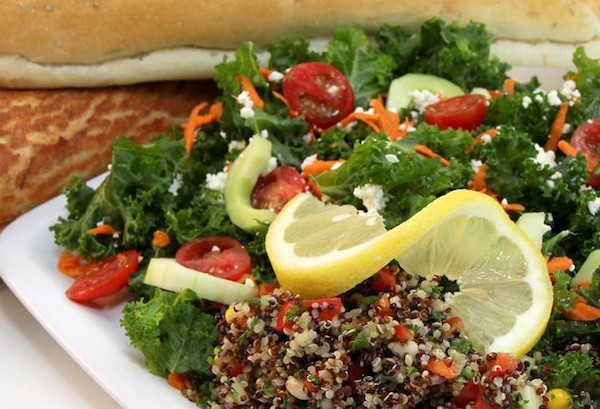 Photo: Working Girls' Cafe
It's true — we live in a city of kale salads. But Working Girls' iteration is standout, in part, for it's massive size. Plus, it's consistently excellent — an enormous amount of curly green kale is topped with quinoa, red peppers, feta, cherry tomatoes, cucumber, and olives, then tossed with a tart, garlic-lemon dressing. A trendy kale salad this is not, but we love the satisfying result from this no-frills mini chain. 122 New Montgomery Street
Wild Tuna Tostadita from Garaje, $11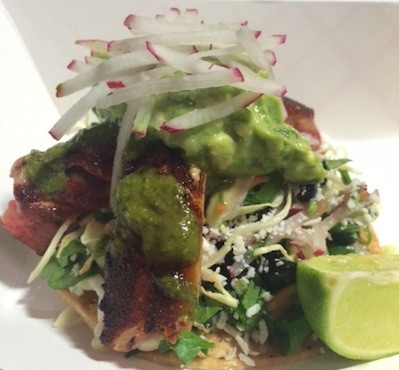 Photo: Garaje
There's a time and a place for Garaje's drippy tacos and excellent fast-food style burgers. There's also a time and a place for their heaping tuna tostadita salad — the thick-cut fish is seared rare and tossed with cabbage, pico de gallo, beans, radish, cilantro… the list goes on. An ice-cream scoop's worth of guacamole doesn't hurt things, either. 475 Third Street
Burrata Salad from Cafe Madeleine, $9.95
A philosophical question: is a salad a salad in name only if it is primarily a vehicle for eating burrata cheese? Maybe. But a name is enough when it comes to Cafe Madeleine's iteration — the creamy, generous pile of burrata is well worth the slight imbalance. Sweet roasted beets, cherry tomatoes, and toasted hazelnuts add texture, and additional opportunities for cheese pairing. 43 O'Farrell Street
Farro and Roasted Beets from The Cavalier, $13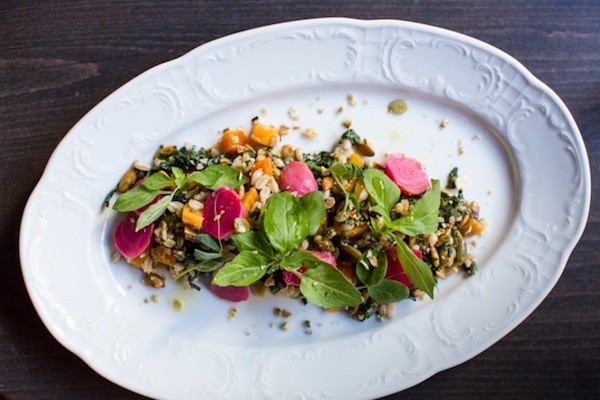 Photo: Erik Wolfinger
A stellar example of a flavor-packed grain-based salad, The Cavalier's farro salad is good enough you may (almost) forget about their much-lauded cheeseburger. The plump grain's nuttiness is accentuated with delicately toasted pumpkin seeds and tangy citrus vinaigrette; sweet roasted beets and fresh, peppery pea tendrils round out the mix. 360 Jessie Street
Cauliflower, Almond, and Blue Cheese from Split Pea Seduction, $9.50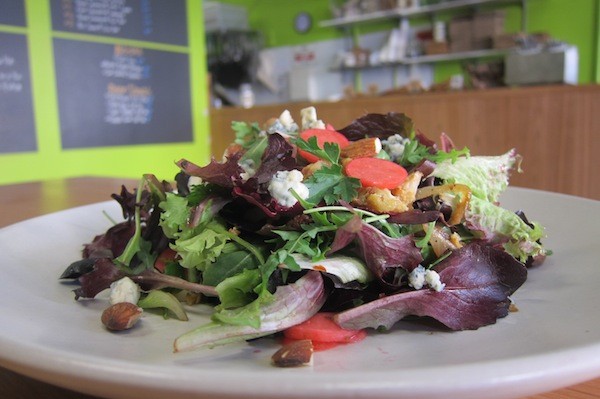 Photo: Split Pea Seduction
Split Pea Seduction may be one of SOMAs best-kept lunchtime secrets. The 6th Street location certainly isn't the most scenic, but the cafe's rotating selection of fresh salads, soups, sandwiches, and crostatas is uniformly excellent. The menu changes daily, but we're hoping for a reappearance of a memorable recent combination: cauliflower, almonds, pickled radish, and blue cheese are tossed with mixed greens, and dressed in a Dijon herb vinaigrette. 138 Sixth Street
DON'T MISS A BAY AREA BEAT! SUBSCRIBE TO OUR NEWSLETTER.