"We're gathered here today to celebrate the marriage of Amanda Margulies and Paul Charney…they've learned that falling in love with one another has been like the exploration of a place that is wild, surprising and liberating—like Yosemite National Park or the dollar rack at Target."
---
That's how Paul and Amanda's irreverent and laughter-filled wedding ceremony began on a sunny day at Tabor Ranch in Esparto, California (about 40 miles from Davis). The officiant, Jon Wolanske, is a Killing My Lobster alum (Paul is a co-founder of the comedy sketch group), and he delivered an unforgettable service.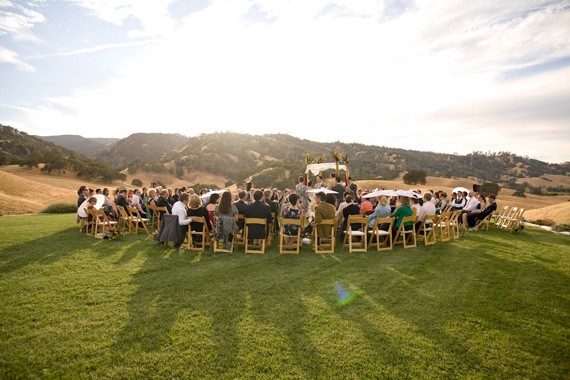 "We're especially blessed to find ourselves in such a glorious setting for the celebration. A wedding site that's apropos, given the couple's own upbringing in that desolate little prairie town called Manhattan."
Both grew up in New York City, but they didn't meet until they both were studying theater at Brown University. There, they became friends who went their separate ways after graduation: she returned to NYC, he headed to San Francisco. Several years later, after a night out with Brown alums in SF, Amanda decided the friendship was over. "Paul and I were sitting at a bar, and I suddenly thought: 'I like Paul,'" she says. "And that was all there was to it."
"There's very little formality to today's proceedings. We're standing in the middle of an almond farm, you don't see any veils, and no one is wearing a tux. There will be no rice-throwing, in keeping with the couple's preferred burrito style—without rice, por favor."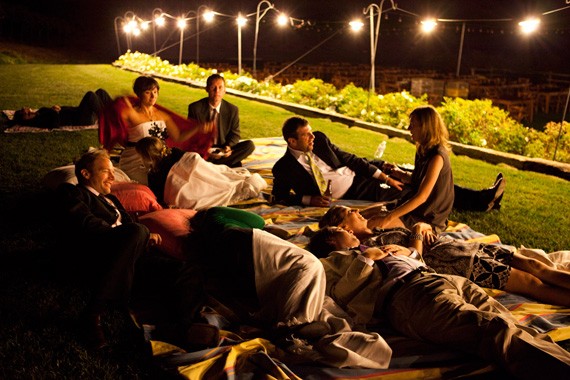 In short order, Amanda moved to San Francisco, the couple got engaged and the wedding planning got underway. Amanda started looking for a dress. "I didn't want a dress that looked like someone else's idea of what a wedding dress should be," she says.
After searching unsuccessfully, a co-worker at Berkeley Repertory Theatre showed her a gown online made by Melissa Blackburn, a dressmaker in Provo, Utah. "The creation of my dress became a weird and wonderful adventure," says Amanda. "She usually makes dresses with long sleeves for Mormon weddings, but when my mom and I flew out there and met her, we had so many shared interests, I knew I wanted one of her gowns."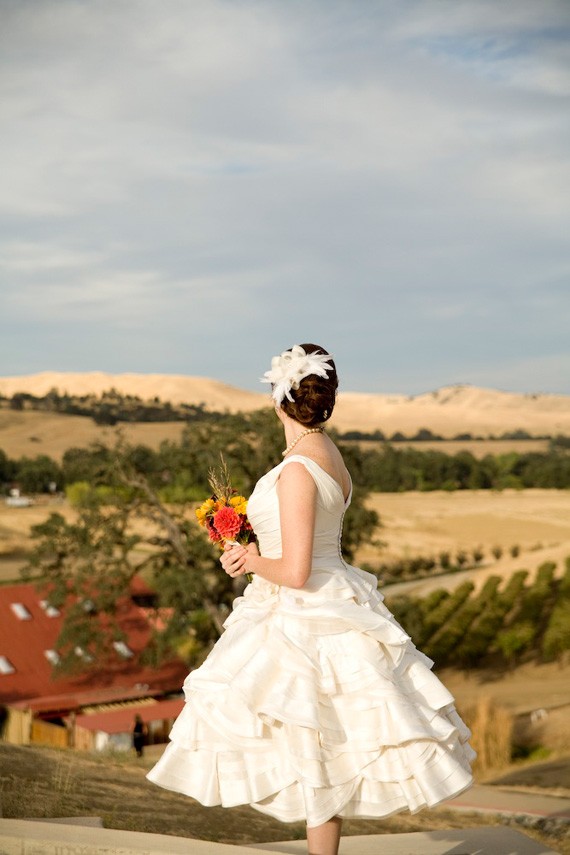 The result is a short dress that Amanda describes as "channeling Joan Holloway from Mad Men."
"We hope the lack of formality encourages you to be as you are; to relax and enjoy, to laugh loudly, to eat and drink a little too much, to shake it provocatively on the dance floor…"
After the ceremony, Amanda kicked off her satin heels and the couple led guests to a red barn for a dinner and reception. Cris Logan, one of Paul's co-workers at Goodby, Silverstein & Partners, created illustrations of film scenes (mostly 80's hits like Ghostbusters, Working Girl, Risky Business and Sixteen Candles) that decorated the menus on long, rustic tables set under the starry sky and glowing market lights. "Each table was named after a movie we love and watch over and over again," says Amanda.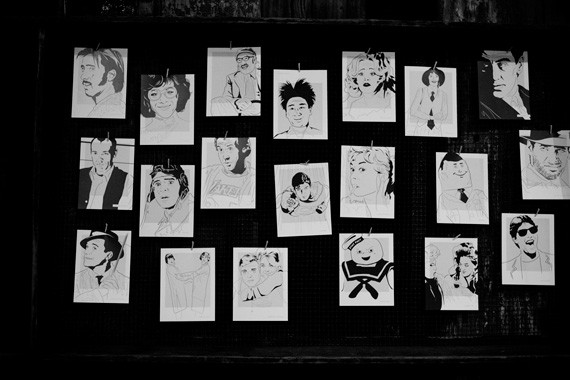 During the cocktail hour and after dinner, several guest relaxed on picnic blankets spread on the grassy lawn near the barn.
"Paul and Amanda, given that the theme for the weekend is "movies," I've done some thinking, and I thought I'd offer some life lessons I've learned from the movies that would be helpful to you. 1. Never go to bed angry. It's not healthy; and that's what Freddy Krueger wants."
Inside the barn, the couple cut a cake topped by action figures of Trinity and Wolfman. "I was really anti-cake," says the bride, who chose pie for the dessert menu. "But it turned out that my mother had strong feelings about cake. We added the actions figures for some fun. Trinity is mine; I've loved her since The Matrix came out."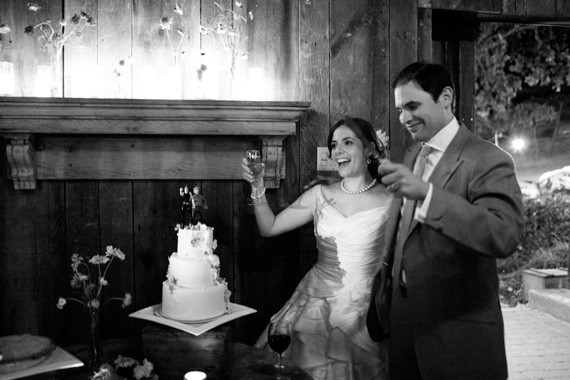 During the reception, a caricature artist drew pictures of the guests. "It seemed like a fun thing to do, and it reminded us of Bar and Bat Mitzvahs we attended in the 80s," Amanda says.
"I charge each of you to do all you can to support this great couple. If you will encourage Amanda and Paul in their union, laugh with them in joyful times, provide comfort in tough times, and understand why they're running late, please say 'we will.'"
After dinner and before dancing, people stood up and gave toasts. Like the ceremony, many were funny; others were poignant and sweet. "You could feel the love in the room," says Amanda. "There were many moments in the wedding where I would just swoon."
"It's often said the ring is a circle—a shape constantly born and reborn with no area of weakness—to symbolize the unending love pledge by the couple's marriage vows. I like to say that the ring is a circle because that's the shape that fits the finger best."
Planning and design: Alyssa Brown of AE Planning + Design
Wedding venue: Taber Ranch
Dress: Melissa Blackburn
Catering: Alex's Catering
Photography: Lovebird Photography
Ceremony and cocktail music: Craig Ventresco
Floral Designer: Natalie Bowen
Hair and Make-up: Winc Artistry