A Classically Elegant Winter Wedding at Flood Mansion
Wedding planner Kathryn Kalabokes will never forget the moment the bride and groom locked eyes before this wedding at the Flood Mansion. "The couple made their own rules, and they chose to ignore the edict about seeing each other before the ceremony on the wedding day," she said. "When she spotted him, her eyes filled with tears…it's hard to describe the looks on their faces. I'll just say that they are very much in love and it showed. It was beautiful."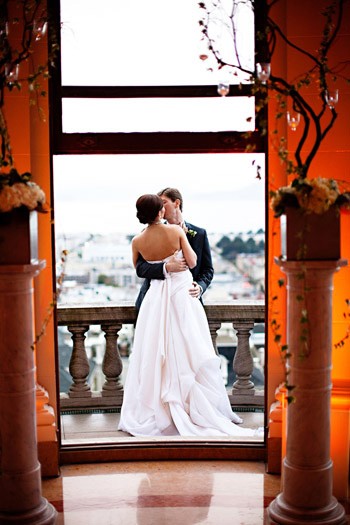 That was just one choice that made these nuptials unique; another was January 29 date. "She wanted an elegant, winter wedding," says Kalabokes. "We see so many Wine Country summer weddings, it was a nice change."

The couple loved the classic architectural backdrop and the jaw-dropping view afforded at the Flood Mansion, and complemented it with a black-and-white color palette with touches of soft green (coming from the linens and the greenery in the arrangements).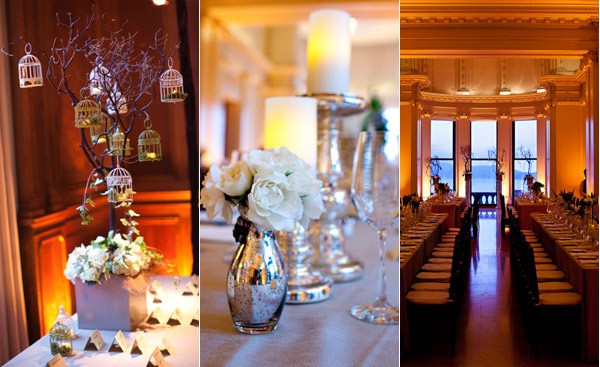 The bride's unconventional style also showed in the décor; she and her mother searched for centerpieces, and ended up with an eclectic array of new and antique vases. "Many of them were mercury glass," says Kalabokes. "That was the unifying theme."

Bare branches (some of them decorated with wire birdcages) rounded out the wintery setting.

The pair was married in the mansion's main hall, and then the crowd retreated to a side room for a cocktail hour (where both signature alcohol and non-alcohol drinks were served). When they returned to the space, it was dressed for an all-American dinner featuring choices such as short ribs or sea bass.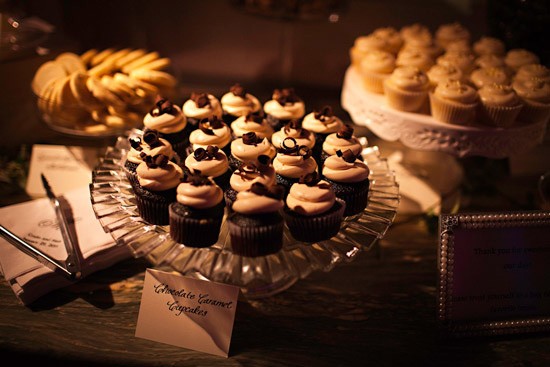 After the meal, another side room became a dance space and dessert bar. "They both have a sweet tooth, and their dessert bar was the most lavish I have ever seen," says Kalabokes. "She had brownies, lemon bars and every kind of candy you can imagine. It was lovely."

The sun set as the crowd nibbled on candy and danced to pop and Motown music. "Since it was winter, it got very dark early," says Kalabokes. "Luckily we got those beautiful shots of the couple that wouldn't have been possible later in the evening."

Proof-positive that some rules are made to be broken.

Join Kalabokes on March 27 for a Dream Bridal Tour —guided visits to top wedding vendors—in San Francisco and Wine Country.

Wedding planner: Kathryn Kalabokes, Dream a Little Dream Events
Floral designer: A Simple Ceremony
Baker: Battery Bakery
Music: Denon & Doyle and Be'eri Moalerr
Catering: Betty Zlatchin Catering
Venue: Flood Mansion
Rentals: La Tavola Linen
Lighting: Got Light?
Videography: Thomas Hughes Films