When you head for the beach in Northern California, the required goods are pretty consistent: a towel, sweatshirt and maybe a picnic. Ever packed a helmet? It's not something you need for an ordinary trip to the beach, but then Oceano is no ordinary beach.
Oceano is located in San Luis Obispo County, about halfway to Los Angeles. The 101 will get you there faster, but Highway 1 will make you feel better. Just 15 minutes south of Pismo Beach, Oceano is one of ten lesser known destinations that together call themselves Wine Coast Country. Unlike most California coastal communities polished to attract visitors, Oceano is enjoyably rough around the edges. It has a gritty side, that most folks get a good taste of after a trip to the beach.
The Dunes
The beach here isn't like other California beaches. It's not a place where you lay down a towel, apply sunscreen and enjoy the view; it's more like a scene from a Mad Max movie. Oceano is the only place in the state where you can drive right on the beach. With fifteen hundred acres of sand dunes, it might as well be heaven to off-road and ATV enthusiasts. Encampments rise from the sand. Folks with RVs, tents, and an assortment of off-road toys form compounds. Lay down a towel in the wrong place and run the risk of getting run over. Sand blows (and blows hard) 24/7. Engines rev and music plays just as loudly at three in the afternoon as it does at three in the morning.
Unless you've got experience under the hood, driving the family truckster onto the beach probably isn't the best way to play on the sand. You can rent all sorts of off-highway vehicles or sign up for a Hummer tour and leave the driving to a professional.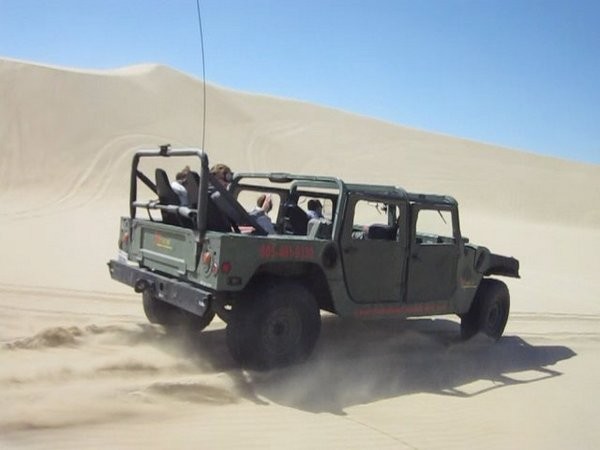 Xtreme Hummer Adventures
The name says it all. This father and son run company started 15 years ago when Dad quit his job and bought Andre Agassi's Hummer. Now the two spend their days taking visitors on roller coaster rides through the sand, up and down sand dunes most four-wheel vehicles won't even attempt. Seat belts are a necessity, and so are the goggles sitting in the center of the Hummer. Forget fashion and put them on. Oceano's gritty side is no fun when it's in your eyes.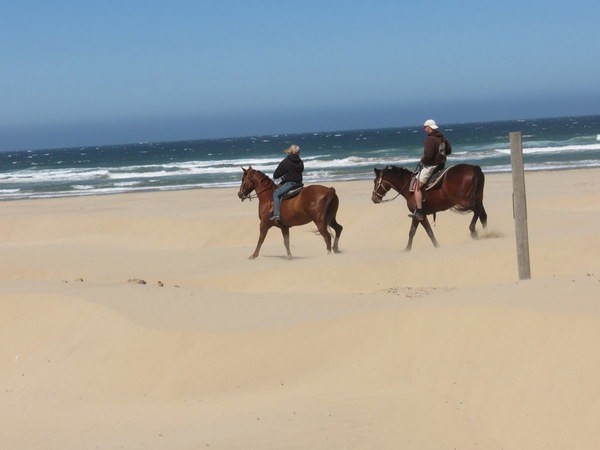 Horseback Riding
If you're looking for a way to explore the dunes that won't throw your heart out of rhythm, horseback riding might be the way to go. The horses at Pacific Dunes Ranch and Riding Stables are pros, meaning you don't really need to do a thing. They know where to go and are good at following their trusty leaders. Guides are full of local information and intriguing tidbits about the area.
Layers Are Your Friend
Playing on the beach is no fun when you're freezing, so bring lots of layers. Even if the sun is shining, the wind can make it feel like winter in July.
Dana can be found on Twitter @drebmann
Dana's trip was hosted by Wine Coast Country, but as always her thoughts and opinions are her own.