By
To be honest, Laura Kogan (an elementary school teacher) wasn't sure about dating Tyler Knight (owner of a drug and alcohol treatment center). He had no such reservations. "Don't worry," he told her. "Once I'm your boyfriend, I'll be your boyfriend forever."
She trusted him, and on Christmas day three years later, after all of the presents were unwrapped, Tyler announced there was just one more gift. He dropped to his knee and said he still wanted to be together forever, but as husband and wife.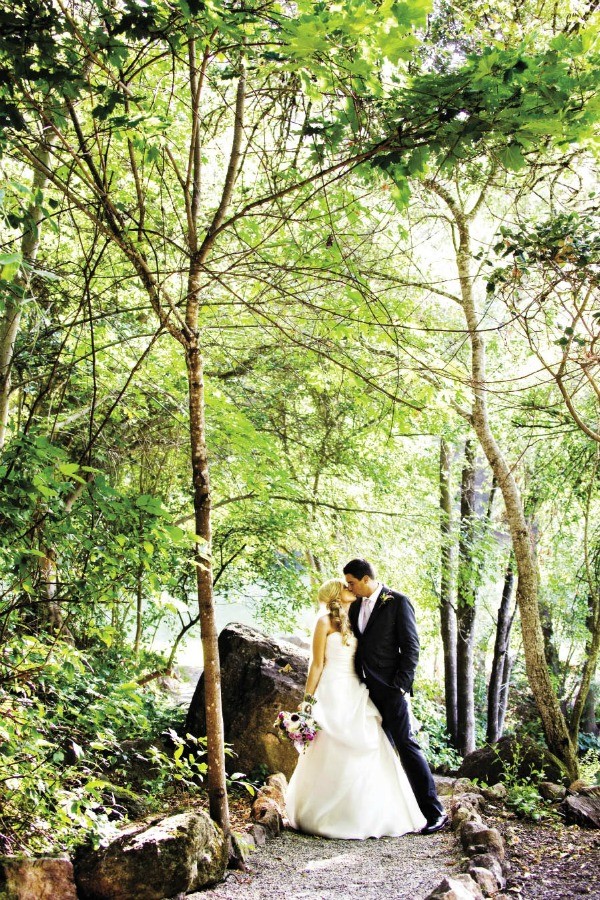 When it came to wedding dresses, Laura was searching for something with what she calls the "sexy princess" look. This gown from Amy Kuschel, with its A-line skirt and fitted bodice, filled the bill perfectly. The couple chose a simple boutonniere that matched the bridal bouquet. The palette—the purples and greens seen on this table card—was inspired by colors found at Meadowood resort in Napa Valley. Laura selected bridesmaids dresses from J. Crew with an uncomplicated form and a deep purple color. For flowers, Laura wanted to mimic the natural beauty of the surroundings. The highly textured arrangements featured not just pink, purple, and green flowers but Napa Valley bounty such as olive branches and artichoke stems.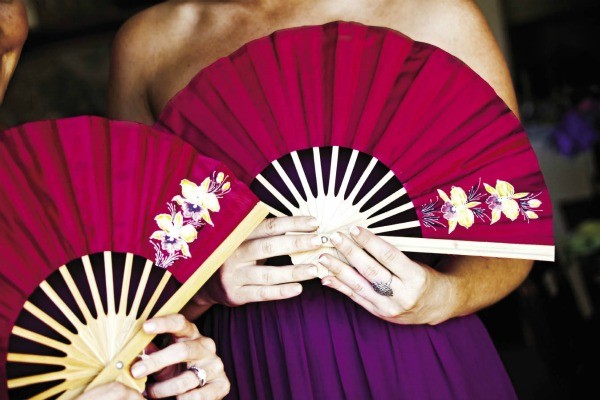 From the beginning, Tyler was decidedly anti-tuxedo. Instead, he opted for a Prada suit. The bouquet was adorned with a cameo pin that belongs to Laura's grandmother. "She means the world to me, so it was special to have something of hers in my wedding," she says. "The cameo reflects her beauty." The bride gave her bridesmaids brilliantly colored silk fans, which came in handy in the 90–degree heat. Before dinner, the bride spent a moment with her cousins. "They were playing, and I joined them and threw petals in the air," she says. "It added to the happiness of the day. When Tyler proposed, I had no idea what an adventure our wedding would be," says Laura. "It turned out to be the most incredible day of my life."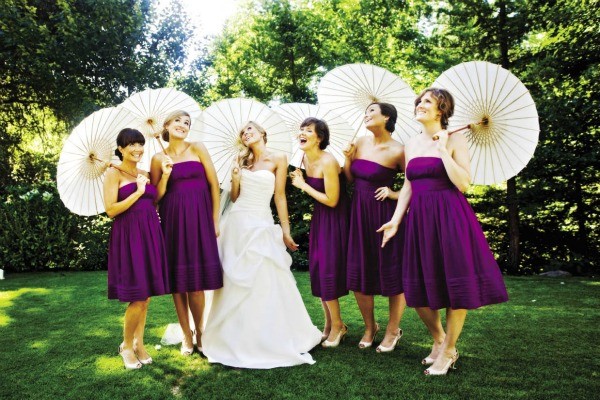 The walk down the aisle is the bride's favorite memory. Michael Shapiro, a close friend, sang "I Shall Not Walk Alone" by Ben Harper. "As I walked down the aisle, I heard the words, and I knew in my heart I would no longer be alone," she says. The couple's goal was to let Mother Nature provide most of the decorations for the event. "We wanted everything to be subtle and organic," says Laura. "The place is naturally beautiful, and we didn't want to add a lot of pretense." The parasols, provided by Meadowood, were a lifesaver for friends and family in the heat of the Napa Valley summer.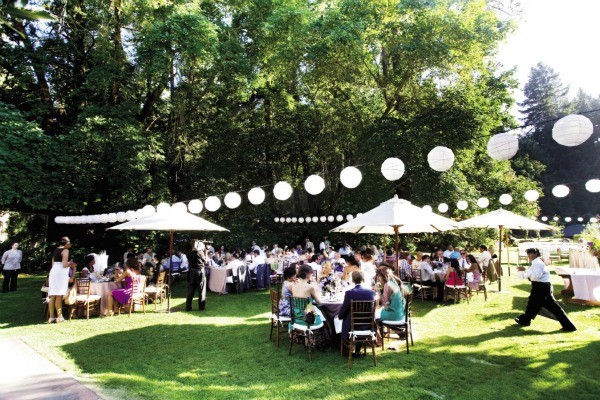 "Everyone said that we had the best food at our reception," says the bride. "We had seasonal and local produce." On the menu: heirloom tomatoes with burrata cheese and halibut in a fresh corn confit. Guests of all ages enjoyed props from the photo booth. The programs were printed on fans, which provided a cool breeze during the early evening ceremony. The bride and her guests cut loose on the dance floor after dinner. The first dance was to Ben Harper's "When She Believes," which includes the words: "Now all of life is just passing the time until once again your eyes look into mine." "When I hear those words, my heart just melts," says Laura. "It has been our song since we met."
DON'T MISS A BAY AREA BEAT! SUBSCRIBE TO OUR NEWSLETTER.