The next few weeks brings an assortment of distinctive programs to the SF Ballet stage ranging from modern, to classical, to formerly controversial.
---
Program 3
Igor Stravinsky's masterpiece The Rite of Spring is considered to be one the 20th Century's most revolutionary musical works. With its thumping tempos, jarring harmonies, and controversial subject matter, it was so radical in its time that it sparked a riot in Paris the night of its debut in 1913. Part of a worldwide celebration of the 100th anniversary of its premiere, SF Ballet's interpretation places Choreographer in Residence Yuri Possokhov in charge of Stravinsky's intense score. Don't miss it.
Guide to Strange Places features a series of sensual, savage, and delicate duets, each corresponding with an applicable melody. Inspired by a book he found in a Provence farmhouse, choreographer Ashley Page conceives strong connections between the textures and tones of the music and the personalities and physiques of the dancers, which, in turn, imparts a powerful, soul-stirring show.
Fashionistas may be extra interested to catch Mark Morris' Beaux. Accompanied by the loud and underrated harpsichord, the all-male troupe sports skin-tight, hot pink camouflage in its modern performance against a dramatic backdrop designed by the esteemed Isaac Mizrahi.
Various performance dates and times 2/26 – 3/10. Check here for more details.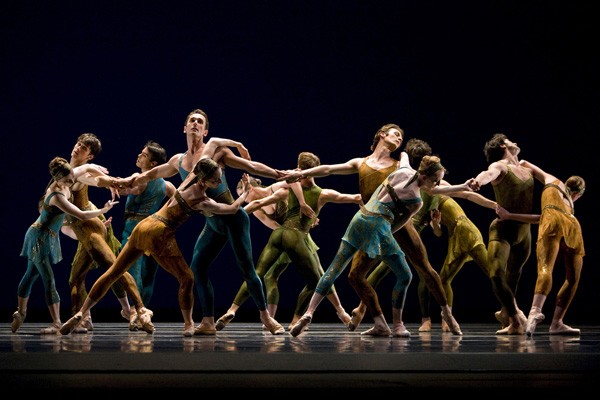 Within the Golden Hour. Photo by Erik Tomasson, courtesy of SF Ballet
Program 4
There's nothing modern about the romantic masterpiece Scotch Symphony. Mix one part Scottish traditional dancing, one part fairies, one part military imagery, and one part conventional ballet, the result is George Balanchine's ability to integrate different elements into one smooth and classic performance.
From Foreign Lands presents six well-defined movements of assorted temperaments bound by high-energy tarantella, fandango, and czardas music. It's a frisky and flashy ballet that begins in group silence, splits off into solos, duets, trios, and sextets, and eventually returns back to a full-ensemble finale.
Seven movements make up Within the Golden Hour, a performance that choreographer Christopher Wheedon brings to life by fusing classical ballet techniques with social dances in the fleeting forms of the waltz, tango, and the Charleston. Six string pieces by Ezio Bosso set the rhythm with a concerto by Vivaldi rounding out the seventh. Wheedon compares the ballet to "a series of small paintings or sketches that are inspired by music."
Various performance dates and times 3/1 – 3/9. Check here for more details.