Most believe that wine and cheese are naturally paired, but the truth is it's actually quite a difficult feat. Many pairings are terrible, and others make food and wine-lovers cringe. But don't fret, we've asked the experts and found a ton of tasty pairings just for you.

Image Courtesy of Charles Krug Winery

My personal favorite pairing is Cypress Grove's Midnight Moon and just about any big red wine. I recommend Casa Piena, Pine Ridge Cabernet Sauvignons, and John Anthony Cabernet Sauvignon. The somewhat sharp cheese melts into the flavors of big red wines creating a fantastically harmonious bite. Here is what the experts have to say: 
Cabernet Sauvignon and Chardonnay  
"We love to use Manchego, it goes really well with Chardonnay as well as with red wines… Throw in an aged Asiago with Cabernet and a creamy blue such as Blue Castello." – Patty Grantham, Charles Krug, Director of Hospitality and winery chef-in-the-trenches.
"The acidy of Miner Family "Wild Yeast" Napa Chardonnay balances the flavor and texture of Cowgirl Creamery's smooth Mt Tam cheese… an ideal pairing, with a striking visual as well as a unique texture element." – Richard Matuszczak, lead sommelier, La Toque.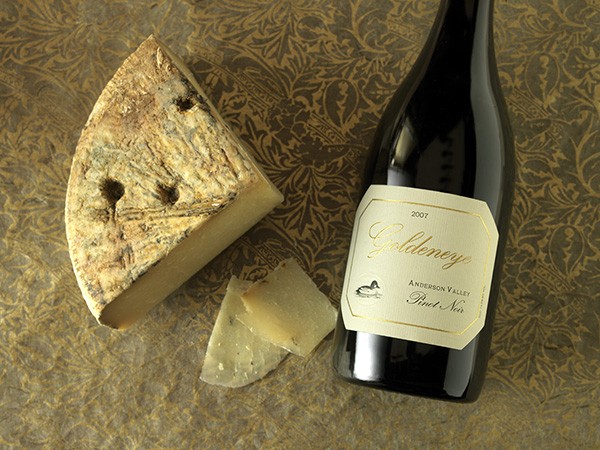 Image Courtesy of Goldeneye Vineyards
Pinot Noir
"Lighter red wines such as Pinot Noir usually have bright red fruit characteristics but also earthy and mushroomy ones as well. Camembert, which shares those earthy and mushroomy qualities, goes nicely with this style of wine and so too does young manchego and semi-hard goat's milk cheeses." – Laura Werlin, is one of the country's foremost authorities on cheese and is the award-winning author of four books on the subject.
Zinfandel 
Camembert and Zinfandel are a great pairing. Start with ripe Yellow Buck Camembert, place on a nicely toasted crostini, drizzle with balsamic glaze and sprinkle with toasted walnuts. Try Lambert Bridge Forchini Zinfandel.

 –Chef Bruce Reizenman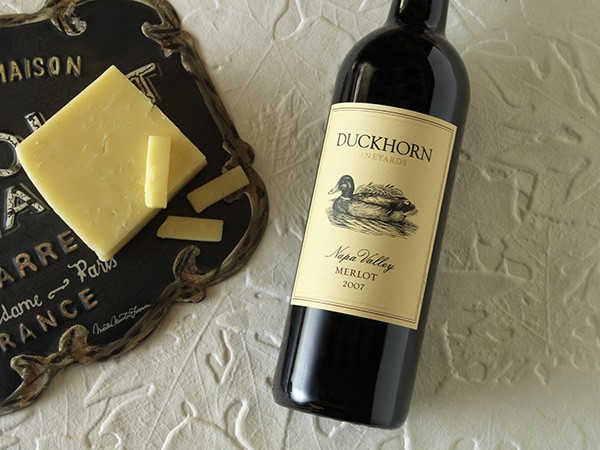 Photo Courtesy of Duckhorn Vineyeyards 
Merlot
If you can choose just one cheese to go with your treasured big red wines, you're best off selecting a bandage-wrapped cheddar. Try Duckhorn Merlot and Grafton Classic Reserve Extra-Aged Cheddar. – Laura Werlin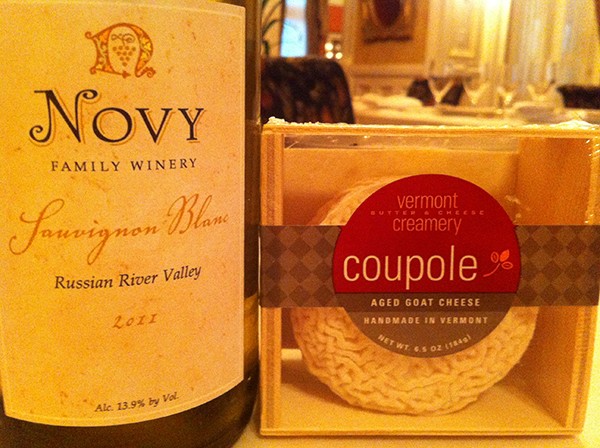 Image Courtesy of Novy Family Wines
Sauvignon Blanc + Lighter White Wines
"For lighter style white wines, look for cheeses that are also lighter in style. Examples of these are Sauvignon Blanc or Semillon and fresh chèvre or soft-ripened (brie-like) goat cheeses. Because lighter white wines tend to be crisp and lemony, you're best off choosing goat cheeses, which share those characteristics. – Laura Werlin. 
"Try Vermont Butter & Cheese Creamery Aged Goat Cheese with Novy Sauvignon Blanc" –Drea White, Wine & Beverage Director at Madrona Manor.  
Saké + Port
SakéOne's G-Joy is rich and full of fruit and earthy flavor tones  and perfect match for aged Gouda. 
"Point Reyes Farmstead Cheese Co.'s Toma's creaminess along with its intense buttery flavor complements the toasted nutty and caramel flavors of Dow's Tawny Port, to create a Crème Brulee effect that trumps any traditional dessert."  –Jill Giacomini Basch, Owner, Point Reyes Farmstead Cheese Co. & The Fork.