Ask longtime Oakland residents for the geographic constraints that define the city's Uptown district, and you'll hear everything from the sliver of space between 14th and 17th streets to the blocks that stretch from 12th to 25th. Ask them when it first received the moniker Uptown (despite being located in what other municipalities would consider decidedly downtown), most will reference the renovation of the Fox Theater or the turn of the new millennium as benchmarks. But ask which area of the city most encapsulates Oakland today, with its juxtaposition of old and new mixed with rapid gentrification, opportunity, and possibility, and there's no ambiguity: It's Uptown Oakland.

A decade ago, before the area was officially dubbed "the Arts and Entertainment" district of the city, Uptown's potential felt largely unfulfilled, with abandoned storefronts and longtime mom-and-pop shops. Although beloved by locals, the neighborhood failed to entice visitors from the surrounding communities, especially San Francisco. Now one of Oakland's hippest hoods, Uptown, with its robust mix of dining, shopping, and nightlife, has been luring San Franciscans with (slightly) cheaper rents, a little more space, and the same quality of life and range of options.

Stroll Telegraph Avenue during the district's wildly popular First Friday events, and you'll find 20-somethings spilling out onto the closed-off streets from galleries and bars while music thumps from the stereos of street performers and food vendors ply much-needed hot dogs on the small batch whiskey–fueled masses. And the buzz around Uptown Oakland will likely only continue to build in the coming months, with the opening of Proof, a woman- and African American–owned craft bottle shop; an Oakland location for Humphry Slocombe (coming to The Hive this summer); and Oakland Rec Club, a planned two-story cocktail bar, kitchen, and pool hall.

As tech giants and other companies continue to move into the district (Pandora has called Uptown home since 2000, and Uber is migrating a few hundred of its workers to the former Sears Building in 2018), some fear the area's affordability may vanish, and with it, much of its diversity and "Oakland soul." But if there's one thing Uptown has proved over the years, it's a district that's always primed for reinvention—and poised to defy definition.






---
Eat: The Best Restaurants in Uptown Oakland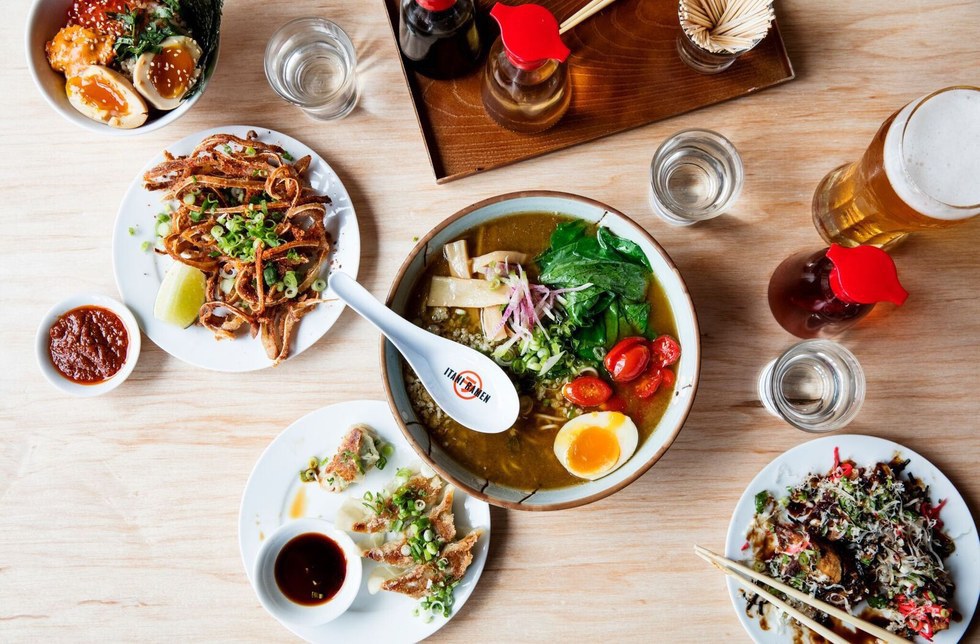 Itani Ramen
(Aubrie Pick)
SIT-DOWN SAVORY EATS
Itani Ramen
After gaining a reputation for innovative fusion fare as co-owner and executive chef of Uptown's Hopscotch (see below), chef Kyle Itani set his sights on a slightly more casual venture, opening the much-anticipated Itani Ramen in 2016. Counter service and slurpable cuisine keep the vibe relaxed, but the seasonally changing menu shows finesse and an intimate familiarity with Japanese food. Daily "genki" happy hour specials (from 3-6pm and 10pm to close) and a dessert and snack vending machine sweeten the deal. // 1736 Telegraph Ave. (Oakland), itaniramen.com
Calavera
As the unofficial centerpiece of The Hive, the multi-use complex on Broadway that opened in 2015, Calavera immediately beckons with exposed brick, soaring ceilings, an open kitchen, and a meticulously organized wall of spirits. Adventurous diners will get a kick out of baby pig tacos and guacamole topped with Oaxacan chapulines (grasshoppers), but less esoteric dishes, such as the queso flameado made with aged mezcal, still satisfy. It's hard to go wrong with one of the bar's tequila and mezcal selections, but the salt air margarita is a favorite for a reason. // 2337 Broadway (Oakland), calaveraoakland.com
This Japanese-inflected diner, which helped solidify Uptown Oakland as a dining destination five years ago this summer, churns out unexpected riffs on more traditional menu items. A sea urchin and salmon roe–topped oyster and a burger with griddled beef tongue remain among the can't-miss options. The to-go bucket of fried chicken is one of the tastiest take-out options in the area. // 1915 San Pablo Ave. (Oakland), hopscotchoakland.com
alaMar Kitchen and Bar
At the end of 2016, alaMar chef-owner Nelson German rejiggered the restaurant's concept, ditching table service for counter ordering but retaining many of the menu's popular seafood dishes. Now, the more casual vibe makes alaMar the perfect place for dollar oysters and drink specials on game day, girls' night out, and a relaxed evening over craft-your-own seafood boils or Cajun crawl packs with peel-and-eat shrimp and crab to feed a crowd. // 100 Grand Ave. (Oakland), alamaroakland.com
Shiba Ramen

The streamlined, ramen-focused menu at Shiba lends itself to a satisfying yet casual experience just steps from the 12th Street BART station. The five menu standbys for ramen vary by broth (clear, spicy, soymilk), and sides include Nagoya-style fried chicken wings, gyoza, and other seasonal specials. For an inside look at what it takes to run a restaurant, check out the Ramen Chemistry blog, where the owners document the building of their slowly growing empire. // 1438 Broadway (Oakland), shibaramen.com
Agave Uptown
This Oaxacan-infused restaurant, which opened last summer, features a colorful folk art mural, authentic renditions of dishes such as molcajete and prawns diabla, and an impressive array of mezcals. Many of the farm-raised ingredients are sourced from Mexico—to double down on Agave's emphasis on authentic south-of-the-border cuisine. In line with its location in the Kapor Center for Social Impact, Agave attempts to build on the center's mission to narrow gaps in opportunity and access for underrepresented communities. // 2135 Franklin St. (Oakland), agaveuptown.com
Parlour
The same team behind Bar 355 opened this rustic Cal-Italian spot last March with a focus on the open kitchen's wood-fired oven, which churns out roasted chicken, house-made sourdough, and seasonal pizzas with perfectly blistered crusts. // 357 19th St. (Oakland), parlouroakland.com
Flora
One of the first restaurants to recognize Uptown's potential, this veteran in the district's dining scene capitalizes on its Art Deco exterior and proximity to the Fox to serve elevated seasonal dishes and cocktails. Stop by for brunch, when a painstakingly crafted milk punch pairs perfectly with the buttermilk Belgian waffle. // 1900 Telegraph Ave. (Oakland), floraoakland.com
Plum Bar
Pick your favorite lines from the wall plastered with pages of poetry, and recite them to your table while chowing down on a happy meal: half a cheeseburger or falafel burger, smoked fries, any draft beer, and a shot of four rosés for $25. // 2216 Broadway (Oakland), plumbaroakland.com
Rudy's Can't Fail Café
Owned by Mike Dirnt of Green Day, this second location of Emeryville's Rudy's combines greasy spoon dining (with plenty of vegetarian options), boozy milkshakes, and a healthy helping of Barbies in restaurant uniforms lining the walls as décor. // 1805 Telegraph Ave. (Oakland), iamrudy.com
Kingston 11 Restaurant

Caribbean flavors collide in dishes such as salt fish fritters and jerk chicken, which involves marinating and smoking the poultry for hours. Weekends bring a lively crowd for island-inspired libations and classic roots and reggae music. // 2270 Telegraph Ave. (Oakland), kingston11eats.com
Umami Burger
You'll find the beloved burger chain's signature stamped buns, hatch chile–topped burger, truffle fries, and hulking ice cream sandwiches at this Oakland iteration, which features striking wall murals in muted tones. // 2100 Franklin St. (Oakland), umamiburger.com
GRAB-N-GO
One part "permanent pop-up" and one part punk rock, this sliver of a restaurant gives Japanese fried chicken and other izakaya-esque fare a California spin by sourcing its produce from local farmers markets and making everything from scratch in-house. While the array of options for the four- or eight-piece fried chicken can be daunting, beginners often choose between the Aburaya Japanese BBQ glaze, agave ginger teriyaki glaze, or garlic miso dry rub. Round out the meal with deviled avocado bites, one of the 7x7 Big Eat Oakland selections for 2017. // 362 17th St. (Oakland), aburayaoakland.com
Bare Knuckle Pizza
Bare Knuckle doesn't mess around with pizza, especially the wood-fired, from-scratch Neapolitan kind. All the dough is made fresh daily, and owner Viet Nguyen keeps things local by sourcing vegan cheese from the Butcher's Son in Berkeley and flour from Giusto's in South SF. Make sure to show up when doors open on Tuesday, Friday, and Saturday nights, when the restaurant has a tendency to sell out of its limited-run pizzas. And if you like things spicy, keep an eye out in late summer for the TNT pizza, which showcases Thai chilies grown by Nguyen's father-in-law and guaranteed to be "burn your tongue off" hot. // 351 12th St. (Oakland), bareknucklepizza.com
Belly
Expect Korean-Mexican fusion influenced by Los Angeles street food: kimchi-stuffed tacos, steak and French fry burritos, and tempura-topped burgers, plus house-made lemonades and potent truffle fries. // 1901 San Pablo Ave. (Oakland), bellyuptown.com
Xolo
Bacon-wrapped hot dogs, breakfast burritos, and crispy beef tacos are among the highlights at this Mexican taqueria from the same team behind Tacubaya and Doña Tomas. // 1916 Telegraph Ave (Oakland), xolotaqueria.com
Liba Falafel
A favorite with the lunchtime worker bee crowd, this weekday-only spot is modeled after Amsterdam falafel shops. Liba lets you dress your choice of menu item with made-in-house salads, sauces, and pickles from the bar. Pair a leafy falafel salad—the most popular item—with sweet potato fries, soup, or spiced pita chips to help power you through the rest of the workday. // 380 17th St. (Oakland), libafalafel.com
Analog
Night owl vegetarians and vegans will feel right at home with the seven meat-free sandwich options available until at least midnight, paired with a heavy dose of nostalgia courtesy of VHS tapes, an original Nintendo, and a jukebox filled with 45s. // 414 14th St. (Oakland), analogoakland.com
Get your hands on toothsome breakfast pastries, buttery sweets, and seasonally changing lunch sandwiches made on slices of crusty-loafed bread. If you're inspired to try your hand at baking after you've dusted yourself with crumbs, Firebrand offers baking classes on bread, cookies, and pretzels. // 2343 Broadway (Oakland), firebrandbread.com
Lady Esther's
Two decades after the first Lady Esther's in East Oakland closed, the original owner's daughter is once again bringing Southern soul food to town with a new Uptown location. Signature dishes—only available during the week—include daily specials such as smothered steak and Louisiana seafood gumbo, and most dishes include three sides, making a filling meal at Lady Esther's one of the best weekday values. // 300 Frank H. Okagawa Plaza #150 (Oakland)
The Gastropig
Uptown Oakland faced a severe breakfast sandwich shortage before The Gastropig brought its wildly popular #Baconslut to the bleary-eyed masses in early 2017. The applewood-smoked bacon sandwich—featuring an over-easy egg, cheese, and Aleppo chili oil on a brioche roll—is just one of the early A.M. options. While the focus is decidedly on breakfast, grab-and-go deli sandwiches (including an ode to longtime Oakland deli Genova) and a Monday-only burger keep the lunch masses well-satiated. // 2123 Franklin St. (Oakland), thegastropig.com
BAR BITES
Mua
Art, cocktails, and inventive bar food collide inside this industrial space, rumored to be a postgame favorite of Warriors players. Stop by for the daily happy hour, when you'll score the best deals on small bites such as mushroom crostini and fried blue cheese olives, plus seasonal cocktails and wine and beer. // 2442 Webster St. (Oakland), muaoakland.com
This Spanish-inspired restaurant offers an array of pintxos and tapas, plus larger dishes meant to be split between two to four diners. Order the patatas bravas and fried fava beans to accompany one of the bar's list of 13 sherries to start, and don't skip a paella de carne and bottle of Spanish wine for the table. During the day, the former bodega space now houses Kured, chef Paul Canales' lunch pop-up (Weds–Sun) focused on house-made sausages and cured meat sandwiches. // 468 19th St. (Oakland), duendeoakland.com; kuredmeat.com
Mockingbird

The restaurant specializes in sophisticated yet approachable seasonal cuisine, ranging from fried Brussels sprouts served with a lemon garlic confit aioli to a slow-cooked pork sugo plated alongside crispy rosemary polenta. Grab a spot at the roomy 20-seat bar and sip a cocktail made with locally produced spirits. // 416 13th St. (Oakland), mockingbirdoakland.com
Small Wonder
The dining and drinking experience at Small Wonder is delightfully offbeat, with vintage furniture, plentiful plants, and colorful murals combining to create a cozy if quirky vibe. Ephemera hangs from the ceiling, live jazz music frequently fills the air at night, and both classic and house-invented cocktails clink at tables. Linger over fish tacos and artichoke dip, or stop by during the day for coffee and free WiFi. // 37 Grand Ave. (Oakland)