Originally published on CaliforniaHomeDesign.com
Where: 131 Culebra Terrace, Russian Hill
What: A 1912 cottage on a private Russian Hill lane, straight out of Tales of the City, renovated about ten years ago into a 2-level, 3-bed, 3-bath house with great views west to the Golden Gate Bridge. It comes with a deeded parking spot in front and has been on the market five days, asking $2.175M.
Inevitably, staging has made it look like an expensive bed & breakfast, but there also doesn't seem to be much one can't live with. Like the rest of the house, the kitchen is well-appointed but conservative, and the arched opening allows the cook be part of what's going on in the dining room. High ceilings, nice tile work and a bay window: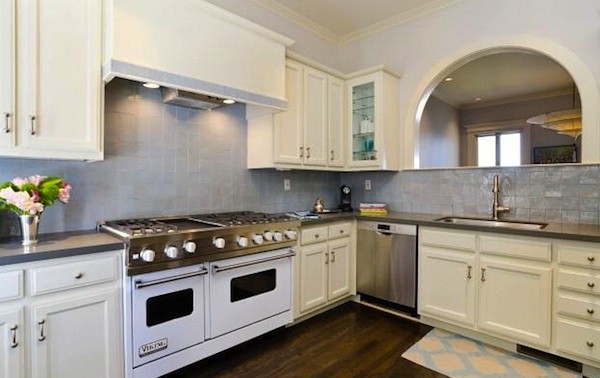 What We Like: The intimate view of rooftops and the Golden Gate. Culebra Terrace is a quiet, winding street tucked the bottom of the west slope of Russian Hill, and with a few exceptions, the neighboring buildings are 2- and 3-story structures of the same vintage. Most have with deeded parking spots on the street and the Chestnut Steps are a few yards away for impromptu cardio.