Last week, we explored the world of the pre-dinner aperitif cocktail. In the same manner, Europeans typically end their long, relaxed meals with digestifs to aid digestion. While digestifs are traditionally sipped straight, San Francisco bartenders have found new ways to mix up these bitter, aromatic liqueurs.  Amaro, the broadest group of digestifs (think Fernet, Averna, Cynar), and probably the most common, is made from a mix of various herbs, roots, flowers, and other ingredients such as artichokes or orange peel. The mixture is then distilled to create a dark, rich, and herby liqueur. I've compiled a list of the city's most unique aperitif combinations from bars and restaurants alike.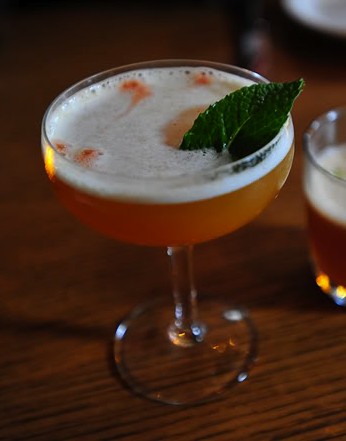 "Il Gitano" from Two Servings
In searching for a thorough list of digestif cocktails, I was surprised to discover that Beretta's small yet impressive drink menu included more than several of these herby treats. And it's no wonder. After downing antipasti, pizzas, and risotto, the only kind of cocktail you'll want is one to aid digestion. Try the "Lone Wolf" (bourbon, lemon, averna, gomme, cardamom), "Il Gitano" (amaro, lime, pineapple gomme, grapefruit), or the "Monte Carlo" (rye, Benedictine, bitters) for a perfect after-dinner treat.
LOCANDA
Locanda boasts the largest collection of amaros in San Francisco. Finish off your decadent meal of pastas, Jerusalem artichokes, and fresh fish with a "Moro Amaro Fizz," made up of amaro, blood orange, lemon, egg white, seltzer. The egg white lends a dessert-like quality to the drink, while the amaro and citrus sooth a full stomach. Or, if you're in the mood for something stronger, try their "Palomma," comprised of tequila, amaro, grapefruit, lime, and seltzer. It packs a punch while ending the meal on a satisfying note. 
AQ
AQ conveniently has their cocktail menu organized into aperitifs, cocktails, and digestifs so you won't be left wondering which cocktail you should end your meal with. If you're looking for a cocktail, they've narrowed it down to two drinks that change seasonally. For spring, they're offering the "Campfire Flip," which includes High West campfire whiskey, house spirits coffee liqueur, black grous, whole egg, and Octomore mist. Or, try the more simple "Charterhouse Harvest," featuring rye, Mandrian napoleon, yellow Chartreuse, and barley beer.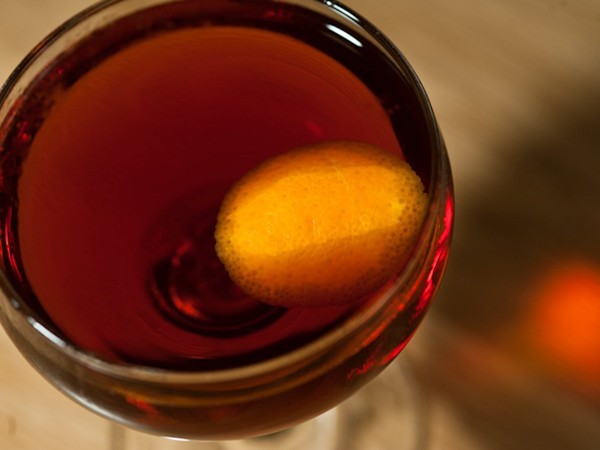 "Devil's Backbone" from Eat Your Books
This fairly new Mission tapas bar has a large array of aperitifs, digestifs, vermouths, and liqueurs. They split their cocktails into "Nuevo" and "Classico," so you can try either traditional drinks, like Manhattans, Martinis, or Old Fashioneds, but also delve into newer territories. These new cocktails experiment with several digestifs, many of which we rarely see at other bars in the city. Try the "Bergen St." (Krogstad acquavit, Plymouth gin, lime, vanilla, Galliano, absinthe), the "Carpenter's Hand" (brandy, amontillado sherry, Drambuie, orange peel), or the "Devil's Backbone" (rye, Islay scotch, Averna amaro, Gran Classico, two bitters, orange peel) for some innovative and exciting post-meal sips.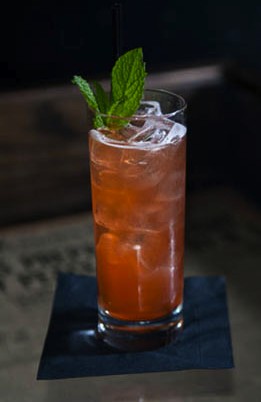 "Fidel and Che" from Kelly Green
This speakeasy-style bar opened last year and has since been a gathering spot for experienced drinkers with a taste for the bitter, complex flavors of aperitifs and digestifs. Located in the basement of the Hearst Building, Local Edition's newspaper theme penetrates everything from the décor to the drink names. Try "Fidel and Che," comprised of white rum, Aperol, yerba mate syrup, mint leaves, and soda water for a post-dinner pick-me-up. Or, for a richer, yet still stomach-soothing cocktail, try "The Masthead," which uses Highland Park 12, Amaro Nonino, Campari, and cacao nib/stout syrup.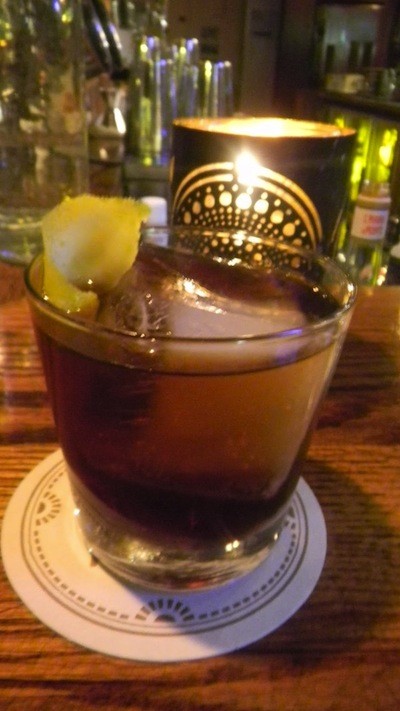 "Black Rose" from Drinks in the City
This south-of-the-border restaurant and bar focuses on tequilas, tacos, and the like. Surprisingly, however, their cocktail list boasts more than a handful of interesting digestif cocktails. With primarily a bourbon, mezcal, or tequila base, these after-dinner drinks are bold in flavor and likely to get you more than a little tipsy. While the choices are almost limitless, some standouts include the "Rodeo Ghost" (Fidencio Clasico mezcal, vermouth, zucca amaro), the "Black Rose" (añejo tequila, apple shrub, fernet valet, black walnut), and "Cruzita" (Encanto pisco, amontillado sherry, aperol, cardamaro). For a lighter post-dinner sip, try the "Goldrush," with blood orange, amaro, lemon, and sparkling wine.