I first came to India in 2004 to heal after my mother's 
death. I immediately found comfort in a place that was so completely foreign, and I welcomed the distraction from all-encompassing grief. Years later, after having three miscarriages, I returned to this place where I made peace with the loss of my mom, to heal once again, and start a family of my own.
My husband, Alex, and I decided to try surrogacy after reading a New York Times article about Dr. Nayna Patel's Akanksha Clinic in Anand, India that specializes in infertility. In stark contrast to the American approach to surrogacy—a risky and uncertain business where regulatory laws vary state by state—Patel's program promised to take care of all the complexities involved with accomplishing a birth through surrogacy, in one carefully monitored and safe location, from start to finish.
But it was Patel's guiding philosophy that truly inspired us: She seeks to bring women from different worlds together, each helping another to realize an otherwise unattainable dream. I was fundamentally drawn to the idea of making a difference in an Indian woman's life—a surrogate mother there earns enough to care for her own family for at least 10 years—just as she would make a tremendous difference in mine. After much soul-searching and being assured by Patel that Akansksha surrogates are well cared for and in no way coerced, it was decided: We would set out to have children in India.
So in 2008, Alex and I traveled 9,000 miles to the small town of Anand, close to the northern border near Pakistan, to have a child with the help of a 26-year-old surrogate named Vaina, whom I had never met, and to undergo IVF treatment with a specialist I had only spoken with over the phone. From the moment we arrived, it was clear we were worlds from home.
The streets of Anand are a jumbled puzzle of honking, yelling, rumbling, and random explosions in the distance that nobody pays much attention to. Elephants roam nonchalantly, like 
kids on their way to school. Behind them, peacocks strut and scream, pecking for crumbs in the dust while groups of sacred cows look on, superior and detached. Wagons weighed down with mangos, watermelons, bananas, jasmine, roses, handicrafts, and spices rattle by on their way to the old town market. Whole families spill onto the sidewalks, selling a few sparse wares—an embroidered pouch, a used tire, a 7-Eleven-style slurpee, or something fried to eat—letting the morning roll untroubled into the afternoon beneath a relentless July sun.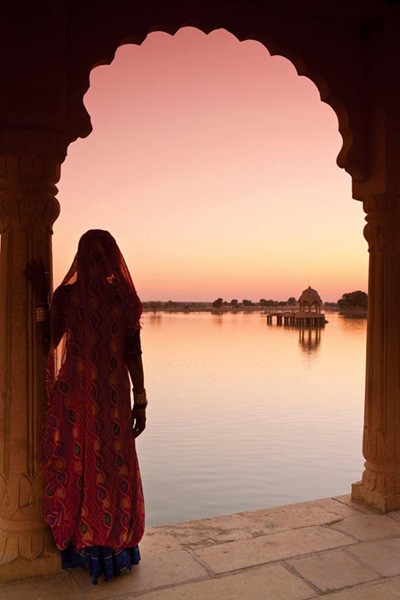 I was about to begin 14 days of IVF injections when it struck me how daunting it is to go through such intimate and exhausting medical procedures in a developing nation. My baby, I came to realize, would be born in a totally foreign culture. Truthfully, I think I only made it through by closing my eyes to the sheer madness of the adventure. When you are facing something as intractable and incomprehensible as infertility and you're feeling helpless, denial can be your best friend. Before losing her battle with breast cancer, my mom taught me that. It's what makes it possible for us to run where angels fear to tread. I thought she was crazy, but now I understand the method to her madness.
One-hundred-degree heat alone is enough to rob one of all energy. Add to that two weeks of IVF treatment, and you have an emotional journey that took a lot out of me. Yet again, I found myself in this hot, exotic land seeking profound rest and recuperation. And so, with the medical requirements behind us, Alex and I sought to recover in the remarkable country that I have come to love so much.
Since my mother's death, I have had a deep spiritual connection to Rajasthan, about 400 miles north of Anand, where I've spent most of my time. I call it the state of healing and royal magic, a place where rugged hilltop forts and majestic palaces, polo-playing princes wearing turbans, and a swirl of saris take you to another time.
Alex and I drove from Anand to the 16th-century dynasty of Udaipur, called the "Venice of the East," where the waters of Lake Pichola lap against the shimmering white buildings in the foreground of the Aravali hills. Here, the luxurious Devi Garh palace awaited us. We slept like maharajas and indulged in a private dinner for two in one of the castle's rosebud-sprinkled turrets. Then it was on to the Thar Desert city of Jodhpur, also known as the "Blue City" for its painted rooftops that surround the Mehrangarh Fort, a 15th-century cliff-top palace that towers above a medieval skyline. The ancient walled city is home to modern boutique inns and unbelievably glamorous hotels, including the famous Umaid Bhawan Palace—part hotel, part residence to the Jodhpur royal family.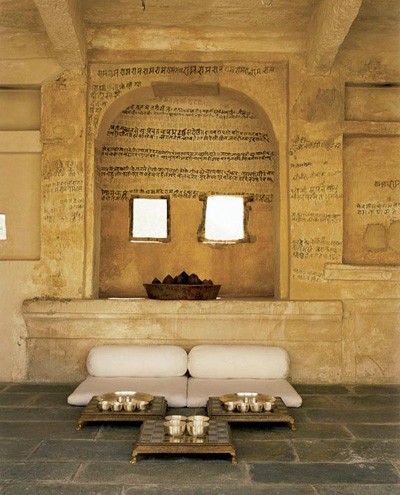 Our pilgrimage came to an end in Jaipur (fly there on Jet Airways or Fisher King), a true fairytale land where brightly painted elephants walk along the streets. (Sadly, the elephants are often employed by enterprising Indians who use them to earn money from tourists posing for pictures.) Founded by the 
Maharaja Sawai Jai Singh II in the 18th century and known as the "Pink City" 
for its stunning terracotta architecture, Jaipur is home to many famous landmarks, including the Jantar Mantar, a centuries-old astronomical observatory counted among UNESCO's list of world heritage sites. Jaipur is sometimes called the "Paris of India," a moniker made evident at the Rambagh Palace, where Mughal and Rajasthan styles of Islamic architecture mingle with exotic foliage in a garden so expansive that you could almost think you imagined it.
Reality awaited us at home in San Francisco, where Alex and I would wait a long couple of weeks to receive the news that we were going to be parents of not one but two children who would soon be born of Vaina in Anand. Now the mother of twin girls, Emma and India, I have recorded this journey in a journal that I someday plan to share with them. When they are old enough, maybe 10, I will take them back to India.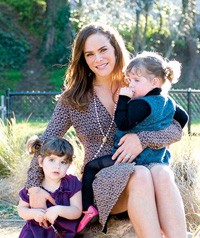 Adrienne Arieff is the author of  The Sacred Thread: A True Story of Becoming a Mother and Finding Family Half a World Away (Crown, 2012). She lives in Potrero Hill. Purchase her book here.

This story was published in 7x7's May issue. Click here to subscribe.