In New York City, every avenue is a runway. Its denizens flaneurs and fashionistas. Fifth Avenue is chockablock with Chanel. The cobblestones of SoHo rattle with the tattoo of a million Manolos. And the fuzz of the heritage-brand hipster is fast engulfing Brooklyn. As a Bay Area native who's lived much of the past 25 years in New York, I've put in my time at the alleged center of the world. It isn't always pretty—except when it comes to clothes. So how does my hometown of San Francisco measure up, style-wise?
In contrast to the eye candy that is New York's street fauna, flora-loving San Francisco serves up eye Tofurky. Why must every cubicle dweller in town be clad in technical outerwear, as if eternally prepared for a camping emergency? And ladies, what is this devotion to Lululemon? Must a girl always be ready to bend over the moment someone barks out "downward dog?" And I can't even fathom what's going on with the hipster crowd. Unlike the Brooklyn variety, Mission dwellers dress as if they were trying to look ugly. Show me 
a guy or girl in the Mission wearing a thoroughly considered ensemble, and I'll show 
you the black Uber car that transported them from the Marina.
It's not as if San Franciscans can't afford good clothes. Rich people here are so much richer than wealthy Manhattanites. During any sunny lunch hour on any given day, there are tech tycoons, napping on the benches in South Park, who could buy and sell every surviving scion of Mrs. Astor's famous Four Hundred. Even our middle class is financially well-endowed, and our bohemian contingent is at leisure to fritter away its time making art to burn in the desert. Meanwhile, New York's creative class spends its energies trying to sell out. (Case in point: the John Varvatos boutique now standing on the Bowery grave of the old punk-rock landmark CBGB).
San Francisco is superior to New York in so many ways—no matter how busy we are as innovators and environmental warriors, we have mastered the work-life balance thing like no other city has. But why our blind eye to fashion? As I nursed No. 209 gin martinis during SF's gala season this year, my well-dressed wallflower self had plenty of time to ponder this odd social contradiction between coasts. When I dress up and go out in New York, the better I look, the more strangers want to talk to me. The exact opposite is true here, where a tuxedo might as well be a cloak of invisibility. The vibe I get from our self-consciously open-minded city isn't jealousy. It is something deeper, more like suspicion from skeptical onlookers.
Then it hit me. Fashion means something different to San Franciscans. For New Yorkers, truth is beauty, and beauty is truth; how well you dress is a reflection of how good (or how successful) you are as a person. In New York—a town dominated by media, fashion, and banking—the assumption is that if you don't have the critical judgment to match your shirt and shoes, then you don't have what it takes to spot a trend or pick a stock.
SF resides on the other side of the coin. Here, the emphasis is on one's inner splendor—what you look like has no bearing on what you do or who you are. San Franciscans advertise our substantive spiritual souls by our ostentatious disdain of anything smacking of surface. The best programmers and engineers here have always come to work in sandals. It's as if an eye for style actually implies a lack of judgment and skill. The Devil Wears Prada is not a cheeky title—it is almost a given.
But that's not the whole story. What the city lacks in taste for designer fashion, it more than makes up for in theater. It is a curious fact that locals, whose professional wardrobes might consist of little more than jeans, T-shirts emblazoned with ironic messages, and Vibram FiveFingers shoes, are highly likely to possess steamer trunks full of costumes, corsets, top hats, platform boots, and tutus. Because we really do love ourselves a parade. And a carnival. Call it the id of the fashion-repressed.
In San Francisco, a party isn't really a party unless it's a costume party. Not a month goes by without the city coming together in some kind of epic role-playing festival: Bay to Breakers, Pride, LovEvolution, WonderCon, SantaCon, and the Folsom Street Fair. Halloween is a bigger deal than Christmas. And what is Burning Man if not San Francisco's displaced dream of itself? It's these parties that finally lured me back from New York, where the fashionable elite really can't stand a carnival.
Fashion is a social act—the human equivalent of preening among monkeys. But even with fashion, we all have our hang-ups. And whichever coast we live on, we are all too keen to achieve that delicate balance, the 
sweet spot, between keeping and breaking with our social norms. The good news is that we can overcome these silly affectations. Just remember that dressing up—whether in costume or Comme des Garçons—is something we do for each other. So the next time you reach mindlessly into your closet for that hoodie or those yoga pants, realize that it is your San Francisco ego getting dressed. The real you would wear the tutu.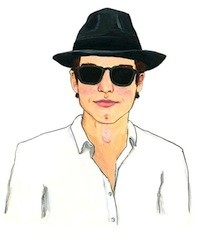 Wes Turncoat is a writer with a faux name and a real agenda to tell it like he sees it. He wears both tuxedoes and tutus—for anonymity is bliss.
Calling all SF writers: Submit your story for consideration to ledger@7x7.com.
This article was published in 7x7's March issue. Click here to subscribe.