By
The beautifully designed building at 355 11th St. has more than its share of design know-how. It is home to architects as well the construction firm Matarozzi Pelsinger (where Bob Carroll is the general manager) and Northbrook Design (Katherine North's interior design firm). The building was undergoing a Matarozzi Pelsinger-engineered remodel when Bob noticed Katherine. His offer to help her move office furniture led to an invitation to a Robert Plant and Alison Krauss concert and then, last year, to a marriage proposal.

At first, the couple planned to marry under the big top of a circus tent (Katherine's middle name is Ringling, and yes, we mean THOSE Ringlings), but that would entail inviting an entire circus troupe, and the couple wanted a small, intimate (not to mention budget-friendly) wedding.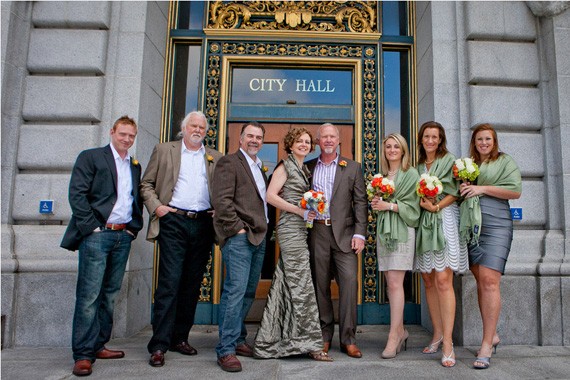 San Francisco's City Hall provided a happy medium and a perfect solution. Although leasing the building's rotunda is an expensive proposition, Katherine discovered that having a small ceremony in an area called the Mayor's Balcony gives a wedding all the grandeur of the building's architecture without a whopping rental bill.

"We wanted an actual ceremony, and not a quickie 10 minute City Hall wedding," says North. "We were able to rent the Mayor's Balcony for one hour."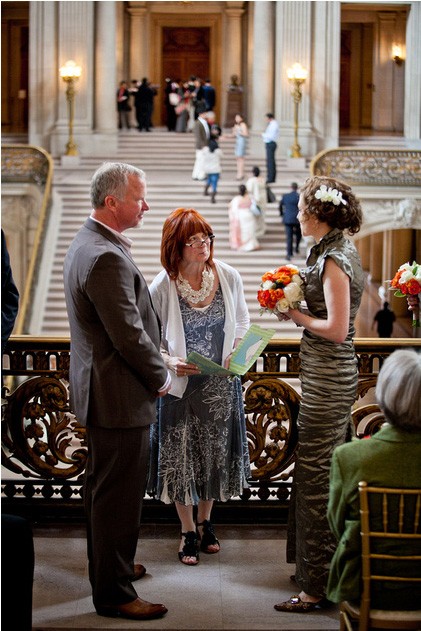 Inspired by the grays and greens of the surroundings, Katherine chose a Nicole Miller gown in muted moss tones and a hand-painted wrap (which cost more than the dress itself). "I went with my mother to try on traditional, white wedding gowns," says Katherine. "They just weren't me. In this dress I felt like myself."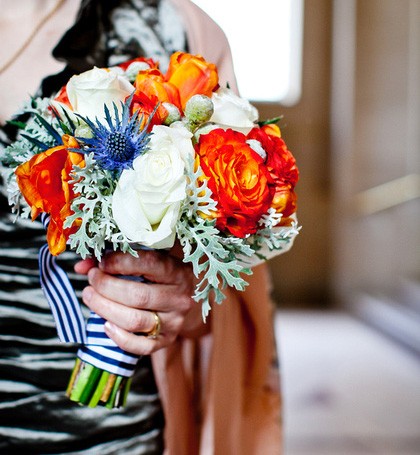 Flowers by Erica Rose Design
For her bridesmaids and the groomsmen, the designer created color palettes: grays for the women, blues and browns for the men. Then she provided sage green wraps for her bridesmaids for a unifying element. "My favorite inspiration photo was of a wedding party where the bridesmaids were wearing different prints, but all in the same color," she says.

The men in the wedding party are a comfort-loving group, so Katherine asked that they wear sport jackets and jeans. "They were so excited that they didn't have to wear ties," she says.

On the big day, 30 guests gathered on the balcony to watch as the couple was married in a modified Irish wedding ring ceremony. Afterwards, everyone went to the Waterbar for a small reception. "I chose the Waterbar after Googling 'places in San Francisco that will seat 30 people,'" says Katherine. "The views in the private room made it a treat for out of town guests, and the space and the food were fantastic."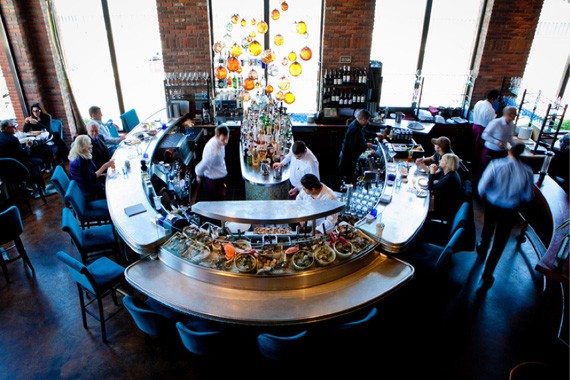 Ever the designer, Katherine made the escort and name cards with stamps. The metal table numbers will be reused in the couple's next big production. "We are building a house on the Peninsula, and these will actually be our house numbers," says Katherine.

Perhaps the wedding didn't take place in a circus tent, but on May 20, 2011 it just may have been the greatest show on Earth.
DON'T MISS A BAY AREA BEAT! SUBSCRIBE TO OUR NEWSLETTER.