What I remember best about my years living in a commune is that there was always a record playing in my home. All of the hits of the 60s and early 70s (as well as classical, jazz, real country, gospel, and other music) made a terrific backdrop to the daily chaos of communal living.
Many of the vinyl discs and reel-to-reel tapes were actually given to "us" by the artists themselves during their not-infrequent visits to our abode. There were also quite a few jam sessions, and a lot of us kids "lived" backstage. Because of all this, I've always needed to play some kind of music.
I was always drumming on shit or whistling loudly enough to drive the communists even crazier. One of them, probably thinking it cute at the time, had taught me the hail-a-NYC-cab whistle, and the whole clan probably wanted to kill him for doing so. I can still get a speeding taxi to come to a quick halt.
When I was 19, a childhood friend taught me to play more than just a few measures of Beethoven's Moonlight Sonata on her piano. It only took an hour or so to learn, but I would spend the next, well, let's just say a lot of years, sitting down at any piano I came across to perfect my impression of Ludwig Van's beautiful piece. Moreover, I would perfect how to get out of playing the rest of the tune. Girls especially were often quite impressed and playing what I could was often quite, um, handy.

In the past six years, I've taken a free piano course at City College of SF two, maybe three times, and lasted only one or two lessons each time. About three years ago, I finally got around to using the interwebs and looked into some local music schools and teachers. However, I still procrastinated another year before I finally began taking them.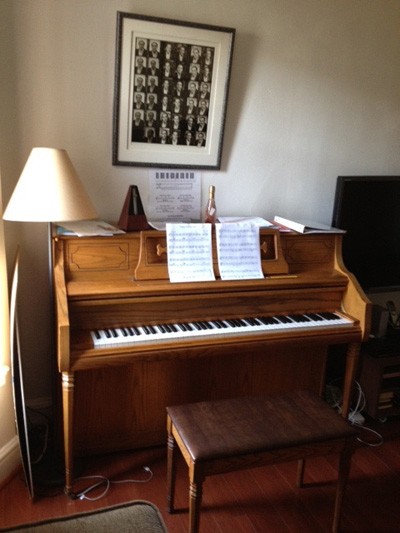 Eventually, I enrolled at the Community Music Center, an affordable and quaint little school not far from my home in the Richmond. My first teacher was a very qualified, patient, and endearing Georgian woman named Muza Mdzinarishvili (say that five times fast). At my first lesson I played my sonata for her. She said, blankly, that I had a good ear and timing, but that the little that I knew wasn't "exactly" correct. I continued there with Muza for about a year before scheduling (read: sudden singledom) forced me to find home lessons with more flexible scheduling.
I rented an upright piano for $45 a month from Sherman Clay. My second instructor, Maya Carina, was another great teacher, but I couldn't handle the responsibility of actually scheduling the lessons. I began to procrastinate after only a few, ultimately blowing it off altogether. I seriously missed it, though, and after a short hiatus, I'm now back at the Community Music Center's Mission campus, studying with Muza again and knowing in my heart that I'll never stop playing. I never miss a lesson. Not on purpose, anyway.
Muza says that I'm a very good student, which is a real kick. I can now read music, play tricky pieces, and guess what? I truly enjoy the shit out of doing so. I can honestly say that playing the piano is the only hobby I've ever had.

Hint: Being well manicured certainly helps when tickling the ivories.