By
After John W. Stewart and Ramon Torres finished decorating their Christmas tree in 2009, Ramon left the room. John called after him: "There's one more decoration I want us to put on together." When Ramon returned, John got down on one knee, handed him a Cartier ring box and said: "Will you marry me?"

There was never a question about whether the men would have a traditional wedding. "It's unfortunate the current state [of marriage] is one of inequality," says John. "However, that 'legal formality' doesn't diminish the deep meaning that a wedding attended by our family and friends had for us."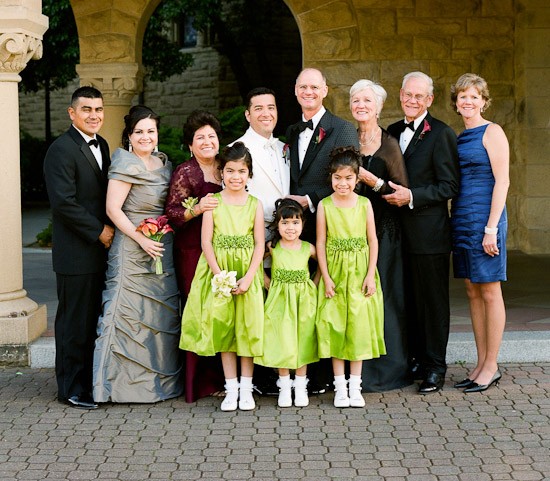 The San Francisco couple decided to have a true Bay Area wedding, with the ceremony at Stanford University's Memorial Church and the reception at the Asian Art Museum. Even though it meant shuttling guests from Palo Alto to the city, both places were meaningful enough to make it worth the commute. Ramon went to school at Stanford, and attended services and performed in concerts at the church during his time there. But the couple also wanted a San Francisco wedding, so they chose the iconic Asian Art Museum for its beauty and multiple spaces—enough for cocktails, a seated dinner and dancing.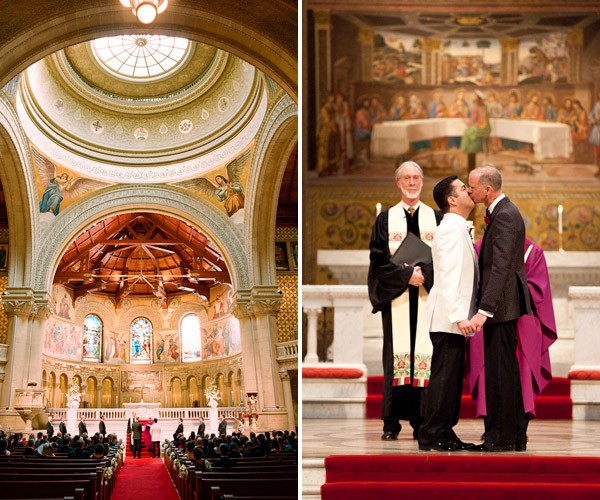 The grooms describe the elegant, yet fun, event as being very "them" from beginning to end. At the church, the décor was simple, as they felt the architecture and design spoke for itself. At the museum, a mariachi band greeted guests and signaled that the party had started.
Inside, the reception began in shades of elegant burgundies. When guests sat down for a meal of seasonal and local ingredients with Mexican, Asian and European flavors, shades of orange joined the color palette. Later, after the cake (a mix of pound cake and chocolate with chocolate chips, both with raspberry filling) was cut, guest moved to an area done with deep reds and purples and topped with a large disco ball. The men describe the look for the dance floor as a sexy Asian nightclub. "We wanted to convey the sense that everyone was there to party and have fun," they say. "The band kicked it up a notch and played nothing but crowd pleasers. The dance floor was full and everyone had a blast."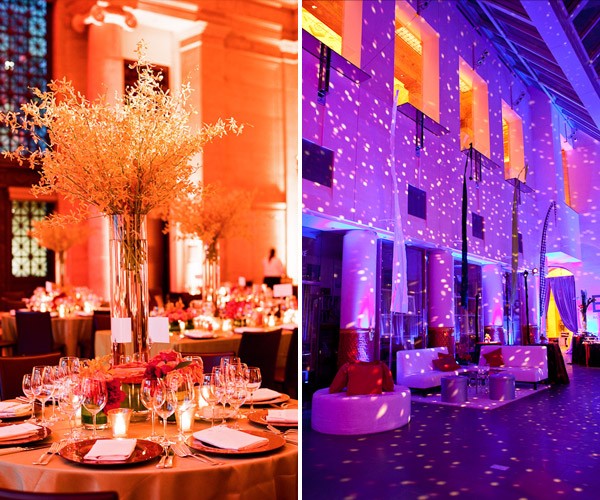 Wedding planner: MAP Wedding & Events 
Photographer: Lisa Lefkowitz Photography
Catering: Paula LeDuc Fine Catering 
Cake: Perfect Endings
Florist: Hunt-Littlefield
Lighting/Drapes: Got Light
DON'T MISS A BAY AREA BEAT! SUBSCRIBE TO OUR NEWSLETTER.