By
Whether you're a screenwriter looking for inspiration, a novelist in need of a strong cup of Joe, or a student trying to get out of the library, here are a few special San Francisco cafes perfect for scribes looking for a jolt of inspiration.
Significantly smaller than some of the other spots on the list, it's undeniably worth jockeying for a seat even during crowded weekend hours. The immaculately decorated Lower Pacific Heights favorite is clean, comfortable, and affordable -- a delicious breakfast and coffee will run you significantly less than your average spot, especially for the bougie Fillmore area. They do put laptop and time restrictions on the larger tables during peak hours, so come early or late if you're looking to write with a group.  2123 Fillmore
Just the location alone—in North Beach, across from City Lights Bookstore—would be enough to earn this a spot on the list. But Vesuvio Cafe has earned notoriety in its own right, as a favorite of Beat poets like Jack Kerouac. With this history and location, it'd be difficult not to feel inspired here. 255 Columbus
The Borderlands Cafe website homepage makes it clear just how welcome writers are here -- "A nice place to sit, read, write and converse." The offer free WiFi access from 9 am to 5 pm weekdays, a wealth of wall outlets and up-for-reading magazines, and an affiliated bookstore for science fiction, fantasy and horror fanatics. For those in the market for a writing group, Borderlands Cafe is the destination for various writing meetups. 870 Valencia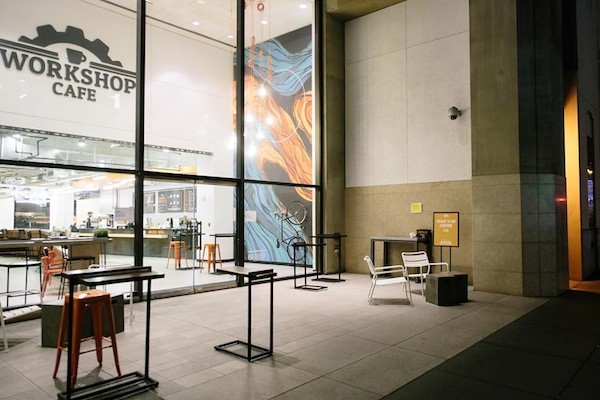 Photo courtesy of Workshop Cafe.
This Financial District cafe has a unique vision catering directly to those in need of a workspace. Patrons pay $2/hour for access to their work-from-home style amenities, including high-speed WiFi, outlets, and ergonomic setups. They also live up to the 'cafe' part of their name by serving up Stumptown Coffee drinks, pastries, and more. For those known to burn the midnight oil, Workshop Cafe is aptly open until 10 pm. 180 Montgomery
Bean Bag Cafe 
Bean Bag Cafe is essentially a full-service restaurant by night and a writer's haven by day. Perhaps the best part of this Alamo Square cornerside stop is that they serve both savory and sweet crepes, a refreshing change from the typical cafe menu. 601 Divisadero
Bernie's
Housed in a classic Victorian home in Noe Valley, it's easy to feel at home at Bernie's. Cozy and with great food and coffee, there's little to complain about here — and the friendly staff seems to feel the same. 3996 24th Street
Blue Danube Coffee House
Walking-distance from both the Golden Gate Park and the University of San Francisco, it's not unusual to find a mix of artist-types and students posted up at this local cafe. They serve everything from bagels to fresh juices, to sandwiches and everything in between. If you're feeling fed up with work, opt for a pitcher of sangria or a bloody mary.  306 Clement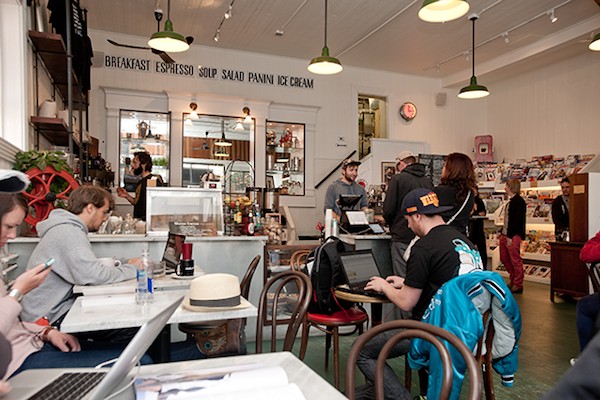 Photo courtesy of Farley's Coffee.
This Potrero Hill hideaway's tagline is 'Community in a Cup,' which pretty much says all you need to know about Farley's. They have great coffee, breakfast and pastries, and—in case you need a break from your laptop—a stock of board games and magazines up for use. 1315 18th Street
Epicenter 
Epicenter prides themselves on being a perfect mesh of old and new worlds: a great cup of coffee in the European tradition accompanied by SOMA-friendly high-speed WiFi access. Bonus: they also sell beer and wine. 764 Harrison
Coffee to the People
This unpretentious Haight outpost offers WiFi and a wealth of outlets, which can often be a challenge for laptop-toting writers. This, along with a library-and-couch enclave, makes it one of the most writer-friendly options on this list. 1206 Masonic
Chameleon Cafe
The Chameleon Cafe is another coffee shop-turned-living room offering up couch seating and a small library for patrons. The free WiFi and ample seating make this the ultimate Nob Hill stop for a Sunday afternoon of writing—best of all, perhaps, they are open until 8 pm Friday-Sunday. 1299 Pacific
DON'T MISS A BAY AREA BEAT! SUBSCRIBE TO OUR NEWSLETTER.