We've partnered with Russian Standard Vodka and asked some of the city's top mixological talent to concoct delicious drinks with Russian Standard Vodka as its star ingredient, and base the name of the cocktail and its ingredients on a deeply-held ambition: maybe a frozen drink inspired by climbing the tallest peak, or salted rim to evoke sailing the open sea...
Want to win a $100 bar tab? Try all the cocktails over the next seven weeks and "toast" (i.e. vote for) your favorites by selecting one here.
Meet our fifth featured bartender, Patrick Poelvoorde from Park Tavern . He mixed up the Alpine Meadow. Visit Patrick at the bar at Park Tavern, or try his recipe at home.
Ingredients:
• 1.5 oz. Russian Standard Vodka
• 0.5 oz Edmond Briottet Manderian Liqueur
• 0.5 oz Domaine Cauhape Jurancon 2006
• 0.25 oz. fresh lemon juice
• 6 drops of house made sarsaparilla-black truffle bitters
• 3 sprays of Green Chartreuse and Nasturtium flower to garnish
• Combine all ingredients except Nasturtium and Chartreuse in a Boston shaker and add cold ice. Shake until well chilled and double strain into a chilled coupe glass sprayed with Chartreuse and garnish with Nasturtium flower.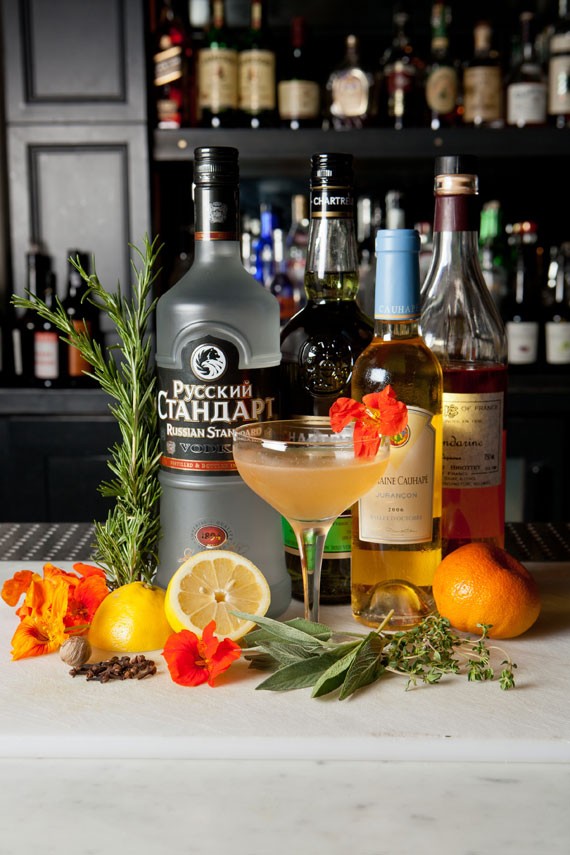 Bartender's notes: I was inspired to create the "Alpine Meadow" from the ideas of duality and change. I very much enjoy spring snowboarding and would love to do so in the Alps. Riding at that time allows one to experience the dual sensations of the floral spring air combined with the crisp cold of the snow. This cocktail enjoys the same qualities, going from bright acidic citrus when chilled to the earthier tones of truffle and sarsaparilla as the drink warms. The Russian Standard Vodka acts as the medium for those changes by providing the silky mouthfeel much like the mountain provides the platform for one the most enjoyable activities on the planet.
See all the participating bartenders here and vote for your favorite!
PLEASE DRINK RESPONSIBLY. Russian Standard® Vodka. Product of Russia. 100% Grain. 40% Alc/Vol. ©2012 Imported by Russian Standard Vodka, NY, NY.