When I innocently started my fried chicken sandwich quest last week, I had no idea that it would demand such gluttony. Who knew there were so many to be had (in San Francisco ... we're 7x7, for those of you screaming Bakesale Betty collectively)? Recommended to me from Twitter and the comments on my last blog were sandwiches from:
• Hard Knox Cafe
• 4505 Meats
• Citizen Cake
• Nova
• Hotel Utah
• Sandbox Bakery
• Auntie April's
• Macellato's
• Eats
• Naked Lunch
• Brass Knuckle (food truck)
• Kitchenette
• Front Porch
• Little Skillet
• Memphis Minnie's
• Radius
• Plow
• Showdogs
• Broken Record
I did a little of my own research to find out about Rhea's Deli, Citizen's Band, Plow, 3-Sum and Piperade. That's 24 fried chicken sandwiches. A girl cannot eat that many without being scheduled for angioplasty.

But I've done my best in what time I had and I've come out the wiser. What I've learned is this: The best fried chicken sandwich has to be the sum of all parts. It has to have great fried chicken that stays crisp in the bun. The bun must be hearty enough to hold its own. Some pickles or puckery slaw is really needed to brighten the fat and salt (which oddly, few of them that I tasted included). Once it's assembled, it shouldn't be taller than a mouth is wide.

Out of the nine I've tried (Citizen's Band, Radius, Marlowe, Showdogs, 4505 Meats, Little Skillet, Piperade, Memphis Minnie's and 3-Sum), here are some, but not all, of my field notes. (Essentially, the sandwiches I had decent pictures of.) And though I'm not including it because it sort of bucks the bread trend, the quirky sticky-rice and fried chicken sandwich at Sand Box Bakery would be a top pick.
Turn to our Best Of issue in June to see which fried chicken sandwiches I've selected as my top five.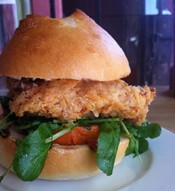 Citizen's Band
A real specimen of a fried chicken sandwich, this SoMa edition comes with a house-made roll from Pinkie's Bakery, excellent fried chicken and a vitamin A-rich sweet potato, which you get brownie points for. To match the sweetness, I would have liked a little heat in this one, but overall this is a quality product.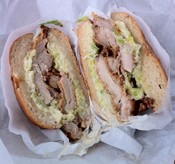 Naked Lunch
Disclaimer: I had one of our interns take the bus up to North Beach to retrieve this sandwich because I was too swamped with work, so there was some Muni-lag time involved. Time is of the essence with anything fried. Nevertheless, the dark-meat fried chicken was tasty, the bun good and it came with a side of Crystal hot sauce which I happily dumped on top. This is an everyday chicken sandwich. Not eye-rolling delicious, but very tasty.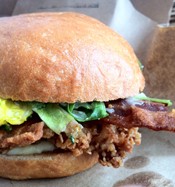 Marlowe
They add bacon here, which is gilding the lilly. It really doesn't need it because it's pretty perfect without. Of course, I would have liked something vinegary, but the fried chicken is crisp and beautiful, it has a great bun, a Caesar aioli (essentially, aioli, add Parm) and field greens. It's not obscenely big either. In the world of fried chicken sandwiches, this is for the lady who lunches. With bacon.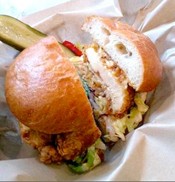 Showdogs
You know the fried chicken here is going to be good because of the Foreign Cinema connection, but it's the heat in the lemon-cayenne aioli and the cole slaw (which also has chilies in it) that cranks this up a notch. One of the best in town. Just look at it.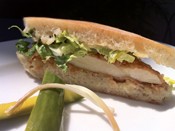 Radius
A skinnier take on the FCS, this one is on Acme's herb slab which wouldn't be my choice. The pickles were good, made in-house with some sweetness to them (the ramps are a noble addition, if a bit spindly—I've never understood people's obsession with ramps). The chicken could have had more crunch. Radius has a patio which is where this sandwich should be taken.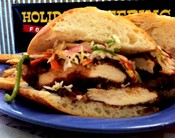 Memphis Minnie's
Only available on Thursdays, this sandwich comes on a massive French roll, a bit bready for my taste. But what I appreciated about this sandwich is that the slaw is made with vinegar instead of mayo. I squeezed some of the vinegar-and-chili–based North Carolina BBQ sauce onto it as well. At that point, it was quite tasty indeed.