Last week I was driving and parking in the streets of Boston. Even though I was on vacation, I couldn't stop myself from analyzing the parking situation, asking locals questions about parking, and comparing the driving experience with SF.
First of all, I was searching for all of those horrible roads that have earned Boston the nickname Land of 10,000 Potholes. Guess what...I didn't find one. Truly, not one. I was in the North End, in the South End, on Boylston Street, on Mass Ave...not one pothole. The best that I could find was a 230-year-old cobblestone street near Paul Revere's House that was actually a smoother ride than some of the bone-jarring and tooth chipping streets in our fair city.
According to TRIP, a national travel research group, the high concentration of poor roads in San Francisco adds an average of $705 to the maintenance of each vehicle.

 That's the equivalent of receiving 11 meter violation parking tickets. So, I propose that rather than bitching about parking, we make a shift, if for no other reason than a refreshing change of pace,  and start bitching about the road conditions. This issue actually could be the link that creates solidarity amongst drivers and bicyclists. Hitting a pothole that pops the tire on a bike, or the tire on a car leaves both operators fuming. 
 
The San Francisco/Oakland/San Jose metropolitan areas were tied for second worst in the nation behind Los Angeles. If your vehicle is damaged from a pothole or other road hazard, you can make a claim to the City Attorney's office and be reimbursed for your expenses! I've done this...it really works. You must note specifically where the predatory pothole or hazard is, and you must show evidence of the damage. A claim must be filed within 6 months of the incident.

 And, you can do it all online. To make a claim, click here.          
 Another observation that actually makes our parking restrictions seem friendly was a sign that only residents of certain neighborhoods may park in those specific neighborhoods at night.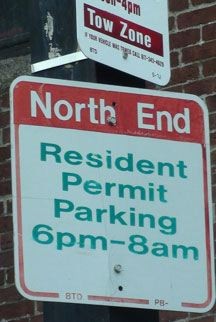 In SF, we are restricted to parking for 2 hours in residential neighborhoods of which we are not residents, and we may park in those areas typically without any restrictions overnight.  This seems much more friendly and reasonable.  In Boston, what if your girlfriend or boyfriend wants to come over, have dinner, and spend the night?  "Nope, sorry, I'm not a resident, I can't have dinner and a sleepover with you at your place unless we live together."  So, my unexpected but pleasant conclusion after my Boston driving experience is that San Francisco may have some bumpier roads, but the SFMTA and their parking restrictions actually make dating a much more free and pleasurable experience than other cities do.
 
To read about other ways that the streets of San Francisco can enhance your love-life, such as great make-out spots, click here.