If your usual method for selecting a wine to pair with a dry-aged, flame-kissed ribeye, a pile of burnt ends or crispy chicken wings slathered in sweet, spicy barbecue sauce involves grabbing the biggest bottle of red in sight, we beg you to reconsider. With all that fat and flavor, bigger may seem better, but there's a little thin-skinned varietal hailing from Northern Italy and grown throughout California that I'd put up against the dark, tannic Malbec of Argentina in any charred tri-tip challenge.

In the same way that Malbec has, for obvious reasons, become the go-to open-fire-cooked red-meat wine, Barbera, because of its affinity for tomato sauce, is often relegated to tangoing with pizza and pasta. There is no arguing that both of these make fine pairings, but rules, at least in the wine world, are better broken than obeyed.

There is something incredibly refreshing about the intercontinental pairing of California-grown Barbera with barbecue. Its naturally soaring acidity cleanses and refreshes the palate between each bite and/or finger lick. With bright red fruits and a natural gaminess and smokiness that is frequently rounded out with sweet toasty oak, Barbera also rolls in at significantly lower alcohol than the bigger, bolder Malbec, making for a better summertime wine altogether.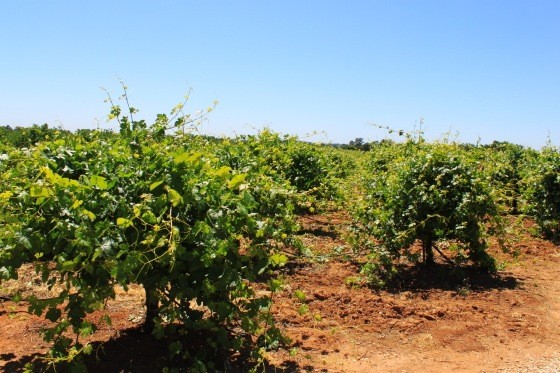 Barbera vines in Cooper Vineyards, photo by John Capone
Amador Country (where the Barbera Festival is held each summer), Lodi and Paso Robles are becoming recognized for making distinct versions of the Piemonte native, where it is traditionally planted alongside its nobler neighbor Nebbiolo in regions like Barolo and Barbaresco. In California, warm sunny summers tame the grapes acidity; the best producers, however, are careful not to ripen the nuance out of it, making for a fresh, fun and surprisingly complex wine.

The good news is that the swap won't cost a thing: California Barbera hovers around $20.
Barbera-Q, anyone?

2009 Barbera, August Ridge Vineyards, Paso Robles
Winemaker John Backer adds a bit of his estate-grown Nebbiolo to his Barbera, something that makes total sense, given that they come from the same region in Italy. The Nebbiolo adds leather and spice to the bright cherry fruit and dried cranberry flavors Barbera is known for.

2009 Barbera, Borjon Winery, Amador County
Borjon's Barbera comes from the acclaimed Cooper Vineyards in Shenendoah Valley where Dick Cooper's head-trained vines (which protects the fruit from getting too much sun) have gained a reputation for producing flavorful grapes with finely balanced acidity.

2009 Barbera, Uvaggio, Lodi
Harvested from old vines in Lodi, Jim Moore's Barbera is a darker and richer rendition, with notes of cherry candy and hickory smoke. Time in oak adds to the wines complexity without distracting from the varietal character.