There are certain blocks in this city that seem like mini-universes. Each week, we'll highlight a stretch of pavement where you could spend an entire day and night. Next up? Third Street and 22nd Street.
Where to take your dinner date: Serpentine was definitely a trailblazer in the Dogpatch–in fact, it was one of the first reasons most people had to venture all the way out there. Yep, their food and drinks are that good. Universally renowned is their Prather Ranch Hamburger on a buttered, griddled Acme roll. What sets it apart are its housemade bread and butter pickles, and pickled onions–which both cut through the richness of the meat and cheese. Add a peppery crunch with arugula, and you've got a winner. And don't forget the cocktails...they're a must to start any worthwhile date night off right.
Where to check out the open mic nights over a stiff drink: A classic dive that's been around since the beginning of time, the Dogpatch Saloon is a chill place to get away from the crowds. It'll be just you and a few old salty dogs, a decent jukebox, and maybe some hot dogs and bartender-made chili to soak up the booze. Come Sundays, open mic sessions and live jazz rule the bar.
Where to eat a giant breakfast: Fuel up at the cute-kitschy Just For You Cafe, but if you can, avoid the weekend rush by hitting up on a slower weekday. Kick it off with a huge mimosa (served in a pint glass!), and some fresh-baked, made-to-order beignets to start. One item only on their weekday menu that we love is the Creole crab cake po' boy, served on French bread. And if you're feeling like roadkill from the night before, try Greg's Scramble–it's an instant hangover cure.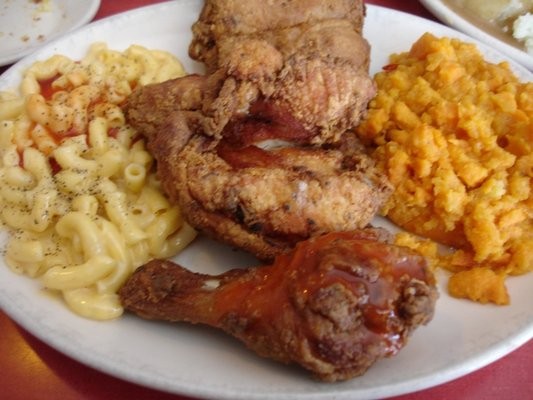 Hard Knox Cafe's food, photo via Yelper Kristin E.
Where to get your Soul Food fix: Craving a gutbomb meal that's not a burrito? Get some rib-sticking eats at Hard Knox Cafe. It's not some nouveau BBQ joint–this place makes portions big enough for sahring, so bring friends to help you with that heaping plate of fried chicken, mac n' cheese, or catfish. And don't forget the sides! One dish that might not be on your eating repertoire is meatloaf...but the kind here is special. It's Cajun-style, so it's spicy and earthy, served with thick, brown homemade gravy. Comfort food at its finest. Wash it all down with an Arnold Palmer.
Where to get nerdy about wine: 'Hood favorite Yield Wine Bar is the perfect place to drop in for a post-meal drink. Sommelier and owner Chris Tavelli puts mostly biodynamic and organic wines on the menu, and you can also expect fuller bodied whites and reds that can stand alone, sans food. There's a section of the menu devoted to after-dinner drinks. Should you arrive hungry, they do have a totally affordable food menu where the most expensive item (a delish cheese platter) is only $15.
Where to make your sweet tooth smile: Lauded by everyone from SF Weekly to Bon Appetit, Mr. & Mrs. Miscellaneous's artisanal ice cream flavors are quietly making a name for themselves on the outskirts of town. Opened by two former pastry chefs Ian Flores and Annabelle Topacio (they've worked for Wolfgang Puck, at CUT in Beverly Hills, and so on) make all their organic ice cream and its fixings right there in the shop. Alongside classic flavors like chocolate and strawberry, check out their all-star choices like "ballpark" (Anchor Steam porter ice cream with chocolate-covered pretzels and peanuts), ghost chile + vodka and candied violet.
Where to get poked: For a delightfully hip dose of healing, Acupuncture Kitchen is worth the trek. Their HQ is a calming, clean little sanctuary that houses not only acupuncture treatments, but massage and psychotherapy as well. They also excel in fertility treatments, so hopeful mothers-to-be, you might want to stop in. On your first visit, they'll sit down with you "probably over a cup of tea" (so says their website), talk about your medical history, and formulate a treatment plan tailor-made for you. How can you hate on that?