There are certain blocks in this city that seem like mini-universes. Each week, we'll highlight a stretch of pavement where you could spend an entire day and night. Next up? Chestnut and Steiner.
---
Lunch: For some reason, it seems like the Marina is ground zero for amazing salad spots–because sometimes, you just crave a big giant plate of veggies. Right? Stop into Blue Barn Gourmet for a light midday grub session. Don't worry, it's not all rabbit food. They've got pressed sandwiches, soup and even a separate grilled cheese menu. Drool.
Dinner: The gold-thumbed masterminds behind Beretta and local chain Super Duper also run Delarosa, which is a hotspot in its own right. You might have to fit for a seat depending on what time you go, but the food and drinks are worth the wait. We go nuts for their burrata bruschetta with hazelnut and honey, the meatballs in spicy marinara, the super-rich Dungeness crab arancini, their blistered Roman-style pizzas–namely the hot salami/coppa variety. Vegans, never fear...you can add vegan cheese and vegan sausage to your pie. For dessert, go for the bombalini caldi, which are housemade donuts served with three different dipping sauces.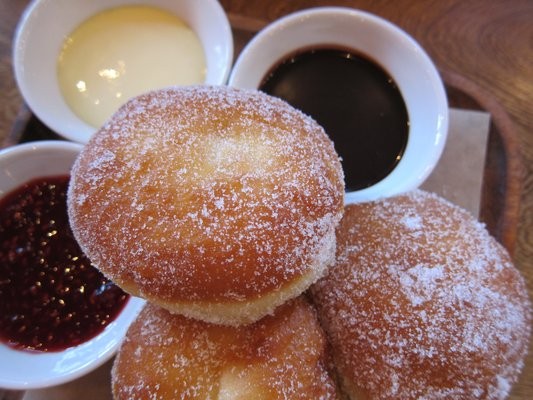 Delarosa's bombalini caldi, photo by Yelp user Dee M.
Dessert: Be sure to save some room for SusieCakes, the 'hoods most hopping dessert shop. They've got their tried-and-true cupcakes, but it's really all about their luscious whoopie pies, sweetie pies (heart-shaped hand pies with seasonal fruit filling...perfect for Valentine's Day), and puddings (um, hello! Banana pudding with vanilla wafers, butterscotch toffee pudding, and chocolate, yes please!). And of course, they'll put together an entire gorgeous cake for you, if a special occasion calls for one.
Where to drink: If you're not in a full-blown food coma, stop by the ultra-dive known as Donahue's Marina Lounge. They've got a good whiskey selection, a slew of old regulars, arcade games (Pac-Man!), sports, and no screaming frat boys in sight.
Where to hang out: Chestnut Street can get insane, whether it's sunny out or St. Patrick's Day. Duck into the Marina Theatre for a cozy movie experience (some say their popcorn is especially delish). They've got two separate screens in rooms only about 50 seats big. Talk about a perfect date night spot.
Where to shop: If you're in the market for a good bottle (or just a sip), drop by California Wine Merchant, which has been around since the 1970s. In addition to their more popular selection, they've got a whole cult wines and rarities section for you to go wild in. Curious about their in-house wine bar? Check out their menu here. Camera shops are pretty hard to come by in this day and age (excuse me while I quietly mourn their slow death). Keep the dream alive at Fireside Camera, which has been in business since the 50s. They've got both film and digital cameras, offer special developing by Swan Photo Labs, and do cleaning and equipment examinations. Heritage Row is totally a Marina girl's dream come true. They've got young, must-have basics and on-trend, of-the-moment sophisticated stuff perfect for city adventures. Their sales associates are known for being super helpful, and their selection includes everything from shoes to jewelry to dresses, sweaters, and more in an array of cool brands like Quiksilver, Plastic Island, BB Dakota, Dolce Vita, French Connection.