There are certain blocks in this city that seem like mini-universes. Each week, we'll highlight a stretch of pavement where you could spend an entire day and night. Next up? Grant and Green Streets in North Beach.
Where to get stiff drinks and see live music: Grant & Green Saloon is a reliable corner dive where people are always popping in and out to ease their nerves with a drink or two in the way to wherever it is they're off to next. Walk by one day and you'll hear a live band wailing away on the joint's tiny stage. On anothe night, you'll hear the enthusiastic screams of sports fans deep in the rollercoaster torture that is football/basketball/baseball. And seekers of bargains, take note. most happy hours they serve $2 Fernet shots and $4 tall cans of PBR.
Where to stock up on vinyl and record players: 101 Music is one of the few remaining old-school record shops in the city, so we've got to treat it like the treasure trove it is. They've got two locations, both within spitting distance of one another; one houses a ton of record playing and recording equipment as well as an entire basement full of used LPs, and the other outpost offers even more LPs. You'll get good old fashioned customer service (the employees are salty music nerds, in the best way possible), and quite the epic, dusty hunt for the music you crave. It's heaven to us record collectors.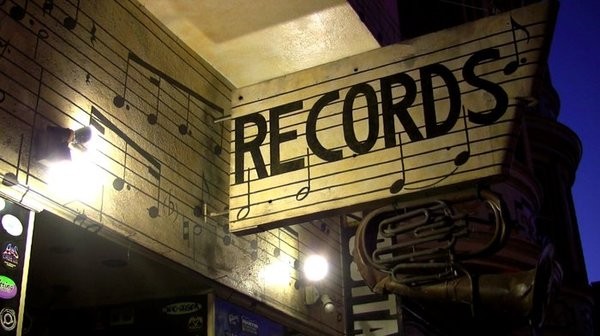 101 Music photo by Yelp user Sarah B.
Where to get your dapper guy a gift: Got a man in your life who doesn't suck? Old Vogue is the place to hit up when gift-giving time rolls around. It's a highly-curated shop full of men's vintage clothing and accessories that's pretty off the beaten path, so you can be pretty sure you'll have a ton of good stuff at your fingertips. From slick leather jackets to Western shirts to hats to an entire upstairs full of jeans, boots and shoes, the quality is almost unmatched in the city.
Where to geek out on beer: If you want a cozy bar to hole up at so you basically feel like you're enjoying a beer in your own living room, head to Church Key. Only there's no way you have over 60 beers at your disposal. This tiny spot is renowned for its hefty, rotating selection of domestic and imported brews (along with the cheap stuff like PBR and Olympia for the beer bozo in your group), including Belgian trippels on tap (which are loaded with alcohol). Soak up the beer with a few bags of Ryan Farr's chicharones.
Where to catch a cover band and watch the game: In 2006, a couple of  Irish natives opened Maggie McGarry's to create an authentic Irish pub in the heart of North Beach. It sports one of the best best bar stages in SF, with a storied history to boot. The space has previously been home to some of the city's most famous landmarks including "Lost & Found," "The Coffee Gallery," and "Mrs. Smith's Tearoom." Janis Joplin, The Doors, and Robert Plant have all performed at Maggie's in its previous incarnations. According to the bar's website, there's a rumor that the Sex Pistols were once turned away at the door. Now, you can catch some of the best local and national party bands (read: cover bands) at Maggie's every weekend...and it's always free! Check out their events page to see what's next (we spy a Guns N' Roses tribute...)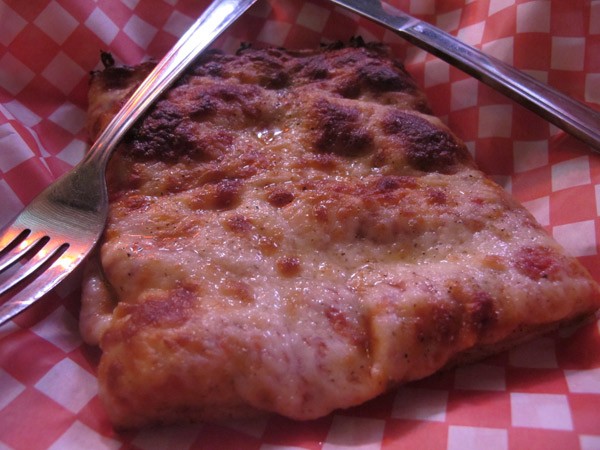 Golden Boy photo by Yelp User Diana M.
Where to get your square-slice-of-pizza fix: Golden Boy is almost always hoppin', but it's worth the wait. And it never tastes anything short of incredible, whether you're eating it after a night of drinking, an afternoon of biking around the city, or as a second lunch (one of my bad habits, for sure). Since 1978, the menu has always been dependable: Choose from cheese, pepperoni or sausage, clams and garlic, pesto-vegetarian, or combination. Sit at the counter or walk around with a few squares in your hand and ogle the beauty of North Beach. You cannot lose.
Where to treat yourself with lingerie: Alla Prima has an extensionin North Beach, for all you ladies who can't make it out to Hayes Valley. They specialize in luxury, sophisticated lingerie from Europe, and offer a thoughtful, freqently changing selection of sets and single pieces from the likes of La Perla, Eres, Prima Donna, and many more. With the holiday season rolling around, you might just want to indulge yourself with a few things from Alla Prima...and hey, if the thought of wearing brand-new lingerie is enough to keep you from over-eating this winter, go for it!