There are certain blocks in this city that seem like mini-universes. Each week, we'll highlight a stretch of pavement where you could spend an entire day and night. Next up? Sutter Street and Jones.
Where to caffeinate yourself: Cafe Bean's a chill spot to grab locally-roasted coffee. It's always light-filled (thanks to floor-to-ceiling windows) and warm, so don't be afraid to linger a little while.
Where to get your hair done: The barely one-year-old Solid Gold offers possibly the best service in an SF salon. Look forward to cups of tea, coffee, cappuccino, and Pellegrino upon arrival, and an overall operation run by owner Diane (a former Director at the Aveda Institute) and her sharply-dressed other half Calvin. Diane is a genius with color, Calvin is meticulous with his cutting and styling, and their other stylists are solid as well (just read their 5-star Yelp reviews). And best of all, prices are insanely reasonable (cuts are $45-65, color starts at $55+) for the quality.
Where to drink: The Minx is one of this 'hood's best watering holes. Some go for the alcoholic slushies (like our own Stuart Schuffman), others go for the excellent bartenders and the rock n' roll trivia night on Mondays. They even have happy hour on Fridays, where you can sip (or guzzle) $2 Tecates, $3 Trumer pints, and rotating daily drink specials from 5-8 pm. Happy hour on a Friday?! Into it!
Where to shop: You're in luck: This block happens to house one of the city's most special book stores, made even more special in this time of vanishing book stores. It's called Argonaut Book Shop, and you'll find no musty, dog-eared paperbacks and precariously arranged stacks of literature here. This joint, started in 1941, specializes in the history of California and the American West, Western Exploration, Pacific Voyages, Rare Literature, and Illustrated Books, as well as maps, prints, photographs, manuscripts and ephemera–all treated with major TLC and just waiting to be taken home. Fancy yourself an outdoorsman? Sportique's got your back. Drop in to outfit yourself for any kind of adventure–urban or mountainous–with their high-tech, high concept selection of apparel, backpacks, cameras, watches, headphones, and ultra-designy accessories.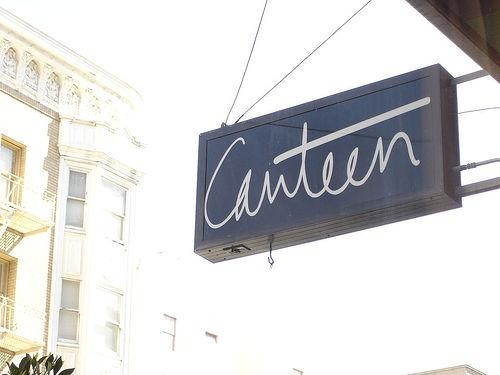 Photo via Yelp user patrick G.
Breakfast: Canteen is well-known for its outstanding prix-fixe dinners, but the breakfast is an absolute can't-miss. It's very French in size (meaning tiny) and service (minimal smiling), and there's usually a wait, unless you go very early. They recently stopped serving brunch on Sundays, so aim for Saturday morning. Deciding what to indulge in is tough. We love their Benedict–it's one of the best in the city. The Chupacabra (pulled pork, black beans, and eggs) is tasty, and don't forget a side of warm Brioche, baked to order. And just as a forewarning, their bathroom is in the Academy of Art dorm adjacent to the restaurant.
Lunch: From the minds of nearby hotspot Sons & Daughters is the low-key lunch haven, Sweet Woodruff. Its ever-rotating menu is divided into "savory" and "sweet" sections, making it easy to choose what you're in the mood for. We recommend their sandwiches, soups (last time, we had a supple, olive-oil-laced parsley root variety), and their silky banana cream pie. There's limited seating so your best bet is to take your grub to go. But if you're lucky enough to grab a stool, you'll get some prime people watching opportunities.
Dinner: If you're really in the mood to make a serious dent in your credit card, take someone extremely near and dear to your heart to Fleur de Lys. Treat yourself to either a three-, four-, or five-course menu, impeccable service, and a handshake from renowned Chef Hubert Keller himself. Oh, and you might catch a glimpse of a celebrity or two–especially now that Woody Allen and his crew are in town.
Where to stretch your brain: On a lazy weekend afternoon, who want to drop into a nationally recognized art haus? Jessica Silverman Gallery is run by–you guessed it–Jessica Silverman, who sits on the board of the San Francisco Arts Commission, and excels at attracting true art fiends and the burgeoning art students in the area to its thought-provoking exhibitions on the regular. Click here for a taste of what they've shown in the past, and what's in store for the future.