After several years in the making Barrel Head Brewhouse recently opened its doors at 1785 Fulton at Masonic. The spacious 150-seat brewpub has an steel and concrete industrial feel balanced by booths built from refurbished wood, a massive wood slab bar and other slab table tops scattered on the main floor bar and mezzanine. The focal point behind the bar is a torpedo where 30 taps pour out the brews. Barrel Head's 15-barrel brewing system lines the facing wall.
Ivan Hopkinson, former Park Chalet assistant brewmaster and Brewtruc co-founder, has been scouting locations in his NoPa neighborhood since 2005, eventually deciding on the site of the former Fulton Street Bar. Jay Beaman is the bar manager and not only put together the stellar draft beer menu but also a respectable number of wines, bottled beers and huge variety of spirits. In addition to the torpedo ordnance used to serve the draft beers, Barrel Head has an atomic bomb inspired "Manhattan Project," where imbibers can select their spirit, mixer, bitter, and garnish to design custom Manhattan cocktails.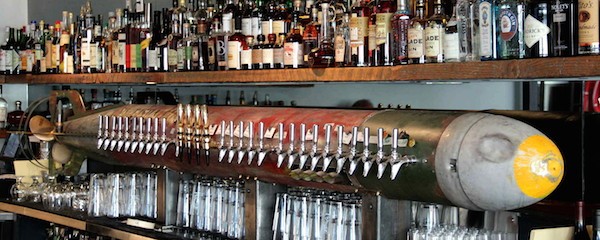 The focal point behind the bar is a torpedo where 30 taps pour out the brews.
And although the brewing equipment is in, there are no house-made drafts yet. When asked what styles of house-made brews we can expect, Beaman responded, "We're going to be brewing some basic stuff at the beginning, practicing and playing around. An IPA, a kolsch, a porter and a stout and then over the course of the year we'll expand to more ambitious projects as we dial in the equipment. But it will be a bit before we really are cooking in full swing. That said, in the meantime, we have 30 other beers on tap from bad ass brewers that we love from all over the world."
Head chef, Tim Tattan, formerly of Monk's Kettle, has created a menu consisting of organic, locally sourced food, some of it from Barrel Head's own rooftop garden. Dinner will be served seven nights a week and Tattan kicks off weekend brunches starting this Saturday.
Barrel Head Brewhouse is open every day 5:30 pm-2 am; food served till 1am.
In other news, tickets for the 2014 Breastfest Beer Festival are now on sale. This year's event is Saturday July 12th, from 2 pm–6 pm at Fort Mason's Festival Pavilion. This charity event, now in its 14th year, brings together over 80 breweries, several cider houses and wineries. Price includes live music, food and unlimited tastings. Tickets are $55 in advance and $65 at the door. This fest has been known to sell out.