Want to feel and look your best? That requires a whole arsenal of health and wellness resources. Luckily, the Bay Area has tons to offer—and we've curated the best of them for you. Here are our picks for the yoga and fitness classes, healthy foods, healers, and more.
(From the editors: This guide was originally published in January 2017 and has been updated to reflect the latest news and closures.)
---
Stretch + Sweat: The Best Yoga, Pilates, and More Fitness Classes & Apps in the Bay Area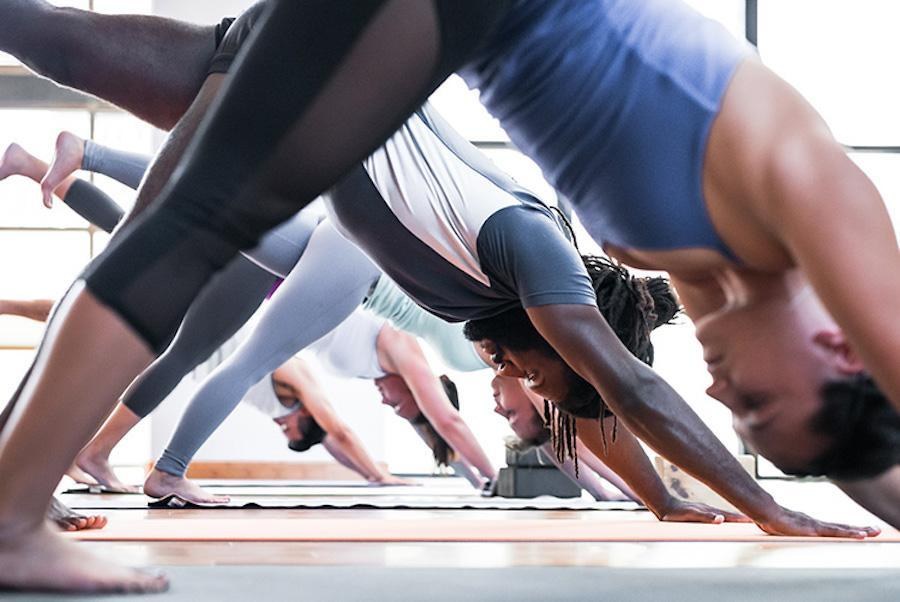 (Courtesy of Yoga Tree)
YOGA TO THE PEOPLE
It may be corporate, but there's nothing formulaic about Yoga Tree's Bay Area studios (multiple locations), which are home to many teachers' teachers such as Jason Crandell, Stephanie Snyder, Janet Stone, Harvey Deutch and Annie Carpenter. Due to its prime Union Street address, The Pad (1694 Union St, Cow Hollow) has become It Girl central. You can find the beautiful ones enjoying the studio's creative programming, which includes a restorative practice with a sound bath and a monthly ReBoot flow set to live DJ accompaniment. Unobtrusive from the outside, packed and buzzy on the inside, Yoga Flow (1892 Union St, Cow Hollow) is best known for its challenging heated flow classes. The best version of a neighborhood studio, Union Yoga (1200 Union St, Russian Hill) offers a wide range of classes, from rise-and-shine Vinyasa to a popular happy-hour practice, led by the studio's best asset: beloved founder/instructor Martin Scott. The East Bay's Namaste Yoga (multiple locations in Oakland and Berkeley) offers a wide range of class styles that cover not just athletic variations on flow, but also Nia dance, a grief yoga workshop, and intensives such as Yoga for Healthy Aging. Looking to avoid the sweaty studio? Kinesiologist and anusara teacher Jami Grassi teaches regular yoga classes in her Napa Valley barn, with views of Atlas Peak at the Silverado Hills.
PILATES FOR STRENGTH
Set in a chic and industrial studio, Informed Body (1731 Buchanan St. #1b, Japantown) offers expert classical instruction on a variety of Pilates machines either one-on-one or as part of a duet or trio (amazing for getting all of the personal attention while saving a few bucks). The studio of choice for so many fitness professionals due to its focus on classical machine technique, Mighty Pilates (3654 Sacramento St., Presidio Heights) also offers non traditional coursework (try Core & Booty) using a variety of Pilates machines to fine tune form and dig deeply into muscles you never knew existed. If you've got your technique down and want to amp up the resistance and speed, the 'FitFormers' at Pilates ProWorks (multiple locations, Bay Area–wide) will push you beyond anything Mr. Joseph Pilates could have imagined. Founded by a ballerina turned Pilates pro, MNTSTUDIO (766 Brannan St, SoMa) offers reformer classes rooted in classical Pilates but with an athletic approach—even though your heart is pumping and you're breaking a sweat, your technique remains, ahem, on point. The South Bay's newest pilates studio, RockSalt (multiple locations in San Mateo and San Carlos) offers a Pilates-on-steroids workout with heavier weights, a double-time pace, and fast music; although unlike its counterparts in the city, this studio is the only one to offer a dedicated stretch class. Situated in Union Square, Maiden Lane Studios (80 Maiden Ln, Union Square) is a small, sunny, and modern space where we can breathe through our hundreds in peace. Plus, reformer and mixed apparatus pilates classes are limited to just four people, so we can get all the special attention we need.
SWEATIEST CLASSES
Having been called the "SoulCycle of yoga," Ritual (586 6th St, SoMa) offers a 55-minute fast-moving Vinyasa in a heated room. It is also the only studio to include one private yoga class per week in its $200 monthly membership. Not for those looking for a relaxed ride, SoulCycle's (multiple locations Bay Area–wide) energetic and inspiring instructors lead some of the most intense 45-minute cardio classes in town through a series of flat sprints, hill climbs, core work, and the signature SoulCycle "tap back." If you love barre but feel like you need a second workout just to get your cardio in, SALT's (327 Divisadero St, Lower Haight) clever barre-and-boxing fusion class, Barre Fight, will get you strength, length, and sweat in one 60-minute session. The interval class that launched a thousand copycats, the tried-and-true Barry's Bootcamp (multiple locations in SF) formula mixes treadmill grinds with resistance work. The franchise just opened a third SF location in FiDi.
FITNESS FOR BEGINNERS
If you're Ashtanga-curious and not yet ready to commit to a self-led Mysore practice, the Ashtanga Primer class at Asta Yoga (417 14th St, Mission) modifies poses to be challenging yet not out of reach for beginners. SF's most stylish spin on ballet fitness, Avant Barre (592 3rd St, SoMa) features a signature class with fun and functional choreography that uses full-body movements such as pushups en relevé that are more about the sculpting than they are about technique. In addition to the Crossfit grunts and plate-slamming heard on one side of the sprawling Lalanne Fitness (901 Tennessee St, Dogpatch), the gym now offers a gentler, Crossfit-lite class called LF Fitness. Dance and Pilates-inspired, Vertical Method (2848 Webster St, Pacific Heights) uses a vertical pole and a series of bands and weights to strengthen the core and correct "tech neck" and "desk slouch." For eager beginners hoping to fast-track their way to stripper strength in an unintimidating space, the classes at SF Pole & Dance (301 8th St. #202, SoMa) include Intro to Pole, Intro to Handstand, and Intro to Floor Acrobatics.
ACTIVE APPS
Like a magical gym where you can take class at any time from all of your fitness faves, Cody App features classes from sculpting to Acroyoga taught by superstar instructors (including the Bay Area's own Janet Stone) that can be purchased á la carte or in training bundles without an ongoing subscription. Just launched in the Bay Area in January 2017, Handstand is an on-demand personal training app for finding a thoroughly vetted (and affordable) trainer or coach that can help you strength train or fine-tune your yoga technique on your own schedule. The app for exploring new studios and buying classes at a discount, ZenRez has a large inventory of classes offered by an impressive roster of partner yoga studios. Friends have gone from couch to 10K using Aaptiv, an audio app that specializes in running and yoga for any level of fitness, and provides goal-based challenges and coaching along the way. Algorithm-based and FitBit-owned FitStar might be the most personalized workout app since it customizes training sessions to get tougher as you get stronger. The level of intensity is determined by how users rate each move on a difficulty scale.
ALTERNATIVE FITNESS
From beginners learning their first "footlock" to those who can "wheeldown" with ease, the aerial-silks courses at Aerial Artique (132 9th St. #302, SoMa) will do wonders for your upper body and core while doing your best Peter Pan and Tinkerbell. It may not have the sleek locker rooms of a luxury gym or that new-studio smell, but SF's landmark Circus Center (755 Frederick St, Inner Sunset) is where you can work on strength and balance with circus and acrobatics experts in handstands, aerial silks, and tightrope. Formerly called Basic Training, Revision Athletics' classes, held outdoors throughout the city at locations such as Aquatic Park Pier and the Palace of Fine Arts, combine interval work with bodyweight exercises to build functional strength and endurance in a community-driven environment. Fitness bootcamp, yoga, and meditation for the time-deficient, Zenfit (1020 Kearny St, FiDi) rolls them all into one hour-long night pop-up class that begins with 25 minutes of HIIT, followed by 20 minutes of a yoga flow, and finishes with a 10-minute guided meditation.