"I just have a preference for dark and somber, rather than light and serene." The perfect precurser for local artist Aaron Nagel's aesthetic. Nagel's moody oil paintings are created within a small bedroom in the charming area near Grand Avenue in Oakland yet his work speaks volumes. Or rather, whispers in your ear in a sultry voice.
Nagel's backstory should be of interest if you were in the Bay Area punk rock/ska core scene in the '90s. He was the the original trumpet player in Link 80 and didn't graduate from high school because he was busy touring the country. He did independent study and, at some point, switched gears from music to art. The self-taught artist has shown at galleries such as the Shooting Gallery in SF, Thinkspace in LA, Yves Laroche in Montreal and aMBUSH and National Grid in Australia.
When he's not painting at odd hours in the night, he is a graphic designer and training or instructing at the Krav Maga Institute in Berkeley. If you feel inclined to enter the darkside, Nagel does custom work. He has his sights set on showing in New York next. Until then, meet the modern portrait artist and his provocative, figurative art.
Why only female subjects?
I find them beautiful and inspiring. Years ago, before I could even attempt to paint a human figure realistically, I was using the female form as a jump off point for paintings. It's the best foundation for me to create a mood and/or to capture something aesthetically pleasing. I venture into portraiture every so often, in which case I paint whomever my subject is.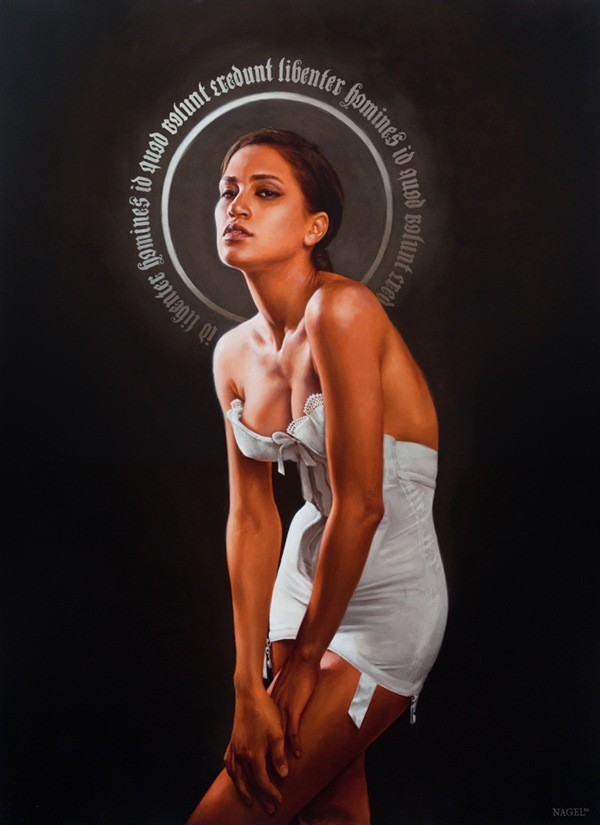 Where does the gothic, moody element come from? And the script?
I'm a big fan of iconography, especially religious art from the 16th and 17th centuries. Those paintings are predominately dark in theme, as they often serve to illustrate a bible story rich with suffering, martyrdom, and torture. I love those giant canvases and the feeling of an almost ominous power — I've been trying to hijack that mood with my own iconography for years.
The script serves two functions; as an element to further the faux religious nature I try and convey, but more importantly, as a design element to balance out a piece. As a huge fan of graphic design and typography in general, I love being able to balance the weight of a piece with text (especially if the text can't necessarily be read by the viewer and potentially distract from it's visual appeal).
What has been your biggest piece? And smallest piece?
Before I started painting the kind of stuff I do now, I worked on a 4 panel, 4' x 16' piece for a year. That was back in 2004, and the whole thing has been sitting in storage ever since...entirely impractical. I just finished a 40" x 68" piece for Corey Helford Gallery, which I think is my biggest oil on canvas piece. I did a few 12" x 12" oil on panel paintings a few years ago and that's as small as I've gone.
How has your work evolved over time?
Evolving is certainly my goal. I'm generally unsatisfied with most of my work when I finish them, and almost always feel that I could have done better...so the subsequent painting is always an attempt to do better. I think the work, at least technically, has been getting better, but of course, not better enough for me.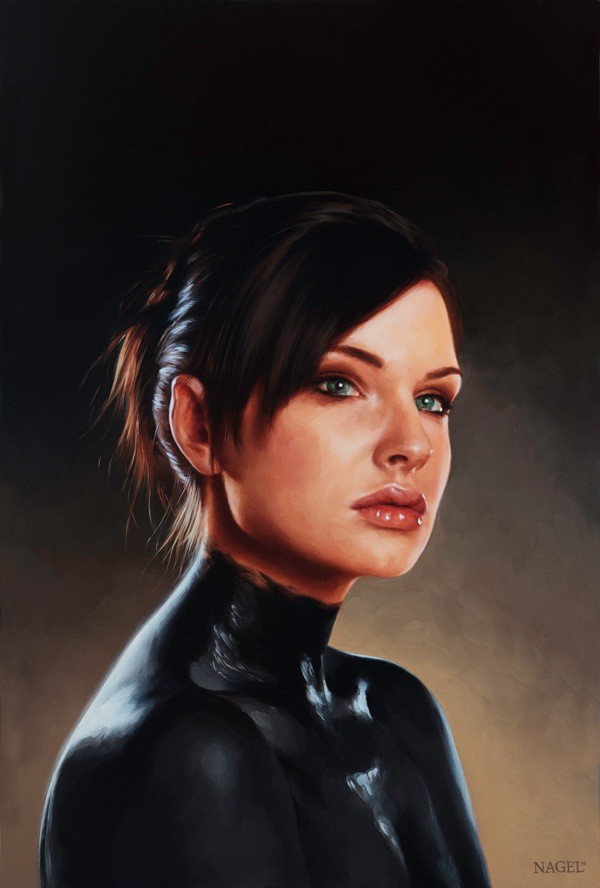 What or who inspires you? Who are your influential artists?
The shortlist: I'm inspired by my peers in the current art world and the fact that every once in a while, I get the feeling that what we do (that's the royal "we") seems to matter. In the big scheme of things, or to one guy in Brazil, it's an inspiring thing.
Influential artists are: Rembrandt, Ingrés, Carravaggio, Alphonse Mucha, Bouguereau, Alberto Pasini, John Singer Sargent, Jenny Saville, Kim Cogan, Michael Hussar, Sean Cheetham, Alex Kanevsky...many many more.
What are you biggest challenges?
I find it particularly hard to not get caught up in planning and the logistics of coming up with concepts, finding models, scheduling those models, photo shoots, etc. Sometimes all of the planning seems of the utmost importance, and it's easy to forget the painting is the important part. Often a painting just needs to be painted, nothing more.
What's next for 2012 and beyond?
I have nothing major scheduled for 2012. I did too much this year, over 20 pieces for a solo show, a 3-person show, and a few group shows. I'm going to take some time to practice and paint without worrying about deadlines.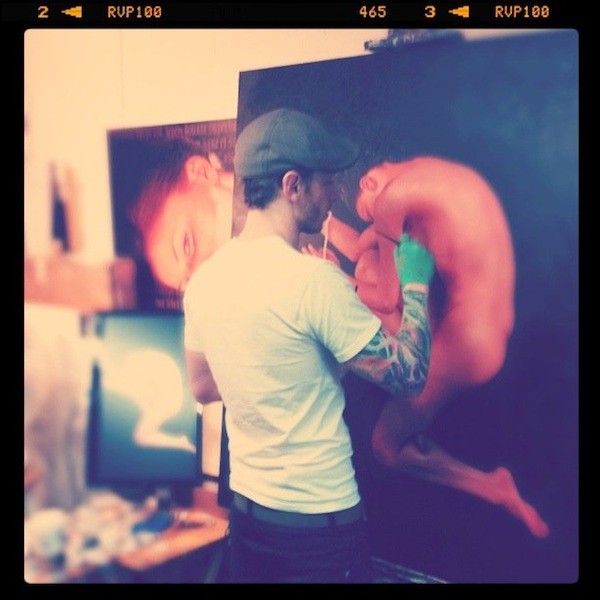 See more and contact Aaron at: www.aaronnagel.com
P.S. I have an Aaron Nagel original in my '96 high school yearbook. I'll have to keep it safe, it will probably be worth something one day.
Sam Durbin (sami.7x7@gmail.com) is a California lifestyle writer who honed her blogging skills as Editor of FabSugar.com. Sam graduated from The Fashion Institute of Technology, and also writes for 7x7 Magazine and Gilt City.