Even if you're not normally a football fan, you have permission to jump on the San Francisco 49ers fan bandwagon with the rest of the city.
In case you somehow didn't notice the screams emanating from bars all over the city last weekend, the 49ers narrowly defeated the New Orleans Saints 36-32 in one of the most riveting, nail-biting fourth quarters in 49ers history and, thus, they inched one step closer to the Superbowl. But first, they need to win the NFC title game against the New York Giants. This Sunday at 3:30 p.m. join your shrieking, yelling, and crying cohorts at these watering holes to watch home-field advantage history in the making: 
Jasper's Corner Tap & Kitchen - If you like your football-watching upscale, grab a seat at Jasper's. The first 20 people in the door will have a chance to win some "serious" prizes, but you can also enjoy their four flatscreen TV's, Tailgate Menu, and team-inspired beer and cocktails. 401 Taylor St @ O'Farrell, (415) 775-7979.
Nickie's – No 49er-specific cocktails, but $8 bottomless mimosas and $5 Bloody Mary's until 2 p.m. complement their full menu. 466 Haight St @ Webster, (415) 255-0300.
Danny Coyle's – $2.50 Tecate cans, $3 PBR cans, Bloody Mary's for $6, and $3 Sam Adams round out their specials. The Celtic Catering food truck will be out front (as it is every Sunday) but patrons are welcome to bring food in too. 668 Haight St @ Steiner,  (415) 558-8375.
Mad Dog in the Fog – They'll most likely have $1 off pints and a few dollars off pitchers. 530 Haight St @ Fillmore, (415) 626-7279.
Score! at The Lookout – Gay Niners fans will flock to this Castro bar's famed balcony overlooking Market St. to shout out each touchdown. The kitchen will offer higher-end pub food plus pizza-by-the-slice, while the bartenders serve $3 Bud Light Drafts and $7 premium Belvedere Vodka cocktails. 3600 16th St @ Noe/Market, 2nd fl., (415) 431-0306.
Kezar Pub – Specials on Budweiser and Bud Light pitchers and buckets (and mayyyybe Hefeweizen). 770 Stanyan St @ Waller, (415) 386-9292.
Kezar Bar – The more mellow sister to Stanyan's Kezar, they'll be turning the sound up (usually off) and playing the game full blast. 900 Cole St @ Carl,  (415) 681-7678.
3300 Club – An oldie but goodie, they welcome patrons and their food (come early!). Taco Loco is next door. 3300 Mission St @ 29th, (415) 826-6886.
Elixir – Bloody Mary bar until 5 p.m. and they'll have a sidewalk BBQ for hungry patrons. 3200 16th St @ Guerrero, (415) 552-1633.
Noe's Bar –  $2 PBR cans and a full menu including pizza, popcorn shrimp, burgers, and more sophisticated fare like pasta and crab cake salads. 1199 Church St @ 24th, (415) 282-4007.
Bacchus Kirk – Their daily 4 - 8 p.m. happy hour applies and that includes $3.50 drafts, $5 well drinks, $6 Tecate & tequila combos, and $6 cocktails. Other assets - an incredible juke box and pool table. 925 Bush St @ Taylor, (415) 474-4056.
Jake's Steaks – Normally a Philly bar, the 20 seats with views of three big screens will fill up quickly. Specials include $3 Coors Light drafts and four 12 oz bottles Bud Light for $10. Add substance with a Whiz Whip (Philly cheesesteak w/ Cheese Whiz and onions. Dog and family-friendly. 3301 Buchanan St @ Lombard,  (415) 922-2211.
Steff's Sports Bar -  They're running a "Hot Dog Special" ($1 dogs, or buy a beer get a dog (so, are beers $1 too then?). 141 2nd St @ Natoma, (415) 777-1844.
Pete's Tavern -  A $10 cover (yes, you read that right) gets you a food voucher, $19 Blue Moon pitchers, $17 Budweiser or Bud Light buckets, $5 Bloody Mary's and mimosas, and access to their full kitchen of sport-watching food and full bar of frat guys. 128 King St across from the ballpark, (415) 817-5040.
Ted's Sports Bar & Grill - Munch on free popcorn or sample their Korean-style fare (like hot wings or kimchi salad). 312 Harriet St @ Bryant, (415) 861-2811.
Yancy's Saloon - 734 Irving St @ 9th Ave, (415) 665-6551. No kitchen but you can bring in food.
Giordano Brothers - Both locations have full kitchens serving sandwiches, fries, wings, and chili. 303 Columbus Ave @ Broadway, (415) 397-2767 or 3108 16th St @ Valencia (415) 437-2767.
The Brick Yard - A full kitchen serves burgers, sandwiches, nachos, pizza, and salads. 1787 Union St @ Octavia, (415) 400-4712.
Martin Mack's - We're not sure what's going on here, but we know they're showing the game. Upper Haightians and Pan Handlers - take note. 1568 Haight St @ Clayton, (415) 861-1586.
Horseshoe Tavern - Known as the "non-Marina Marina bar," this watering hole has been around for 75 years and boasts 15 beers on tap. They've got three TVs in the main bar area and two surrounding the pool tables, so you can play while watching the game. 2024 Chestnut St @ Fillmore, 415-346-1430.
Greens Sports Bar - This spot has a ton of TVs and bartenders who know the Niners like the backs of their hands. On Sundays, there are $3 drafts, and you can bring in food from the neighborhood to soak up the cheap beers. 2239 Polk St., 415-775-4287.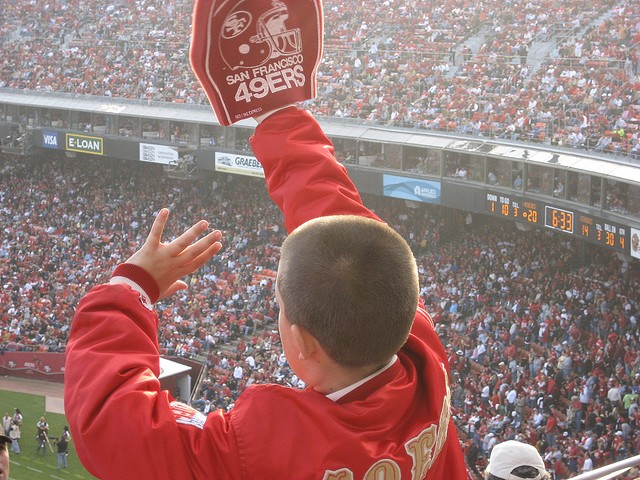 Photo courtesy of ankarino/Flickr