By
Sure, San Francisco is great. But when you're itching for an adventure, check out some of the area's hottest getaways—some are closer to home than you might think. Here are this year's most popular destinations, new hotels, restaurants, and more.
READER'S CHOICE, Hippiest Place to Camp: Russian River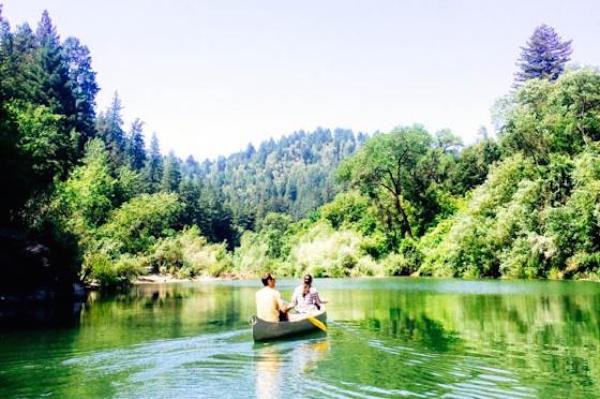 (Photo by Ana Kamin)

Surrounded by green trees, blue skies, and birds chirping (keep an eye out for sunbathing turtles), your Russian River campsite gives you prime access to a lazy day of meandering down the river. The just-woodsy-enough campsites also promise an escape in the heart of Wine Country—just in case you decide you're not cut out for the campfire. Don't miss our complete guide to Guerneville, the hub of the area, here. —Marina Smith  //  Russian River, russianrivertravel.com

Wine Country Spa: Farmhouse Inn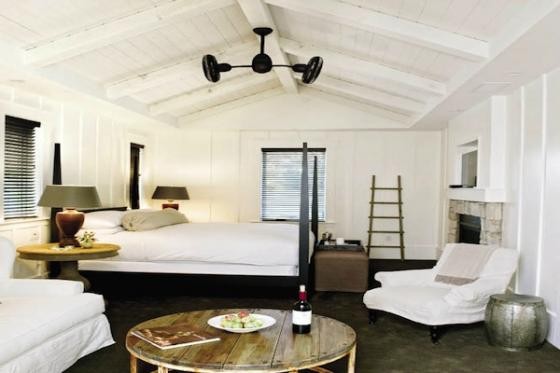 (Photo by Farmhouse Inn)

Check into the Russian River Valley's Farmhouse Inn, fresh off an $8 million dollar renovation by Healdsburg designer Myra Hoefer, for the luxury weekend your stressed muscles have been aching for. Seventeen luxury suites are appointed with indoor-outdoor fireplaces, stately four-poster beds, steam showers, and jetted soaking tubs for the ultimate in-room spa experience. The farm-to-massage-table treatment menu at the brand new spa incorporates such curative ingredients as forest honey (a natural anti-inflammatory) and alfalfa hay (rich in vitamin A) straight from hotel owner Joe Bartolomei's ranch, along with herbs grown in the garden cultivated by the hotel's Michelin-starred restaurant. Sure, go ahead and lick off your honey face mask. We won't tell. — S.M.  // 7871 River Road, Forestville,, farmhouseinn.com. 
Eclectic Wine Country Dining: Oso Sonoma 
Many restaurants serve steamed mussels, but chef David Bush does it in his own, innovative way. The shellfish come bobbing in fermented black bean broth with a hidden treat at the bottom of the bowl: spicy chicken meatballs. Most dishes at this dark, groovy lounge come with surprise ingredients—really. Look for delicacies like pickled shrimp, gai lan, Kewpie sauce or pickled apricot for a wonderful zing. —C.S.  //  9 E. Napa St (Sonoma), ososonoma.com
Glamping in Private: Calpine Fire Lookout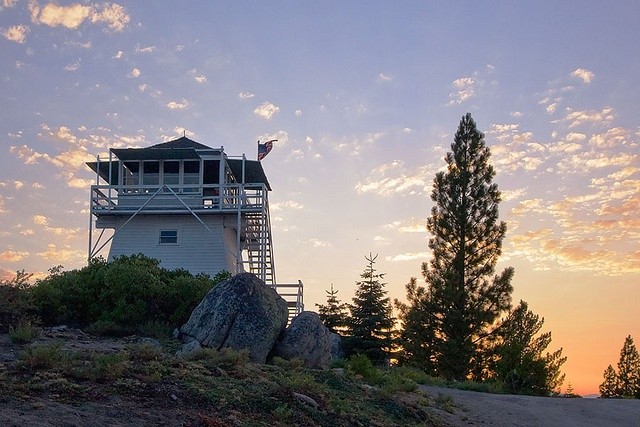 (Photo by Rebecca Arnold)

At an elevation of 5,980 feet, your chance of reaching the stars just improved significantly. Calpine Fire Lookout is located in the Tahoe National Forest and offers inspiring vistas of the Sierra Nevada Mountains. The cozy interior features two single beds, propane lights, a sink, a stove, and an oven so you can bake your own high elevation cookies. In the daytime, there is hiking and lakes nearby, but honestly you'll be content enough with a flask of whiskey, a deck of cards, and the unending views of pine-covered slopes and snow-capped peaks. — Sarah Medina  //  Calpine Fire Lookout, Tahoe, fs.usa.gov.
READER'S CHOICE, Best Day Trip: Sonoma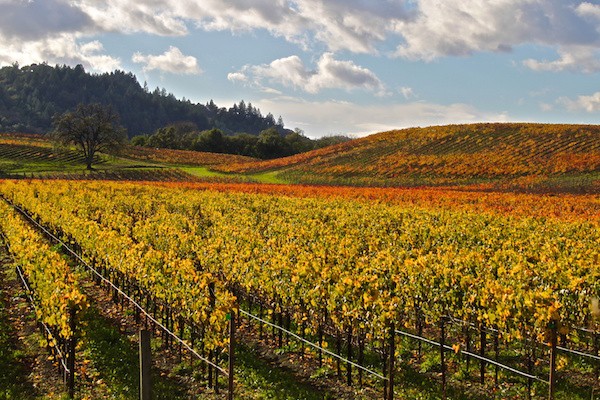 (Photo by Jospeh Blasco)
Sonoma County does not disappoint the eager short-term traveler. With rolling vineyards, a plethora of chic tasting rooms, and some of the best eats in Northern California, Sonoma is the picturesque postcard waiting to go up on your Pinterest board. For the perfect weekend getaway, cross off all 50 items on our Big Wine Country To-Do. —Anthony Rogers  //  Sonoma, sonomacounty.com.
Stylish Staycation: Hotel G
Fashionable Union Square newcomer Hotel G makes a serene overnighter for roughly the same expense as a spa day. Minimal, light-filled interiors inspire repose with modern furnishings, crisp linens and soothing, neutral tones (the airy 8th floor rooms are our faves). A micro boutique, two fetching all-day eateries and clandestine cocktails at Benjamin Cooper keep guests satiated. Plus, you're an Uber-less stroll from hotspots like LihoLiho Yacht Club and Kin Khao. —Garrick Ramirez  //  386 Geary St. (Union Square), hotelgsanfrancisco.com
It International Jaunt: Tulum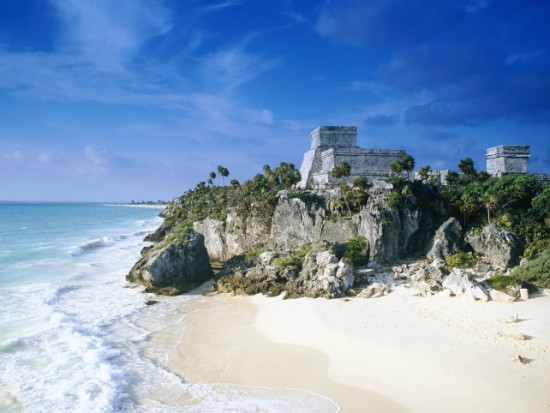 (Photo courtesy of Tulum Tourism)
Basking in the sun of the Yucatan Peninsula, Tulum is home to one of Mexico's most stunning Mayan ruins, a biosphere reserve, and a steadily growing tourism industry that captures the beauty of the Caribbean coastline without the spring break–soaked madness of nearby Cancun. With archeological wonders to explore, water sports, yoga galore, obsession-worthy eats, and some seriously stylish digs, Tulum is nicely set up to make a visiting San Franciscan feel right at home. —Lauren Sloss  //  Tulum, Mexico, 7x7.com/tulum
Unexpected Fine Dining Spot: Element Kitchen + Drinks
You're eating grilled sturgeon and shrimp dumplings brightened with tomato dashi and daikon...and you're in downtown Sutter Creek, somewhere between Sacramento and the Stanislaus National Forest. Seriously, this tiny but ultra-chic art gallery and café, inside Amador County's Hanford House Inn B&B, recently made its debut. And the food is memorable: It woos us back with blueberry-curry Muscovy duck and Asian spice short ribs. Delish. —C.S.  //  61 Hanford St (Sutter Creek), restaurantelement.com
Beach Town Getaway: Pescadero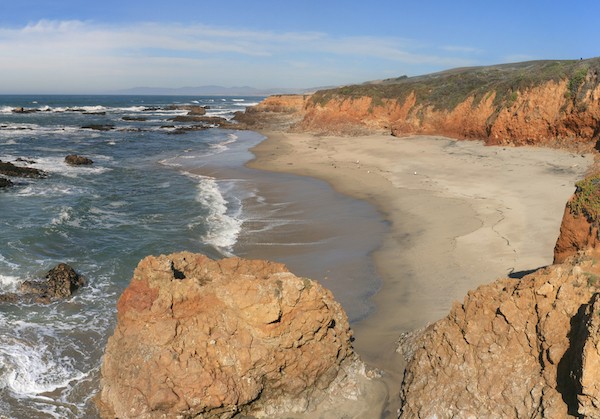 (Photo by California Dep. of Parks and Recreation)

An hour south of San Francisco, the relaxed town of Pescadero is an agrarian paradise with a scenic coastline that just won't quit. Far from the sting of the city's farm-to-fork bromides, you'll delight on actual farms and fork your way through foods harvested from the local land. Plus, there's so much pie! Go now when rain brings vibrant green fields, crisp sea air, and cozy interiors. —G.R.  //  Pescadero, 7x7.com/pescadero. 
Up-and-Coming City: Reno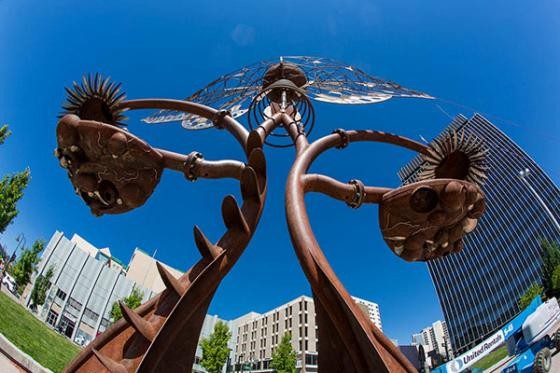 (Photo by Mark Hammon)

Reno isn't called Artown for nothin'. The city mostly known for its gaming is blooming with Burning Man sculptures, murals, Broadway musicals, and bluegrass music. The Nevada Museum of Art and its Center for Art + Environment was recently awarded a 2014 TripAdvisor Certificate of Excellence and will soon have one of the best views in Reno from its new Sky Room. Art in all its forms is now woven through the fabric of the city in unexpected ways, and artisanal food and craft cocktail movement is going strong in a bevy of all new restaurants. — Christina Nelleman  //  7x7.com/reno
Welcome Home: SFO's Terminal 3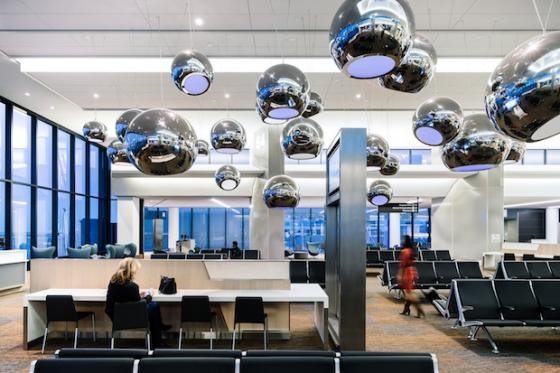 San Francisco International Airport gets another gorgeous upgrade with its renovated Terminal 3 Boarding Area E, which opened for flight on January 28. The SF-based architects at Gensler, who also take credit for Terminal 2's clean cladding and artistic commissions (cue the floating sculptures of Kendall Buster and Janet Eichelman, commissioned by the SF Arts Commission through the city's percent-for-art ordinance), took the reins again, along with artists at Merge Conceptual Design, for this project which also targets LEED Gold certification and interactive design elements. —L.M.L.  //  SFO, flysfo.com.
Romantic Getaway: Rancho Mirage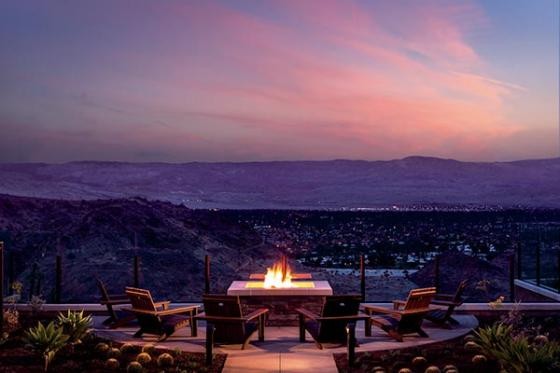 No longer just for bohemian festivalgoers and sun-seeking snowbirds, the Coachella Valley is quickly evolving into a luxurious playground for adventurous couples. Check into the new Ritz-Carlton Rancho Mirage, set atop a 650-foot bluff with private fire pits, cliffside whirlpools, and killer views of the San Jacinto Mountains from the rooms' open terraces. Once the sun sets, much-lauded restaurants, bars filled with hipsters, and drag queen bingo at the Ace Hotel beckon from nearby Palm Springs, just 20 minutes away by car. — S.M.  //  69-825 Highway 111, Rancho Mirage, ranchomirageca.gov. 
Destination-Worthy Park: Lassen Volcanic National Park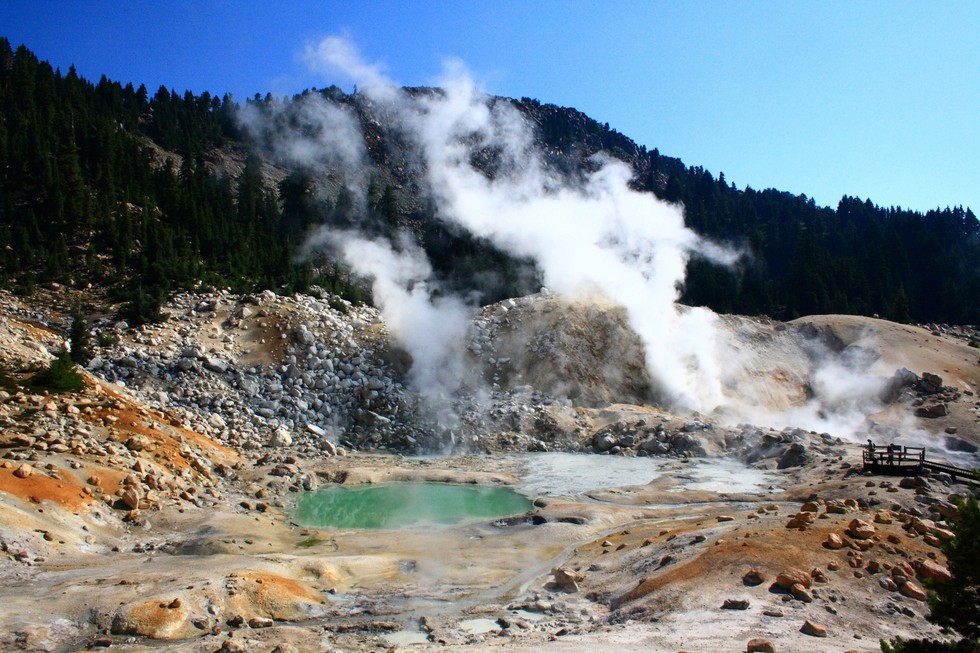 Lassen Volcanic National Park is home to steaming fumaroles, meadows freckled with wildflowers, clear mountain lakes, and numerous volcanoes, while jagged peaks tell the story of its eruptive past and hot water continues to shape the land. This summer, the park revealed the results of its multi-year Reach the Peak project, an effort to restore and rehabilitate the Lassen Peak Trail. Trail improvements include turnout areas for groups and resting hikers and adding four feet to the trail width in some places.  — S.M.  //  nps.com
Japantown Stay: Buchanan Hotel 
Located at the intersection of three of San Francisco's most dynamic neighborhoods—Japantown, the Fillmore, and Pac Heights—this sultry, historic hotel offers a sophisticated stay with artful touches. Just steps away from the city's best boutiques, cafes, and bars, after a long day of exploring you'll return to spacious accommodations, enjoy a complimentary evening wine hour, go for a jog in the state-of-the-art fitness center, and sit down to a delicious meal at adjoining Japanese restaurant, Mums. Sounds like a perfect weekend to us. — S.M.  //  1800 Sutter St. (Japantown), kimptonhotels.com
Glamorous Tasting Room: Odette Estate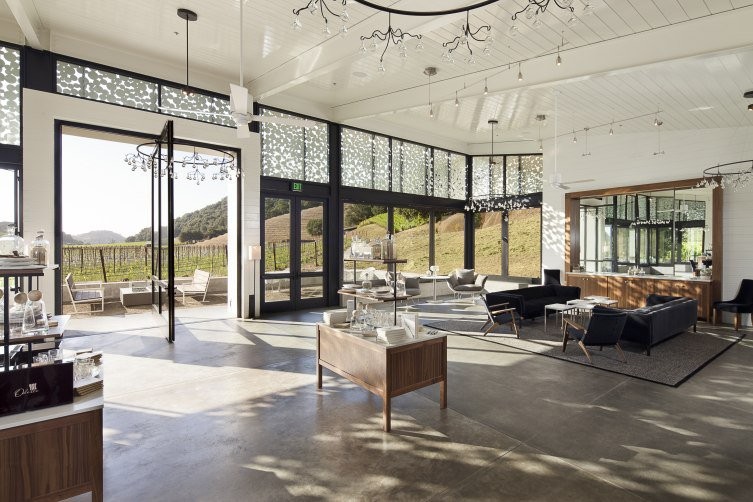 As though being Lieutenant Governor and hosting a television show isn't enough, Gavin Newson has now opened a winery. Odette Estate, located in Napa's Stags Leap District, is not only LEED certified, but the wine will also be 100 percent organic (of course). The newly finished contemporary tasting room, or Estate Lounge, designed by Napa-based Shopworks, is a gorgeous state-of-the-art, 3,500-square-foot facility that provides an elegant setting for you to enjoy the winery's expanded offerings under the glamorous Napa sun. —S.M. //  5998 Silverado Trail (Napa), odetteestate.com
Wine Country Gallery: Paul Mahder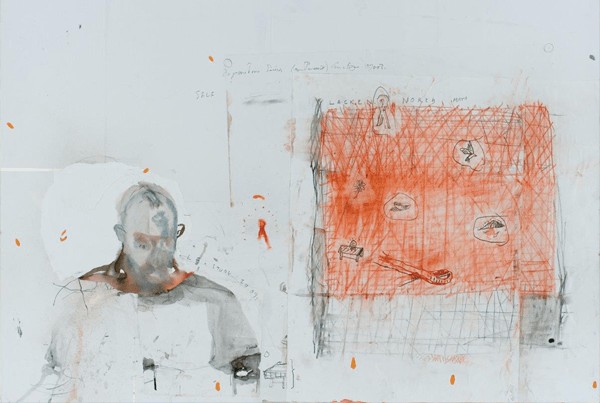 (Artwork by Patrick Graham, courtesy of Paul Mahder Gallery)
The quaint country town of Healdsburg gets more stylish by the day, with openings bringing everything from contemporary eats to modern art. In the latter camp comes the second location of Paul Mahder Gallery, a lofty space with the air of a cathedral thanks to natural sunshine spilling through skylights in the 30-foot ceiling. And in fact, this is a place of worship for collectors who will find works by such internationally known artists as Hans Burkhardt and Patrick Duegaw. —Chloe Harris Hennen  //  222 Healdsburg Ave. (Healdsburg), paulmahdergallery.com
Eat With the Ghosts: Restaurant 1833
This landmark Monterey restaurant is better than ever thanks to the talents of new chef Jason Franey. The beautiful old adobe home has been recently updated to a glittery upscale fashion palace, with food that makes its stylish, resident ghosts grin: salmon in saffron fumet, perhaps, with bouchot mussels, Manila clams, baby Castroville artichokes and dill. —Carey Sweet  //  500 Hartnell St (Monterey), restaurant1833.com
Best New Restaurant (Wine Country): Valette
Former Dry Creek celeb chef Dustin Valette has made a name for himself (literally) with an exciting eponymous eatery in the heart of Healdsburg. He's teamed up with his brother, Aaron Garzini, for delectables like housemade charcuterie, coriander-crusted Liberty Duck breast with duck egg marshmallow, and the always fun "Trust Me" tasting menu. —C.S.  //  344 Center St (Healdsburg), valettehealdsburg.com
DON'T MISS A BAY AREA BEAT! SUBSCRIBE TO OUR NEWSLETTER.