By
Beautiful new spots have popped up across the Bay Area. Here are our favorites.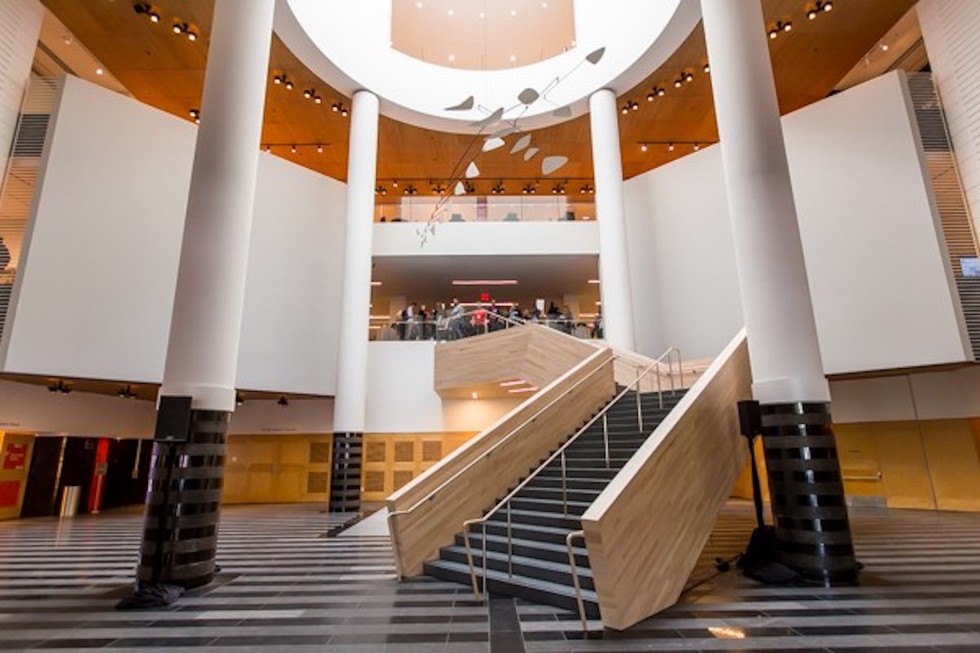 SFMOMA's new lobby(Garrick Ramirez)
Most Beautiful Way to Spend a Day: SFMoMA

It's been nearly three years since SFMOMA shut its doors with the promise of returning bigger and better in 2016. On May 14, the celebrated art museum finally unveiled its richly expanded collection in a striking new home. The expansion, designed by Snøhetta, melds seamlessly with the existing structure on the inside, while the exterior presents a juxtaposition of old and new architecture on Third Street as the facade appears to ripple and shift with the light. Guests are sure to swoon for the third floor outdoor terrace, anchored by a dramatic 150-foot living wall — the largest public one in the U.S. — whose stretch of green looks like a mini Golden Gate Park affixed to the building. Inside, The new Doris and Donald Fisher Collection is a boon for the museum with postwar and contemporary works from artists such as Roy Lichtenstein, Agnes Martin, and Gerhard Richter. The inaugural shows feature beautiful galleries of some of the Fisher's favorite artists. Occupying most of the third floor, the Pritzker Center for Photography is the largest gallery and research space devoted to photography among art museums in the nation. Plus, a new partnership with the San Francisco Film Society means a new film program, Modern Cinema, exhibited in the newly renovated Phyllis Wattis Theater. Needless to say, there's a lot to see. — Garrick Ramirez // 151 3rd St. (SoMa), sfmoma.org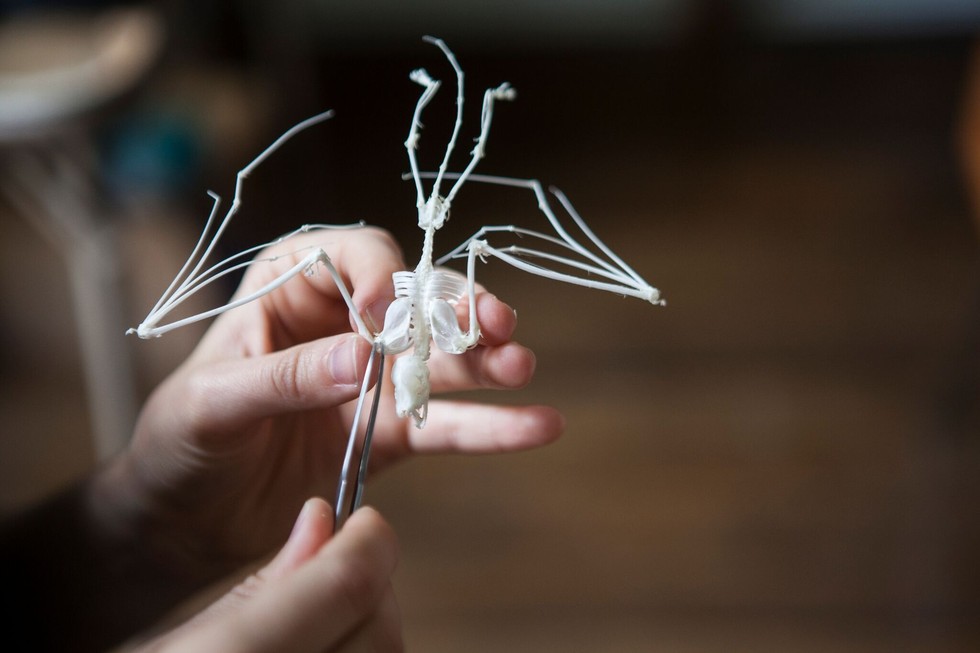 Quirky New Hobby: Paxton Gate's Bat Skeleton Workshop

Led by Wilder Duncan, who is pretty famous in the world of taxidermy, this quirky class began with eleven participants sitting down at a long wooden table full of glass domes, branches, scissors, and glue—all the tools needed for a DIY osteological preparation. A couple hours later, the finished product, a "lifelike" bat skeleton posed in a glass dome, is modeled after the creepy-cool zoological displays of the 19th century, and is pretty much guaranteed to make your apartment much more badass. — Anna Volpicelli // 824 Valencia St. (Mission), paxtongate.com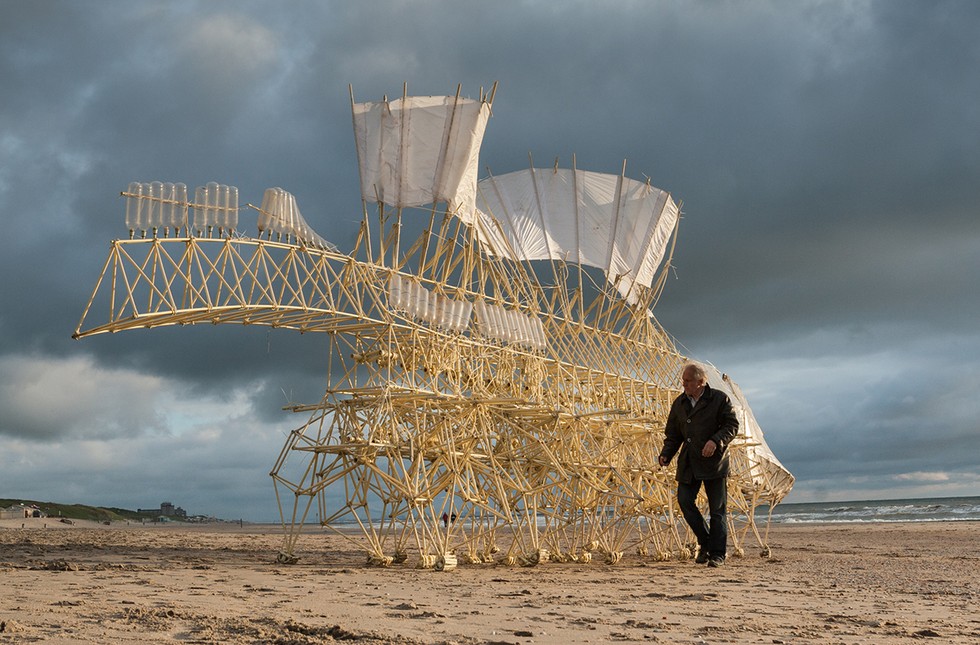 Strandbeests by Theo Jansen
Can't Miss Traveling Exhibition: Strandbeests at the Exploratorium
Dutch artist and physicist Theo Jansen has been working on perfecting his "strandbeests" since 1990. The giant skeleton-like creatures are made out of PVC tubing and other hardware store materials have evolved over the past decadeds to become more complex and lifelike. Now these sensitive creatures are able to adapt to seaside environments and even walk on their own. In the absence of the wind, strandbeests are still able to accumulate the air pressure required to move. Catch them at the Exploratorium before they walk away on September 5, 2016.—Roann Pao // Pier 15, Bechtel Central gallery (Embarcadero), exploratorium.edu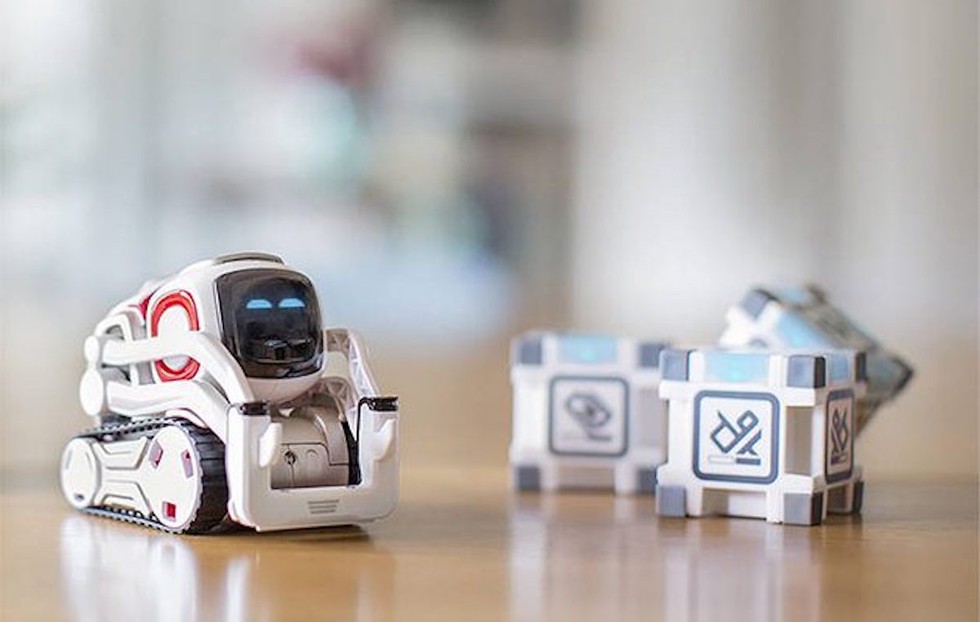 The future is here with the pocket-sized robot, Cozmo.
Cool New Gadget: Cozmo, The Palm-Sized Robot of the Future

This small robot is the brainchild of Anki, a San Francisco-based company that specializes in artificial intelligence. The company is well known in the industry for smartphone-controlled race cars, but this is its first foray into robots. But some would argue that Cozmo is much more than just a robot. With a personality that evolves the more you spend time with it, Cozmo, like humans, learns from experience. Cosmo can speak, snore while it sleeps, feel the full range of human emotions—including anger, frustration, happiness, excitement, and confidence—and even express those emotions through facial expressions. Plus, it's smart. There are more than 300 individual pieces inside, and the design team claims the robot is capable of processing more data per second than all the Mars Rovers combined. —A.V. // anki.com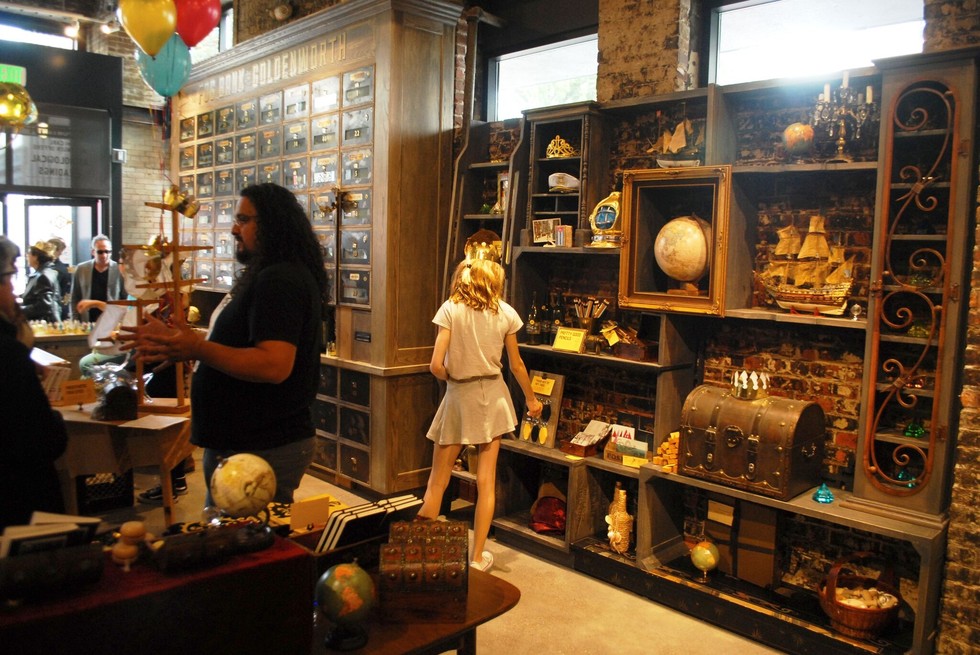 (Anthony Rogers)
Fanciful Spot for Kids: 826 Valencia, Tenderloin

826 Valencia officially expanded its services to the Tenderloin this year, opening its second San Francisco location in a former liquor store on the corner of Golden Gate and Leavenworth, to continue the non-profit's mission to bring cost-free writing and tutoring to neighborhood children. Inside the new space, two grownup-sized doors and two hidden passageways for kids lead to the spacious tutoring center, which also features secret passageways to a treehouse perched high over the room. While the storefront, King Carl's Emporium (named after the original pirate store's puffer fish) sells supplies for explorers and student written publications.— R.P. // 180 Golden Gate Ave. (Tenderloin), 826valencia.org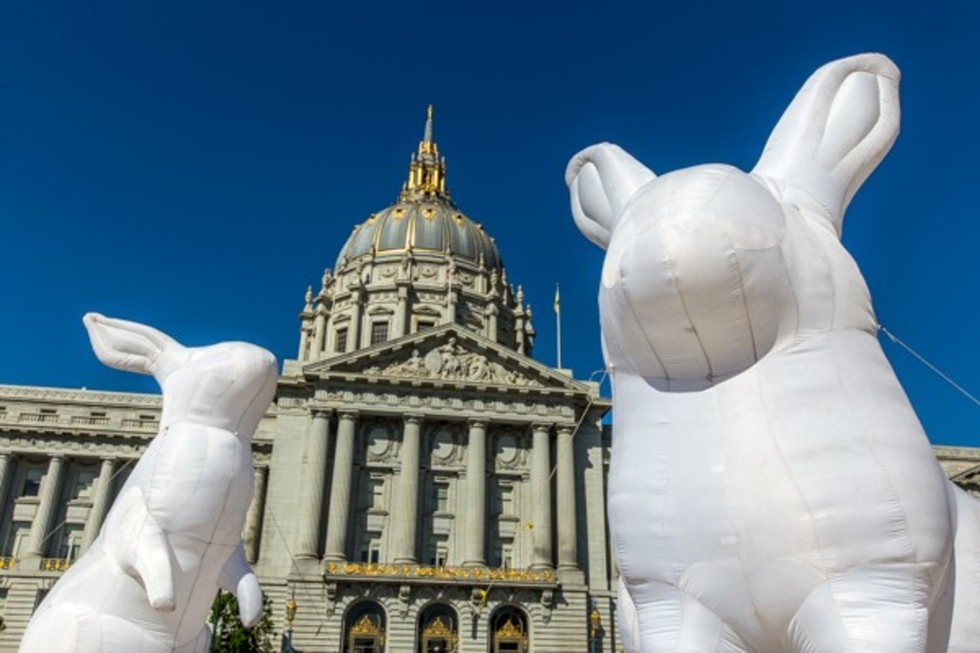 Intrude by Amanda Parer at City Hall(Garrick Ramirez)
Exhibition With a Message: Intrude by Amanda Parer

Giant, inflatable bunnies invaded Civic Center Plaza last spring as part of a playful new art exhibit with a somber message. Part Beatrix Potter icon and part Pink Floyd concert prop, these floppy-eared nylon sculptures resided at the foot of City Hall. Deceptively cute, the rabbits represent the perils of ecological collapse. In Parer's native Australia, rabbits are an invasive pest originally introduced by settlers that have since wreaked havoc on the continent's indigenous species. Parer intends the symbol and scale of the rabbits to speak to our considerable, yet often glossed over, impact on the environment. — G.R. // amandaparer.com.au

San Francisco Throwback: David Ireland's Capp Street House

"Everything is an art perfect material," was the mantra of Bay Area conceptual artist David Ireland (1930-2009), who spent more than 30 years transforming his sprawling 1886 Victorian house in the Mission into a work of art, home to some of his best-known sculptures, drawings, and furniture designs. Since January, fans of Ireland's work can now visit his home and see it all for themselves. The 3,000-piece collection of David Ireland House, which captures the internationally renowned artist's whimsical and freethinking approach to the process of making art, is open for public viewing, along with various photographs and other paraphernalia, such as glass jars filled with the dust of the home's previously sanded floors and dirt from the old boarded-up windows. —Elena Wang // 500 Capp St. (Mission), 500cappstreet.org

Spot to Smoke a Joint: Altered State at Oakland Museum of California
OMCA pivots away from staid museum fare into a red-hot civic platform of ideas with Altered State: Marijuana in California, the controversy-courting, massive new museum exhibition on marijuana. At the center of the exhibit is the alien case—a large, sealed-glass enclosure containing live pot plants. The flowering females come from Dark Heart Nursery, located near Sacramento, and bloom inside the self-contained box, which has its own lights, nutrients, and an air scrubber. No odor is noticeable. Biohazard-like glove ports allow you to manipulate the leaves and bud. It's a wry way to highlight cannabis' federally illegal, "schedule 1" status — making it technically as dangerous as heroin. With domestic support at 61% for weed legalization, a full-scale museum exhibition replete with actual cannabis plants is long overdue Runs until September 25, 2016. —Herb Caine // 50 10th St. (Oakland), museumca.org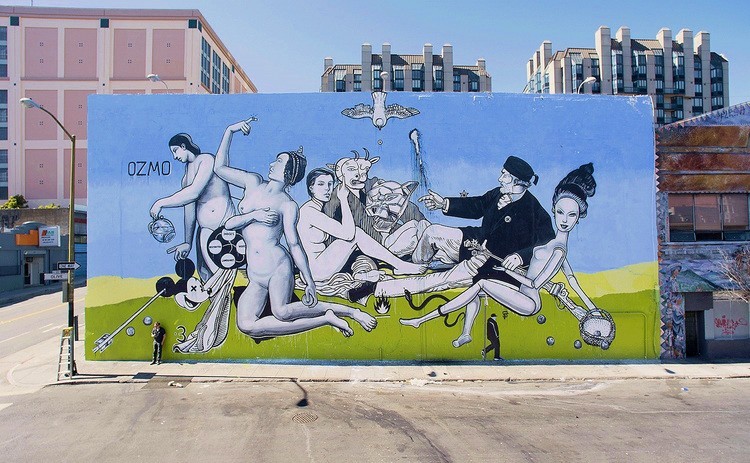 Colorful New Mural: Ozmo's "Dejuner sur l'herbe"
You might know Italian street artist Ozmo for his colorful often twisted murals that adorn the streets of Milan and beyond. Now you can see his work a lot closer to home. San Francisco-based FIFTY24SF Gallery and Upper Playground joined forces to bring Ozmo to SF for his first solo show in the United States. As part of the exhibit, Ozmo painted a large-scale mural on the back wall of the famed Mitchell Brother's O'Farrell Theater in the Tenderloin. The mural was inspired by the 'Dejuner sur l'herbe (The Luncheon on the Grass) by Eduard Manet, where a very curious party is lying on the grass, chatting.—Anthony Rogers // 895 O'Farrell St. (Tenderloin)
Edible Art: Pork Belly Sculpture at the Asian Art Museum of San Francisco
Lest you think it's all ancient pottery and calligraphy at the Civic Center institution dedicated to the art of Asian cultures, prepare to stand in awe and salivation at The Meat-Shaped Stone, a 200-year-old slab of jasper intricately carved to perfectly resemble a glistening hunk of pork belly. This beautifully rendered piece of meat is the main course of the Asian Art Museum's upcoming exhibition to celebrate its 50th anniversary: The Emperors' Treasures: Chinese Art From The National Palace Museum, Taipei will include nearly 150 pieces, from delicate writings to the covetable pottery you might expect, all spanning more than 800 years, eight Chinese emperors, and one empress. — Lauren Sloss // Through Sept. 18, 200 Larkin St. (Civic Center), asianart.org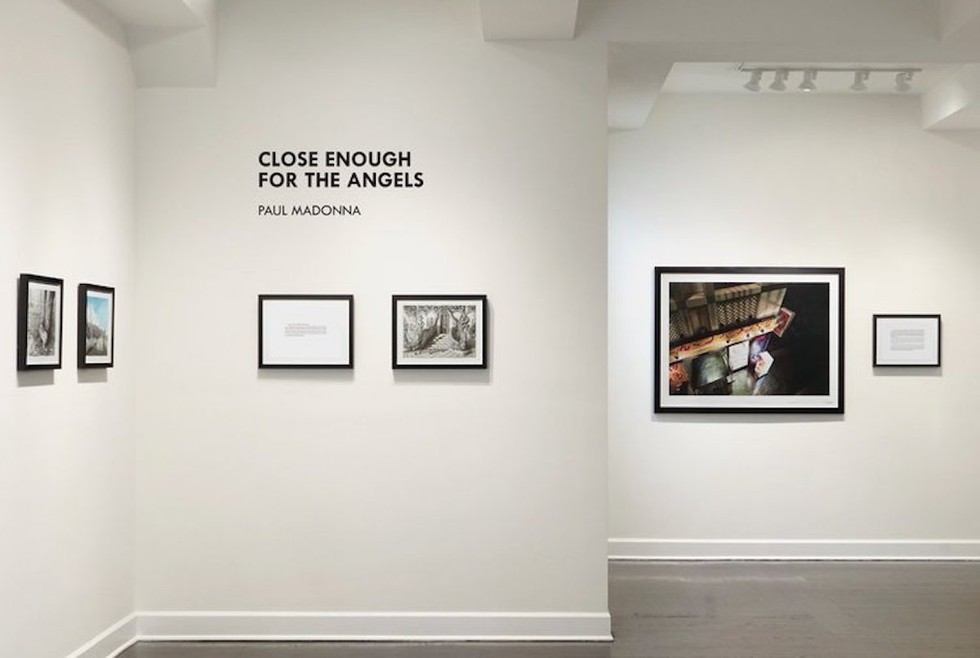 Paul Madonna on display at The Dryansky gallery.
Come Back Story: Paul Madonna's "Close Enough For The Angels"
Paul Madonna needs no introduction in San Francisco's art and literary circles—he's the pen and voice behind the beloved award-winning SF Chronicle series, All Over Coffee, and his murals and drawings can be seen in restaurants and museums. Now the artist-writer has released a stunning new illustrated novel and a solo exhibition, his first in five years, at Union Street's Dryansky Gallery. Close Enough for the Angels tells the story of Emit Hopper, a San Francisco artist, as he explores Asia—discovering luck, love, and creativity in the process—through pen-and-ink drawings and sprinklings of text that help to illuminate Hopper's tale. The exhibit features framed original drawings, and will offer literati the chance to buy one of the 50 beautifully hand-bound books, works of art in their own right, made by Madonna himself. —Gail Goldberg // Through July 14, 2120 Union St. (Pac Heights), closeenoughfortheangels.com
Use of Legos: Ai Weiwei at the Haines Gallery
It's pretty incredible to think that San Francisco curator Cheryl Haines has brought Ai WeiWei's work (a notoriously busy artist who can be spotted advocating for global issues all over the world) to San Francisco four times in the past six years. Their most recent collaboration (for which Haines went so far as to even renovate her Union Square gallery at Ai's request), Overrated, was a captivating multimedia selection of the 58-year-old Chinese artist's work—showcasing how Ai's art and social activism are seamlessly entwined. Ai's famous 1995 black-and-white photographic triptych "Dropping a Han Dynasty Urn," was even recreated using Legos. Pretty damn amazing. —Sarah Medina // 49 Geary St. Suite 540 (FiDi), hainesgallery.com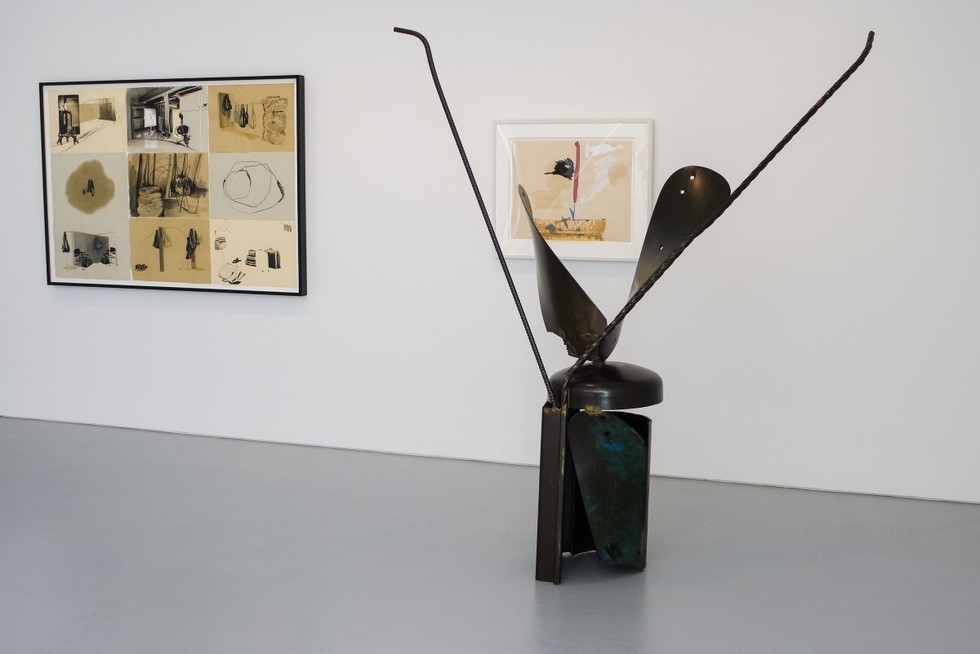 Inside the Gagosian GalleryPhoto by Damion Matthews
Addition to the Art Scene: Gagosian Gallery
It took 30 years, but Gagosian Gallery has finally arrived in San Francisco. SF is the 16th outpost for the gallery founded over three decades ago by Larry Gagosian, the world's most powerful art dealer. The 4,500 square-foot gallery, designed by Kulapat Yantrasast, founder of wHY, is located directly across the street from SFMoMA in the historic Crown Point Press Building that once housed the San Francisco Newspaper Company. The first exhibit, "Plane.Site," curated by Sam Orlofsky, juxtaposes important three-dimensional pieces with the artists' drawings related to the work. You will see, for instance Pablo Picasso's bronze "Tete de femme," of 1951, next to his "Portrait de Sylvette," drawn with pencil on notebook paper, or Cy Twombly's never before seen "Untitled, Lexington" (2009) made of wood, cardboard, and plastic strings, shown with a composition on handmade paper. Stunning.—Damion Matthews // 657 Howard St. (SoMa), gagosian.com
East Bay Art Powerhouse: Berkeley Art Museum + Pacific Film Archive
The Berkeley Art Museum + Pacific Film Archive is ready for its close-up. After three years of construction, the museum has reopened in a stunning new home that easily joins the ranks of local architectural icons such as the de Young and SFMoMA. Founded in 1963, BAMPFA is an exhibition space and resource center for both film and the arts. Its collection encompasses over 19,000 artworks and 17,500 films and videos in addition to a huge library of cinematic archives. Yet, it's the new building that might draw the biggest oohs and aahs. Designed by Diller Scofidio + Renfro, the world-renowned firm that created New York's High Line and LA's Broad museum, the new BAMPFA is comprised of a repurposed 1939 Art Moderne printing plant and a striking new stainless steel clad structure that partially drapes the original building. The three story building includes 25,000 square feet of exhibition space, two theaters, and various study centers that house BAMPFA's exhaustive collection of film related books, posters and documents.—G.R. // 2155 Center St. (Berkeley), bampfa.org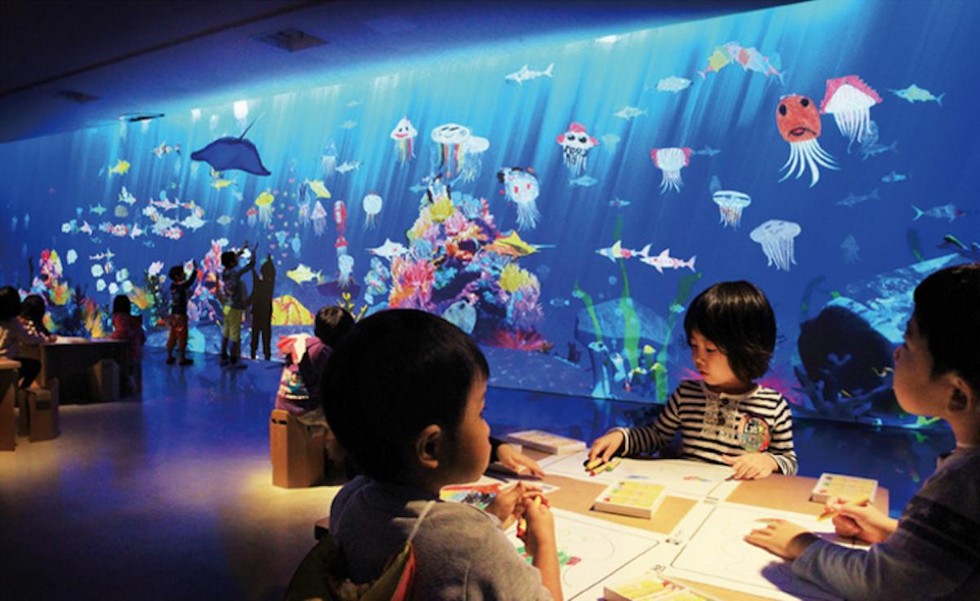 Living Digital Space and Future Parks by teamLab(Pace Gallery)
Bringers of Light: Team Lab at Pace Gallery
TeamLab, an interdisciplinary artists group that hails from Japan, made its mark all over the South Bay this year with 20 immersive digital works in a new exhibit at Pace Art + Technology's Menlo Park pop-up gallery. With influences in both ancient Japanese art and such contemporary forms as anime, the exhibit spanned 20,000 square feet and invited viewers to directly engage with the universal themes of creativity, play, and exploration. Eight of the 20 works were even designed specifically for children. —E.W. // 229 Hamilton Ave. (Menlo Park), pacegallery.com

Photog to Watch: Brittani Sensabaugh
Sensabaugh, a 26-year-old photographer from East Oakland, started her career six years ago when, at 20, she moved to New York City. One night, she was sporting an Oakland hoodie on the A Train, when an older woman seized at the opportunity to degrade Sensabaugh's hometown. This was the moment she first felt the call to help change people's misconceptions of America's tough neighborhoods. During a trip home to East Oakland in 2013, Sensabaugh began to capture her neighborhood on film, and for the next three years, she walked around the most dangerous neighborhoods in America, including West Oakland and the south side of Chicago, capturing everything from grandmas in hair rollers to toddlers smoking cigarettes. Follow along on Instagram, @brittsense.— S.M. // brittsense.com
DON'T MISS A BAY AREA BEAT! SUBSCRIBE TO OUR NEWSLETTER.