Spending six hours in a car to Tahoe is a drag, and certainly not uncommon with traffic, chain control, and blizzards. In the same amount of time (in fact, a bit less), you could be chilling out or tearing down a slope in Big Sky, Montana.
Be it winter or summer, Big Sky is a paradise for the outdoor adventurer, nature-imbiber, relaxation-seeker, and aggressive snow-sports trailblazer. Before Big Sky had a school, it had a brewery. And before it had a brewery, it had a mountain full of topnotch topography primed for skiers. A local ski bum / avalanche control-wannabe said it right, "It's like taking Vail and plopping Squaw Valley on top."
A San Francisco doorstep to a seat on the Swift Current chairlift takes 5 ½ hours. Land at Bozeman's tiny airport and your bags are waiting for you by the time you exit the gates. Meet your driver for a scenic shuttle ride along the Gallatin River, where much of A River Runs Through It was filmed (indeed, a few folks are fly-fishing, even in winter). One short hour later, you're at the base.
Big Sky has the varied terrain and wide acreage of Vail with the 2nd biggest vertical drop in North America (after Whistler). Around 40% of the mountain is advanced (read: one black diamond, not two, of which there are plenty). But cruisers and beginners will find no lack of fun either. Expect to get tired more quickly – the runs are incredibly long and there's way less time spent waiting in line because, speaking of lines, there are none.
The only spot you might encounter a line is at the Lone Peak Tram, where only the hard-core take a vertigo-inducing ride above avalanche-prone chutes only used by fearless souls in epic Warren Miller movies (and those who intrepidly emulate them). The harrowing ride deposits you at 11,000 feet, which affords gorgeous 360-degree views of three states and eight mountain ranges painted blue, yellow, and white.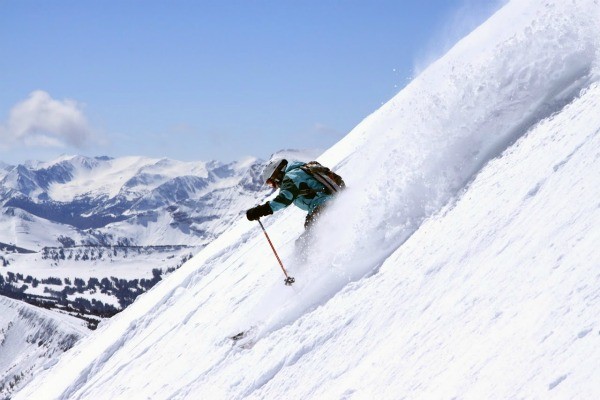 The only way down is one of the bowls on the backside – either Liberty Bowl, a wide open swath of steep, or the Dictator Bowls, Lenin and Marx, which are narrower and require a gnarly traverse (especially precarious for snowboarders). This summer, the tram will be open for the first time via guided tour from the base. True daredevils can sign a waiver and attempt to hike down over the mountain's signature rock shavings. 
Shale, spread across the peaks like menacing glass shards, keeps the repair shops busy with unsuspecting skiers and boarders. That patch of fresh powder may be untouched for a reason. Or, perhaps it really is untouched because, again, where are all the people? 
For the 1%, another ski resort, the Yellowstone Club, lies just across the way. But, you need either serious connections or enough chutzpah to ski into private territory ("violators will be prosecuted," or so they say). It's a private ski resort for a select 350 members, an elite pack of prestige (the lift passes over Bill and Melinda Gates house). But are the 1% really good skiers? Insider tip – the terrain within Big Sky is way better and more challenging.
Big Sky is not only a winter destination, it's a perfect base camp for excursions to Yellowstone National Park – the park border is only 18 miles away. Drive on your own or take one of Big Sky's full or half-day guided trips. The resort hosts outdoor summer concerts and there are also ample opportunities in the surrounding area for fly-fishing, whitewater rafting, mountain biking, golf, and kid-friendly stuff including a zip line and a ropes course.
Stay
The Summit – Comfy rooms slope side with stellar mountain views, perfect for taking in the Alpenglow at sunset. This place has the best indoor/outdoor hot tub ever. Avoid the immediate après-ski crowd by napping for an hour; then, the pool is all yours. Beer and wine in the tub is not frowned upon.
Huntley – Rooms are more affordable and more basic, but slope side has its advantages. The breakfast buffet is said to rival that of the Summit
Check out additional options here.
Eat
The Cabin – Elk Shank, bison cowboy steak, boar short ribs – name the game and you'll get a hefty portion with a side of horseradish mashed potatoes and veggies. Lunch (halibut sandwiches, bison chili) is solid midday fare.
The Lotus Pad – In the "Blue Mall" in Meadow Village (about a 15-minute shuttle ride from the base). A tiny, bustling, spot with Thai food rivaling that of SF.
Peaks (in The Summit hotel) – quite possibly the best breakfast buffet in the west, load up here and you won't need to eat until dinner
Shedhorn Grill – a small yurt off of the Shedhorn and Dakota lifts that lures skiers in with the scent of burgers on the grill. Perfect for an afternoon hot chocolate (or beer) to refuel after a long and treacherous ride down Liberty Bowl.
Do 
Solace Spa - Swedish and deep tissue massages to work off that glute tension. Also offers a full salon, facials, mani-pedis, sauna, and hot tub. 
Take a snow-cat up to a yurt for a unique dinner experience. 
The Caribiner Lounge (in The Summit Hotel), Scissorbills Saloon, and Whiskey Jacks all offer après-ski food, booze, and live music.
Get there 
United has a daily non-stop to/from SFO to Bozeman.
Allegiant just announced a non-stop to/from OAK to Bozeman (launching April 27). Fares start at only $39.99 one way.
Middle photo courtesy of Lonnie Ball