So marijuana's all legal. Well, it will be when recreational use goes into full effect in January 2018. Until then, you still need an MMJ card to partake in the goodies—and oh, what goodies await. Since last we updated this annual guide to all things cannabis (with a special edition just after the November election), the field has become even more outstanding.
Unbelievably chic new edibles and quality cooking ingredients have come to the table; stylish dispensaries are growing up and expanding; special events have flooded our calendars; and canna-weddings and tourism have officially become a thing. To cover all our region has to offer in the way of marijuana marvels would be impossible, so please enjoy our curated picks for the very best of the Bay Area.
---
Cooking With Cannabis: Modern Ingredients, Recipes + Cookbooks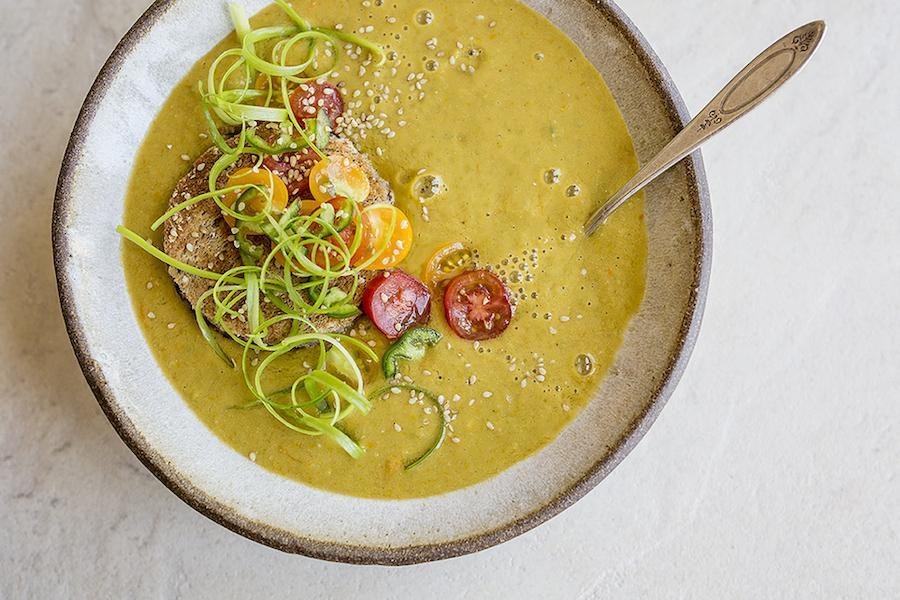 Canna-Gazpacho made with golden cherry tomatoes and fresh Asian pear.
(Monica Lo, @Sousweed)
The sorcery of melding sustenance with cannabis has exited the Dark Ages and now entered the Renaissance. All the magic tricks of chemistry and presentation top chefs perform with haute cuisine at Michelin-starred restaurants is happening with marijuana—which means it's time for you to pull rabbit bolognese, infused with a special ingredient, out of your own Le Creuset.
HAUTE INGREDIENTS
As nearly every meal worth eating involves fat, no kitchen is complete without chef-grade olive oil. Pot d'Huile ($43) is a California EVOO infused with masterfully extracted cannabis in precise dosing (100mg THC per 100 mL bottle). It's even earned kudos from Bon Appetit. // To call Numa the truffle salt of cannabis dances close to explaining how this unusual edible works: The Outer Richmond–based manufacturer Innovative Edibles calls its flavored powder an "evanesce," and the product is as unique as the deployment of that fleeting verb. The effect is a tickling of the palate as well as the brain case thanks to a precise matching of cannabis terpenes with exquisite flavonoids (pineapple/rose, parmesan/peppercorn/clove). The foodie ingredient impressed the haute heads at High Times sufficiently enough to garner a Cannabis Cup award.
RECIPES + COOKBOOKS
Infusing Bulletproof coffee and ahi tuna poke bowls with a slight cannabis kick sounds like a good idea—but how, exactly, would you pull that off? Chef/photographer Monica Lo's cooking site Sous Weed removes the guesswork while giving cannabis the treatment of a serious ingredient and us the eye candy of gorgeous photos. // Due out July 2017 and available now for pre-order, Cooking with Herb, authored by Bob Marley's daughter Cedella Marley and beautifully photographed by SF's own Aubrie Pick, explains how to incorporate cannabis as a vital component of a healthy, active lifestyle.
—Reporting by Chris Roberts
Season salads, soups, and more with Numa's flavored infused powders. (Courtesy of Numa)

No foodie's kitchen is complete without an artisanal olive oil. (Courtesy of Pot d'Huile)