By
There are big things happening in little Chinatown.
High profile projects such as Mister Jiu's and now China Live may have taken over local headlines, but Chinatown remains the city's most atmospheric neighborhood with murals to rival the ones in the Mission and bustling markets to stock ingredients for your Fuchsia Dunlop recipes.
EAT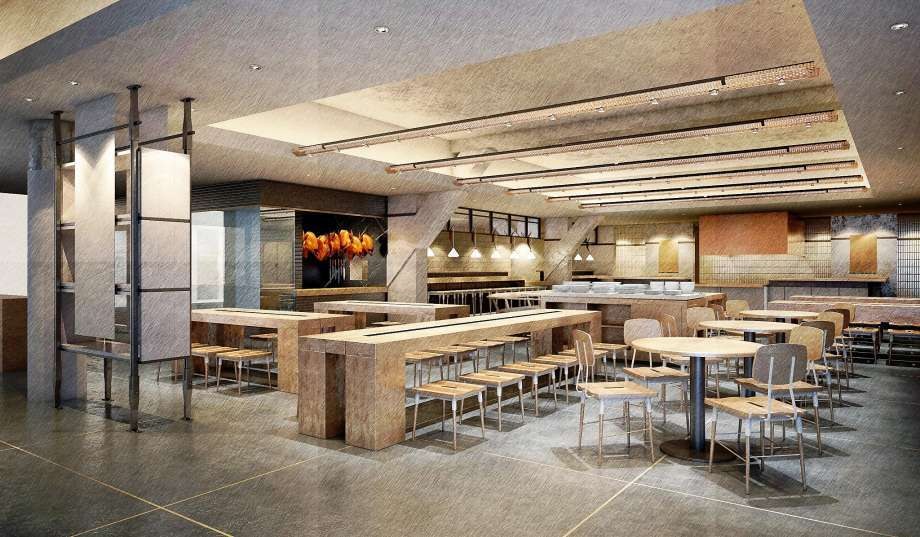 Renderings of China Live's ground-floor restaurant, Marketplace.(AVROKO)
China Live

China Live finally has an opening date—March 1st! Founded by restaurateurs George Chen and his wife Cindy Wong-Chen, the complex will clock in at more than 30,000 square feet and offer an experience like no other, immersing guests in Chinese cuisine and culture, local ingredients and recipes, while providing education on the history and influence of Chinese gastronomy. The first floor will open next week and feature the Market Restaurant & Bar, offering seasonal and fresh Chinese dishes; a Marketplace, featuring curated retail items; and the Oolong Café, offering an extensive selection of uniquely sourced teas from Asia. Above the first floor (which will open this spring) will be Eight Tables by George Chen, an elegant, intimate restaurant, offering a seasonal eight-course Chinese tasting menu, accompanied by a bar and lounge, plus a banquet and event space.—Emily Martin // 644 - 660 Broadway St. (Chinatown), chinalivesf.com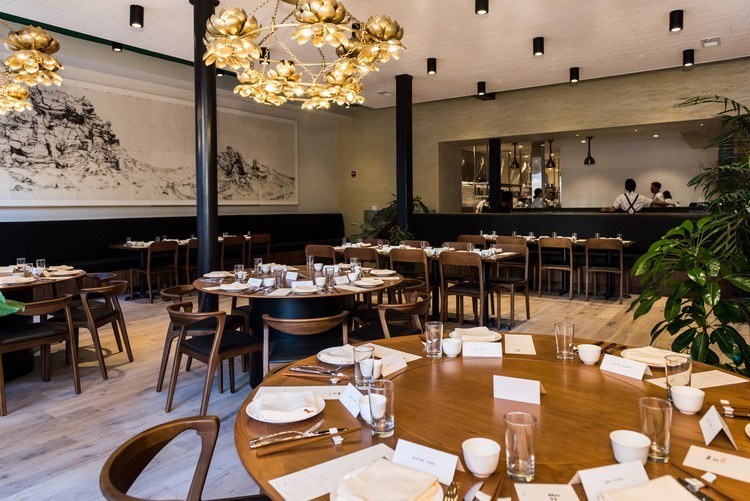 The 85-seat dining area at Mister Jiu's also offers a view of the Transamerica Building. (Photo by Katie Borreson)
Mister Jiu's

Despite being open for less than a year, Mister Jiu's, the newly Michelin-starred Chinatown restaurant from chef Brandon Jew, has already made some big changes to the menu, with everything now offered a la carte in the main dining room. Dishes range from salt and vinegar shrimp chips ($6) to a whole tea-smoked Liberty farms duck ($110). —Emily Martin // 731 Grant Ave (Chinatown), misterjius.com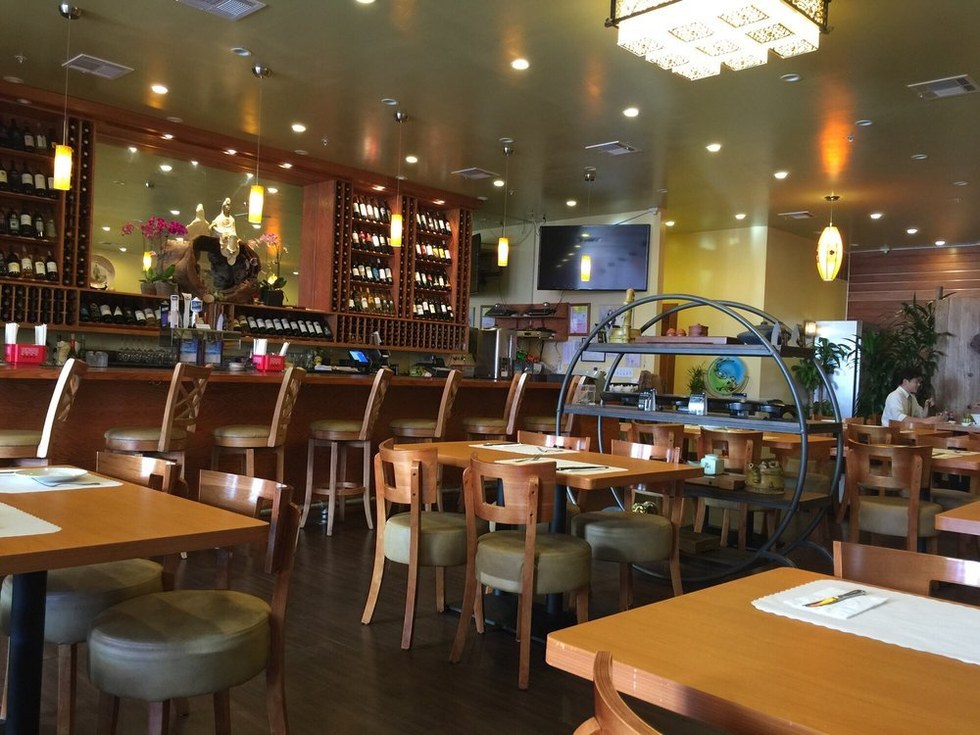 Begoni BistroPhoto from Eater SF
Begoni Bistro

This stylish newcomer stands out with modern interiors, a wall of wine, and craft beer on tap. The former chef of Bodega Bistro assembles a menu of refined Vietnamese-inspired dishes—like the showstopping crispy braised squab and your favorite steamed pork buns. // 615 Jackson (Chinatown), begonibistro.com
New Lun Ting Cafe
Like the best eateries in Hawaii, this homey neighborhood institution churns out massive plates of Chinese-American comfort food in an old-school diner setting. Follow the lead of regulars and get the signature roast pork which comes smothered in curried gravy and served over rice with side of corn. A vivid square of Jello completes all meals. // 670 Jackson (Chinatown), 415-362-5667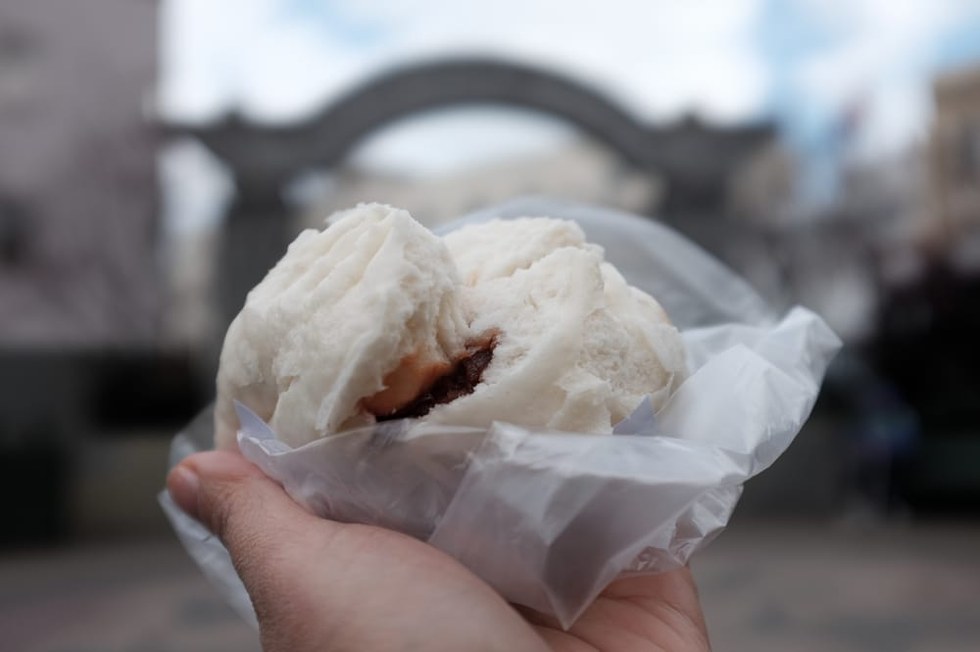 A dim sum offering from Good Mong KokPhoto from Yelp
Good Mong Kok

You'll always find a long line at this tiny take-away dim sum spot squeezed between two busy Stockton Street markets. Regulars wait for a chance to choose from the clanking metal steam trays that hide some of the best dumplings in Chinatown. // 1039 Stockton (Chinatown), 415-397-2688
Yin Du Wonton Noodle
This clean, well-lighted place for wontons serves satisfying bowls of noodle soup for less than five dollars. Throw in a side of fatty beef brisket for an additional 65 cents. Mom takes the orders while Pop wears the smiles. // 648 Pacific (Chinatown), 415-834-9388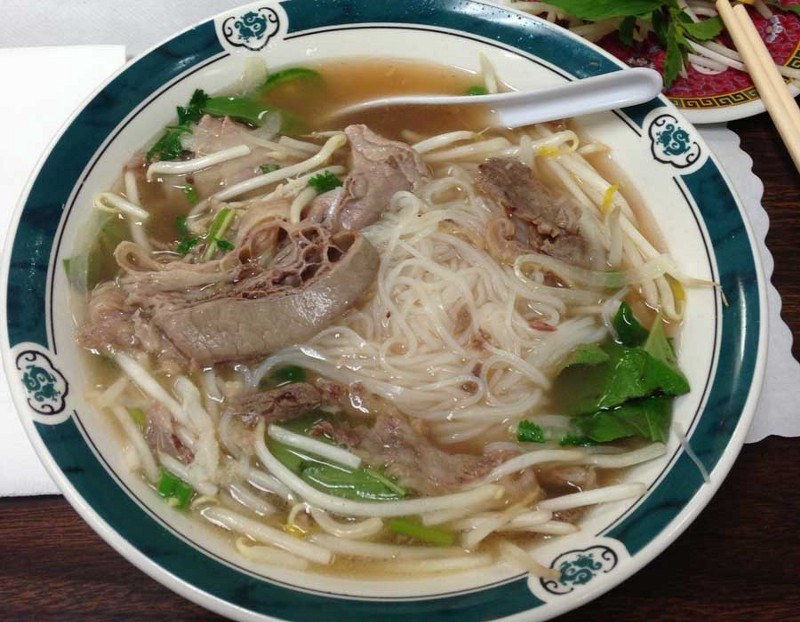 Pho Dac Biet at Golden Star Vietnamese Restaurant
Golden Star Vietnamese Restaurant
Weekdays crowds gather at this popular Portsmouth Square lunch spot with solid Vietnamese standards like beef pho and bbq pork dished up in a mess hall-like dining room. // 11 Walter U Lum Pl (Chinatown), 415-398-1215
Spicy King
This new Szechuan joint on romantic Waverly Place sports a newly remodeled interior that's oddly reminiscent of a '70s tiki bar. Piquant dishes such as mapo tofu teems with deep, complex spices. Be sure to order the potstickers—they're great! // 65 Waverly Pl (Chinatown), 415-982-6868
PLAY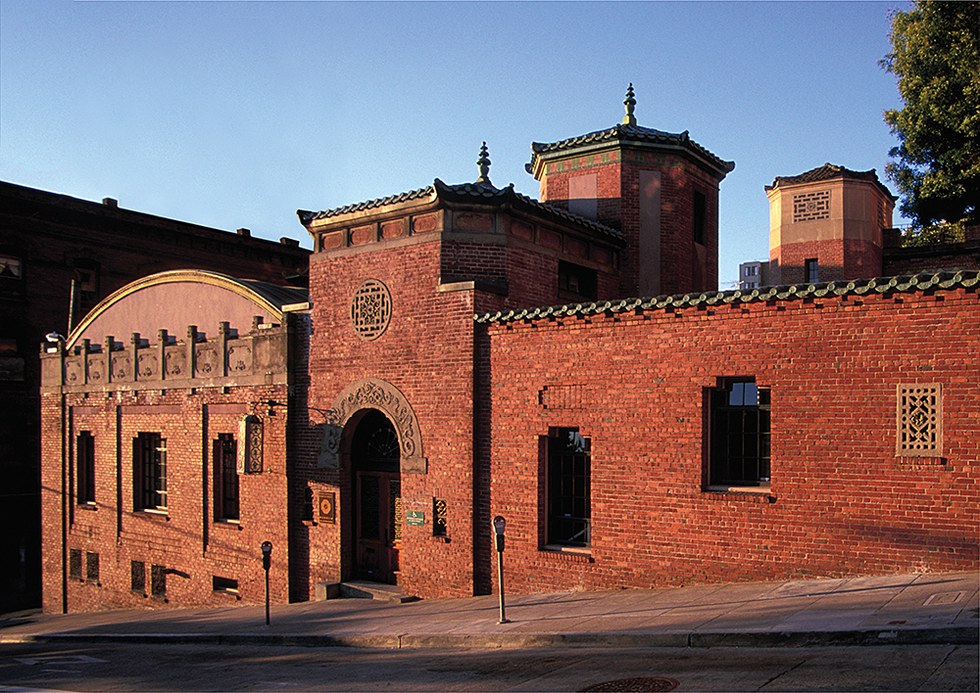 Chinese Historical Society of America

This wonderful, secluded museum depicts the Chinese experience in America through beautiful installations and ephemera. The enchanting Julia Morgan building—a former 1932 YWCA—adds heaps of ambience. Admission is free for children under 12 and seniors and students get a discount. // $15 for adults, 965 Clay (at Stockton), chsa.org
Be a Flâneur
With ornate facades, narrow alleyways, early 20th-century chinoiserie, and an astounding collection of vintage neon signage, Chinatown rewards idle wandering. Pick up a copy of Philip Choy's great Chinatown guide, prime your Instagram, and hit the streets.
SHOP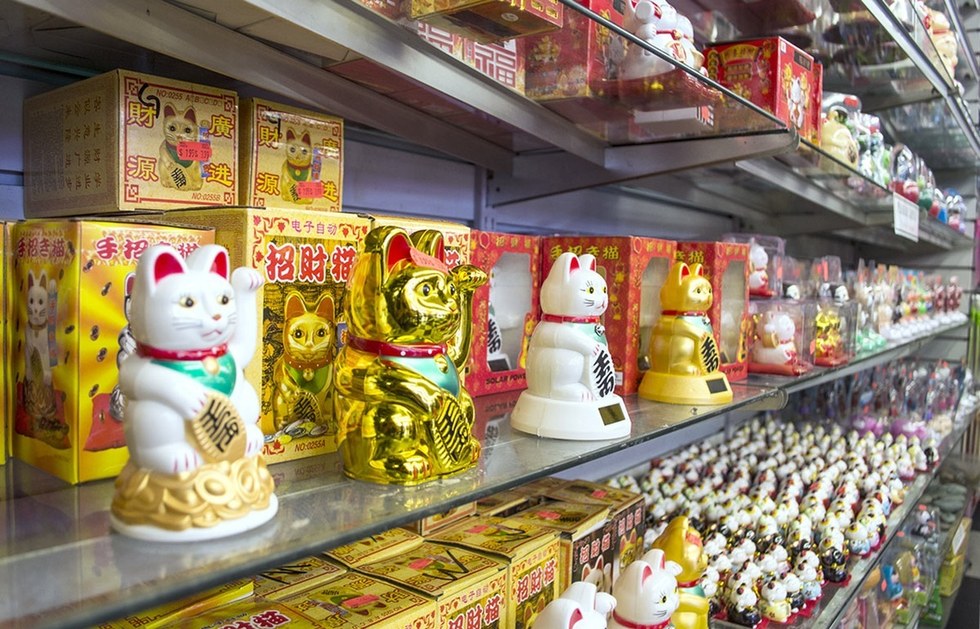 Tchotchkes line the walls at Bargain BazaarPhoto from On the Grid
Bargain Bazaar
When you finally succumb to the irresistible bric-a-brac that lines Grant Avenue, Bargain Bazaar is ready for you with three floors packed full of tchotchkes, toys and tableware. // 667 Grant (Chinatown) 415-397-8272
Juicy Fruit
This colorful open-air market is a backroads island-fruit stand plunked in the middle of Chinatown. Crates of vibrant rambutans, star fruits, papayas, and cherimoyas spill onto the sidewalk. Next door, a sweet woman with a shock of bleach-blond hair uses the fruit for fresh-squeezed juices and boba drinks. It's half the price of Jamba and three times the charm. // 768 Jackson (Chinatown), 415-989-3028
Buddha Exquisite Corp.
If you think the name is good, wait until you see the shop: A dizzying display of Joss paper—replicas of money and material goods burned at funerals—that serves as a de facto Pop Art take on conspicuous consumption. Find not-exactly-inexpensive paper versions of Rolex watches, lobster platters, iPads, mansions, and an unfortunate sign that admonishes photos. // 756 Jackson (Chinatown), 415-391-2806
DRINK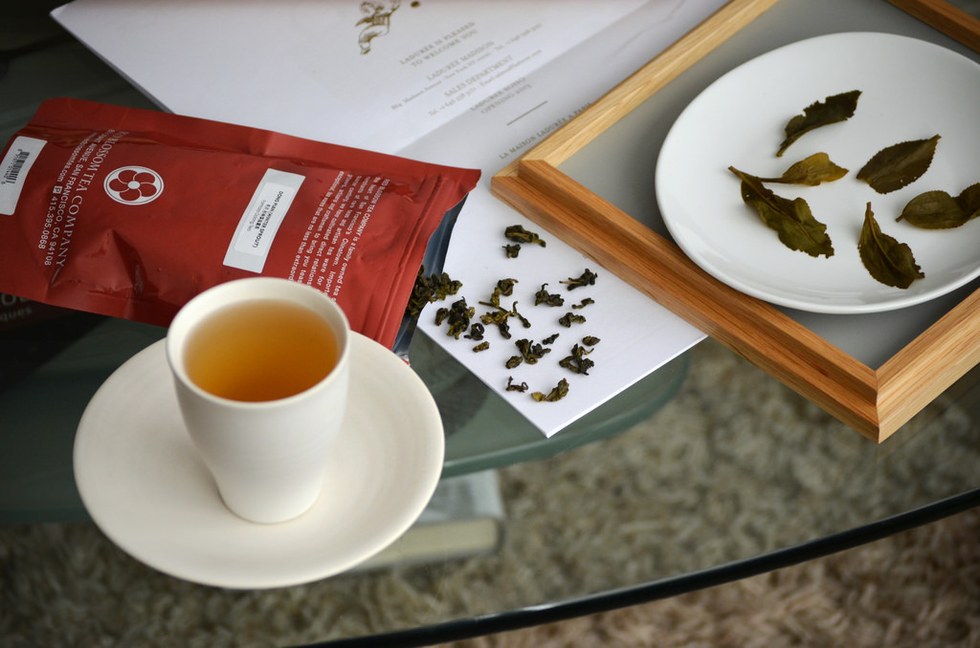 Red Blossom Tea Company

This serene spot is a sleek temple to tea with walls lined with canisters of loose-leaf brew. A well-informed staff can lead you through a tasting of high-quality blacks, greens, oolongs and non-caffeinated tisanes sourced directly from growers in China. // 831 Grant (Chinatown), redblossomtea.com
Red's Place
Go beyond Tsingtao at this legendary neighborhood watering hole. After inheriting the bare bones bar from his parents, Jerry Chan upgraded its beer selection with tap brews such as Big Daddy IPA and Drake's Denogginizer as well as 40 other labels stocked in the cold case. // 672 Jackson (Chinatown), facebook.com/redsplacesf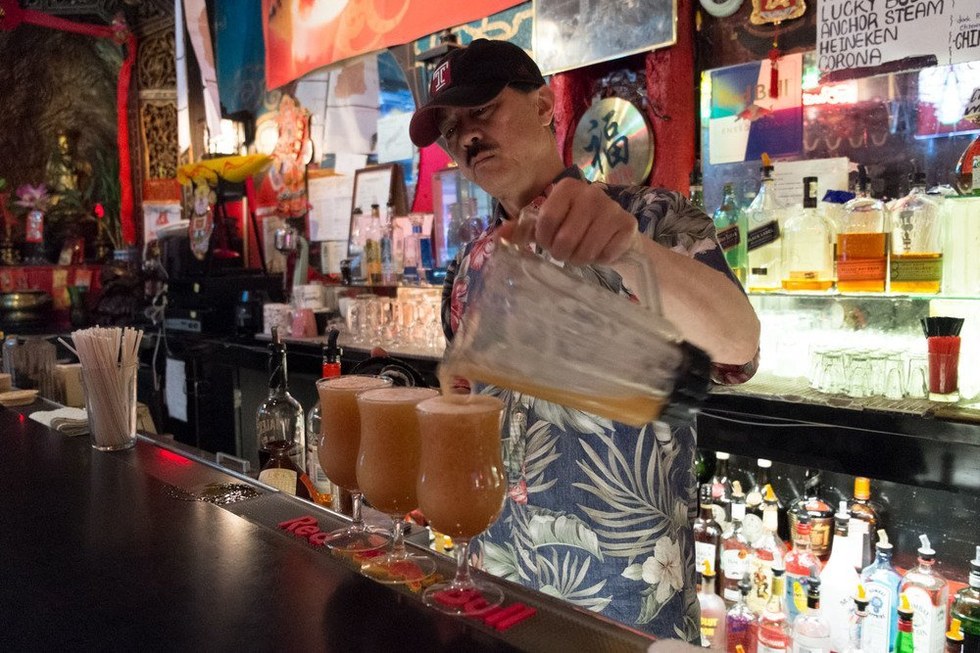 A bartender pours mai tais at Li PoPhoto from Eater
Li Po

Originally immortalized in Orson Welles' Lady From Shanghai, Li Po's cameos on Anthony Bourdain's The Layover is what drew the crowds. A magnificent neon lantern hangs from the bar's cave-like facade while dark interiors hide a colossal tattered lantern, an alcove shrine to Buddha, and frothy mai tais spiked with the Chinese liquor baijiu. // 916 Grant (Chinatown), lipolounge.com
DON'T MISS A BAY AREA BEAT! SUBSCRIBE TO OUR NEWSLETTER.