Lindsey Ross's San Francisco connections run deep and span generations, so when she and her husband-to-be, Ronnie Rosser, decided to tie the knot, they wanted to do it in one of the City by the Bay's historic spots. They married in a wedding filled with firefighter and nautical references at the Argonaut Hotel on the waterfront.
When Lindsey met Ronnie at a party while they were attending Cal Poly San Luis Obispo, perhaps alarm bells didn't go off immediately, but Ronnie (an aspiring firefighter who is currently in EMT training) made sure he got her number. A little more than three years later, their love was in full flame and he proposed on a beach in Maui.
Lindsey and her mother, Rose Ross, got busy finding the perfect San Francisco venue for the event. Although the family now lives in Marin County, their history is intertwined with San Francisco and the SFFD, where Lindsey's father, Marty Ross, has served for more than 30 years. After looking at many locations, mother and daughter chose the Argonaut. "I was drawn to its unique, historic feel," says Lindsey. "I love the architecture with its big wooden pillars, bricks and nautical theme. Because it has a great courtyard, I could have an outdoor ceremony and an indoor reception."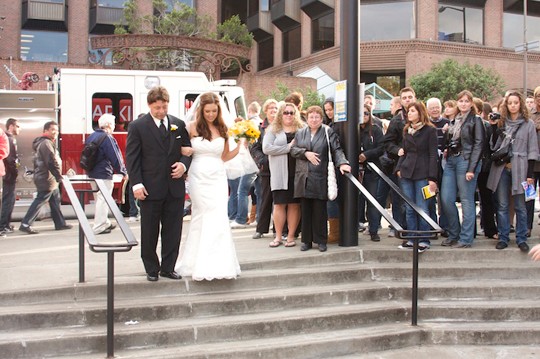 As a child, Lindsey used to occasionally ride on fire trucks on special occasions. So it was fitting that a SFFD fire engine brought her to the ceremony in style. "The truck picked me up around the corner from the Argonaut's courtyard. It was filled with firemen Dad has worked with for a long time," she says. "When I got on the truck they cranked up some rock music and drove me to the ceremony."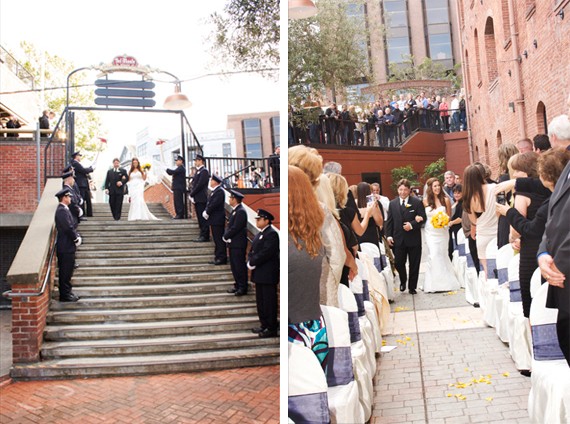 At the event's entrance, the uniformed firemen lined the steps leading to the courtyard, allowing Lindsey to make a grand entrance on her father's arm. Onlookers called out good wishes as she walked to the aisle.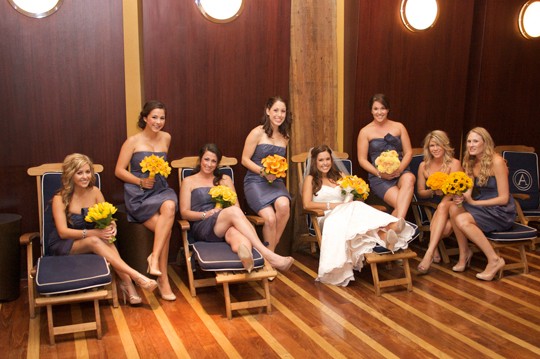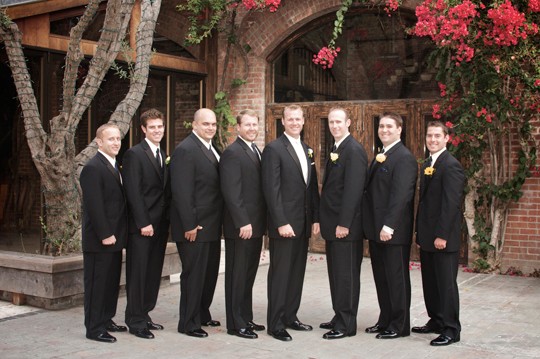 The brick-lined courtyard was decked with Japanese lanterns, Tivoli lights in the olive trees, and chairs draped in white cloth and navy blue organza sashes. Arrangements of bright yellow sunflowers added splashes of joyful color to the event. Sunflowers were also in the bouquets carried by Lindsey and her bridesmaids, who wore navy blue dresses.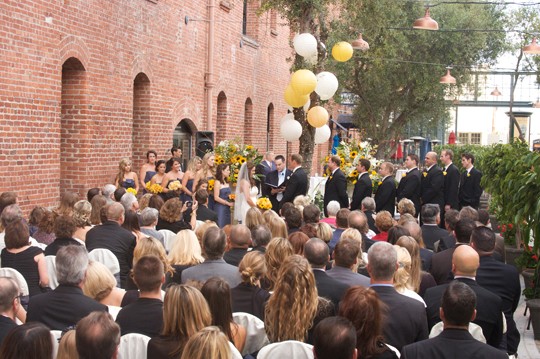 Nearly 200 people watched as Lindsey and Ronnie were married under the rustling olive trees in the courtyard of the former cannery by long-time family friend and SFPD officer, Mike Koniaris.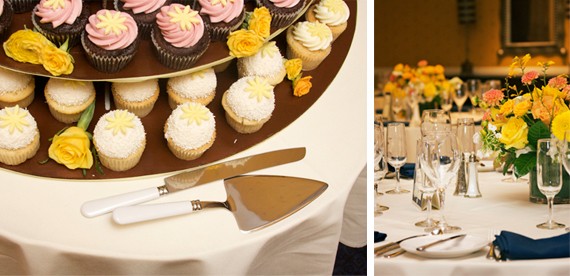 After the ceremony, the wedding party headed to the Hyde & Beach cable car that stops at the corner by the hotel and hopped aboard for some only-in-San Francisco wedding photos, while guests moved to the Argonaut's Maritime Room for cocktails and hors d'oeuvres. Then everyone came together in the hotel's Golden Gate Ballroom for dinner (a classic San Francisco menu that included salmon, filet mignon, wild mushroom risotto, clam chowder and a cupcake tower in lieu of a cake) and dancing. Yellow garden roses filled the air with a subtle perfume.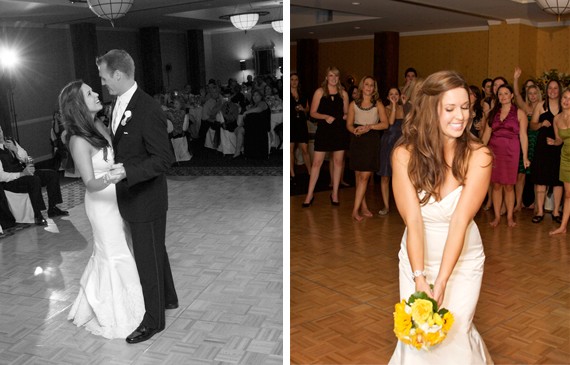 After dinner, Lindsey and Ronnie took the floor for their first dance as husband and wife to "Stand by Me." Soon after, guests joined in on the floor and the crowd danced the night away.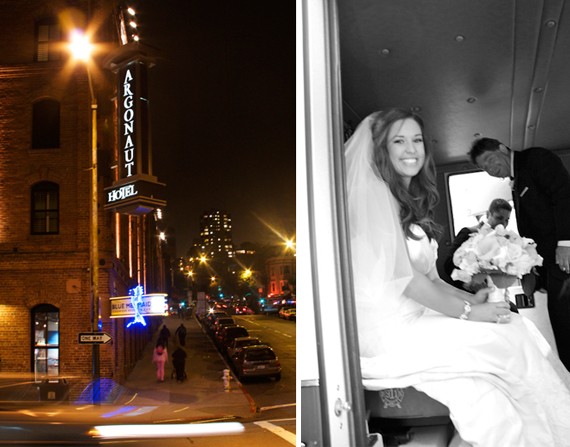 Location: Argonaut Hotel, argonauthotel.com
Catering: Argonaut Hotel, argonauthotel.com
Cupcakes: Kara's Cupcakes, karascupcakes.com
Flowers: Main St. Floragardens, mainstreetfloragardens@sbcglobal.net
Photography: Anna Bella Photography, annabellaphotography.com
Videography: Shade Tree Films, shadetreefilms.net
Photobooth: Glass Coat Photobooth Co., glasscoatphotobooth@gmail.com
Deejay: Joel Nelson Productions, joelnelson.com
Gown: Alvina Valenta, Bridal Galleria, bridalgalleria.com
Bridesmaids Dresses: J. Crew, jcrew.com
Tuxedo: Men's Wearhouse, menswearhouse.com
Hair & Make-up: Eliza Dougherty, 415-328-0769 and Aimee Garcia, 951-216-5791