By
Book club types and lit lovers can rejoice—there's a new way to stay on top of what's trending in top short story fiction today. Connu (which means "known" in French and which is the company name approved by none other than Margaret Atwood!) posts one short story a day, each recommended by an established author. Launched in November, the app curates the crowded book marketplace by hand-selecting one story at a time as a way to ensure that each featured emerging writer is given his/her proper due.  

Locals Susanna Luthi and Niree Noel (along with engineer Joseph White, who lives in L.A.) started the app because they noticed that there was a "shrinking number of places where fiction can really thrive." The two have become obsessed with the idea of mobile publishing, which makes good literature instantly accessible to anyone with a smartphone. Their goal is to build a vital and vibrant hub for today's literature, where fictional stories can raise difficult questions that are hyper relevant to today's problems. They're posting stories that readers will want to read (or listen to) every time they have a spare minute. Each story comes with an audio version, readers can select from the latest stories or the archive, and stories that stand out can be shared with friends.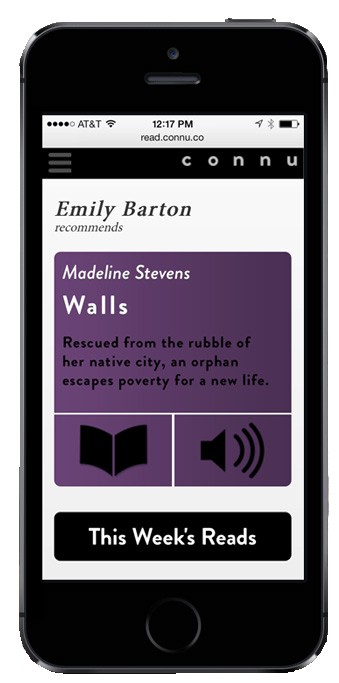 The app is currently in beta for iPhone, and the Connu team hopes to release a web version for desktop, laptop, and iPad soon. As all San Franciscans do, Luthi and Noel are thinking big. They hope to one day become international in scope. "We want to bring fiction into daily life," Luthi says.
Here's a teaser to get you going, excerpted with permission from Amy Silverberg's Take Me Home, published on Connu and recommended by Mark Richard. In this L.A. satire, an attractive accountant meets a portly comedian in a bar. Think Carrie Bradshaw meets Jerry Seinfeld. With a twist.
"For a while, I was sleeping with a fat man I'd met through a friend. He wanted to be a stand-up comedian, and though I'd heard jokes like his before, he had a deliberate way of delivering them that tricked you into thinking they were something new. It had to do with timing. Especially when he was up on a stage and the audience was drunk and susceptible—everybody laughed. That's how I met him. I was watching him tell jokes in this dive bar called Pete's that had a rotating globe with multi-colored shapes, and my friend said, 'Do you wanna meet the fatty? I'll introduce you.' … I went home with Jim that night, thinking we'd just talk, but there was a corner of my mind—like a light on in the top floor of a dark building—thinking maybe I'd let him get away with something. He lived in a basement apartment. Through the window, there was only dirty horizon line, as though the building were sinking into the street. For a moment, I entertained the thought of staying too long and being buried. What I remember most about that night was that fucking Jim was pretty similar to fucking anybody skinny. Nude, I didn't notice the extra weight of him—he was like anybody else, an arrangement of skin and body. He moved like a thin person and he smelled like green chewing gum. It was only afterward when he pulled the covers up to his double chin that I remembered the way he looked in clothes…"

Download the app to keep reading. You don't want to miss the rest of this story and its surprise ending. // connu.co


DON'T MISS A BAY AREA BEAT! SUBSCRIBE TO OUR NEWSLETTER.