We eat well in the Bay Area. You might even make the case that we're spoiled. You can grab carne asada for dinner from your favorite taqueria one night, then order pasta the next without leaving the block. Folks might be tempted to eat at home more often if they could make it taste like the pros. Ramekins Culinary School in Sonoma teaches chefs-in-the-making there's no reason to starve in your own kitchen.
Think of how many times you've taken off for Wine Country in search of good food and wine. The only difference is that this time you get to do the cooking.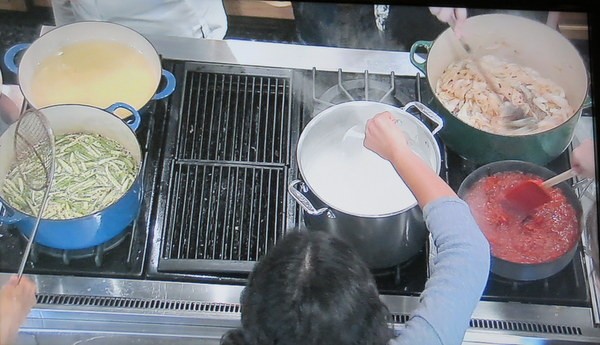 Many hands at work in the kitchen
Whether you want to learn how to make crepes, prepare Thai food, or even bake the perfect apple crisp, chances are there's something on the calendar that will tempt your tastebuds. Classes change every month, taking advantage whenever possible of local harvests. Along with a permanent culinary teaching staff, guest chefs are invited to the Sonoma kitchen to teach classes. 
Before you start reminding yourself of assorted debacles that have played out in your own kitchen, you should know Ramekins doesn't only teach adults how to cook. They've taught more than a few teens how to find their way around a kitchen and turn out impressive dishes like homemade ravioli and marinara.
Guest chef Neela Paniz, winner of the Food Network TV show "Chopped" spent a Friday afternoon teaching students the many steps involved in preparing contemporary Indian food favorites. The hardest part of Indian cooking just might be that it's not a one dish meal.
"There's a lot of different components that have to be cooked separately," says Paniz.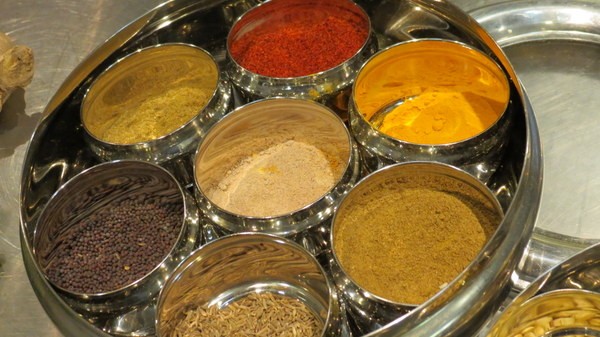 Colorful spices used to prepare Indian food
Before a single dish got dirty, she spent time introducing many would-be cooks to ingredients they'd never seen or heard of before and emphasizing how purchasing the right ingredients impacts what happens in the kitchen. Things like where to find high quality basmati rice and, just as important, how to wash it. She also recommends using some muscle when picking out ginger at the market.
"When you go to the market, snap it," says Paniz. "If it's got a lot of fiber I'm not interested in it."
She suggested numerous Indian markets where needed ingredients are high quality and plentiful.
Reading a recipe is one thing. Watching and doing makes for a whole different experience, and often very different meals. Learning tricks like when making Kheer, or Indian rice pudding, it's a good idea to put a few ice cubes in the bottom of the pan before adding your milk, can make the difference between a sweet dessert and a burned mess that winds up in the trash instead of on the table.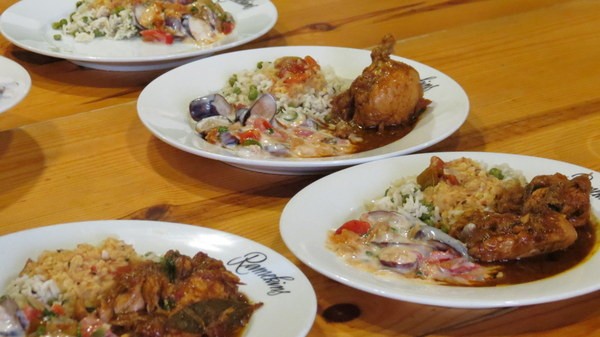 Lunch is served
If you're not in a rush to get home, The Inn at Ramekins makes it ever so easy to spend the night. When you're finished cooking and eating the food you've slaved over, gather your culinary notes and head straight upstairs to relax in one of the bed and breakfast's six rooms before a trip downtown or to a favorite winery. Enjoy the break. Tomorrow, you'll take everything you learned and put it in action in your own kitchen. You'll be ready. The only downside is this time, you'll have to do the dishes. 
Dana can be found on twitter @drebmann