Sweet corn is a staple of summer. Grilled and eaten straight off the cob, it's the stuff of childhood and barbecues. Here in the city, we're celebrating with a collection of the tastiest corn dishes local restaurants have at the moment. From soups to salads to sautés, this sweet summer veggie makes even the most mundane dishes pop!
Everyone's favorite carnival-themed restaurant may have their share of unusual dishes (think a burger sandwiched between two donuts, potato chip nachos, and a fried chicken-n-waffle Monte Cristo), but what they do, they do well. For something a little more traditional, try their Mexican elote: grilled corn-on-the-cob covered in garlic aioli, and rolled in cotija cheese, chili powder, cayenne, and lime. That has summer written all over it.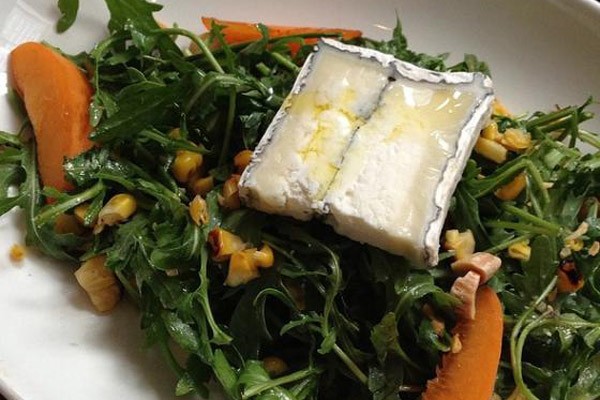 Bluestem Brasserie's Arugula and Corn Salad. Photo by Foodspotting user Arleann.
Bluestem's seasonal menu features corn in more than one dish, so you can pick your poison. Try their wild arugula and corn salad with a champagne-peach vinaigrette, Humboldt Fog cheese, almonds, and fresh stone fruit for a fresh and light starter. Then, choose the pan-roasted California king salmon with blistered Romano beans, topped with a sweet corn sauce. For a heartier meal, try their Ranch Cookout for Two: a feast of Bavette steak, smoked duck sausage, BBQ pork ribs, rosemary lamb leg, vegetables, and a homemade skillet corn bread.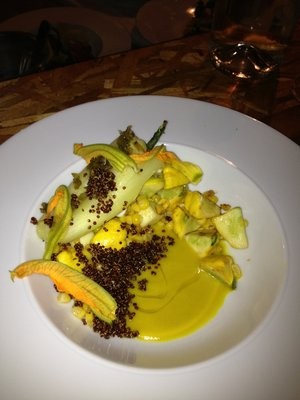 Photo by Yelp user Amanda Bear B.
AQ's menu changes with the season, and this season's menu is all about color, sweetness, and bright flavors. The restaurant currently features the Gypsy pepper in a refreshing dish with smoked corn and squash blossoms, red quinoa, and chevre. The shades of yellows and reds in this dish will have you dreaming of summer sunsets.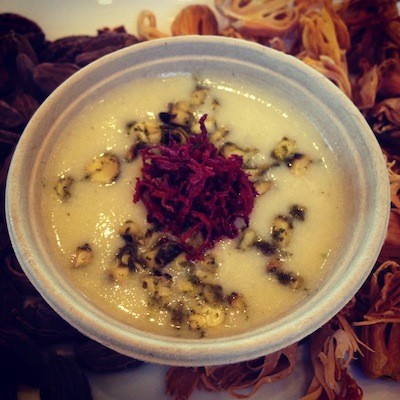 Dosa's unique, ingredient driven menu offers a modern interpretation on Indian dining. Try their summer seasonal tasting menu for a concise and comprehensive meal, or choose your dishes a la carte from their large dinner menu. Either way, their corn and curry leaf soup is a must-try. Coconut milk and corn are pureed into a rich and creamy soup, seasoned with curry leaves and garnished with beets and grilled corn.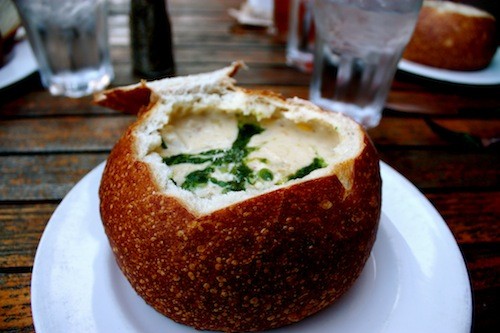 Photo by C'est Christine 
This humble seafood spot on Fisherman's Wharf is known for their homemade chowder in the obligatory San Francisco sourdough bread bowl. And while it may sound a bit kitschy, their crab and corn chowder is nothing short of delicious. Wash it down with a cold beer on their outdoor patio and you've got the perfect summer meal.