It's a simple recipe: Take some of the most beautiful mountain villages you can imagine, add some very untraveled roads traversing dramatic geology,  then toss in some of the best Iberian Jamón (ham) and the freshest frutas de mar (seafood) and stir to create a truly delicious Spanish cycling paella. 

My week in Ronda was organized by the travel division of Mill Valley's Studio Velo Cycling. Having taken some previous trips with them, including a week in 2010 cycling in Catalonia, north of Barcelona, I had an inkling of what to expect. As it turns out, those expectations were not only met, but well exceeded - it was the cycling experience of a lifetime. Here's a brief overview of how that blissful week played out.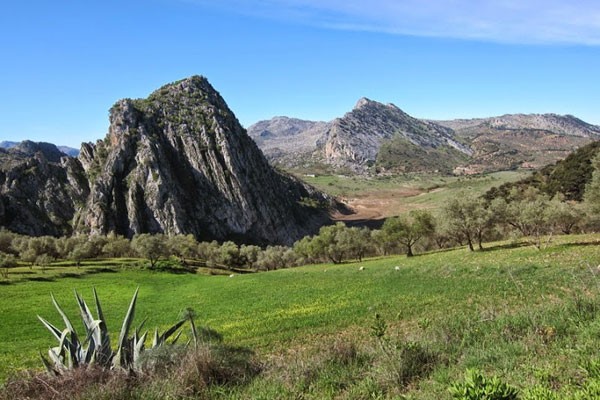 What You'll See - Our Sierras are massive, but for the most part just a single continuous range of mountains. In Andalucía they're more numerous, compact, convoluted, and seemingly older, craggier and perhaps even a bit more dramatic than in California. In the Sierra de Grazalema, the Sierra del Pinar, and the Sierra de las Nieves, the peaks and valleys, in close proximity to one another, compete and contrast for your attention with their alluring beauty.
Vineyards and olive orchards abound, along with acres of shady oak meadows (dehensas) where black Iberian pigs feast on succulent acorns. Another fascinating sight are the extensive forests of cork trees with their lower trunks shorn like so many sheep.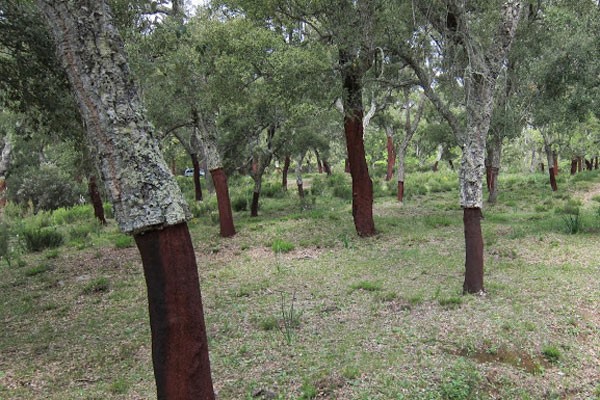 The region is most famous for its Pueblos Blancos (white villages),  each perched, nestled, or draped in a unique way along the mountainsides, featuring narrow, enticing alleys, sun splashed plazas and welcoming residents - especially towards cyclistas. We often heard shouts of go! go! go! as we pedaled through.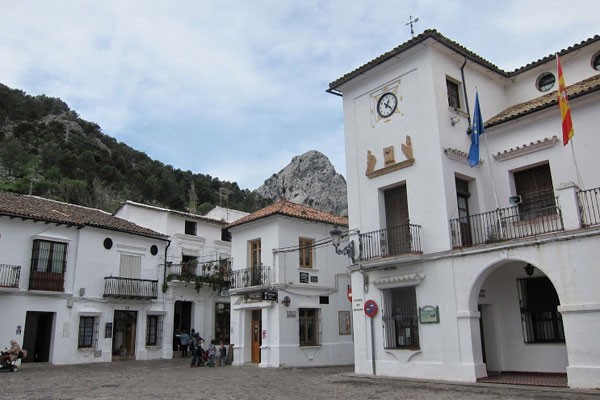 Two of most beautiful villages, IMHO, are Grazalema (above) and Zahara de la Sierra, pictured further down. Each has an equally impressive yet enchanting setting, the former tucked in tight between the mountain peaks of Grazalema Natural Park, the later with a commanding view of the immense Zahara-El Gastor Reservoir and surrounding valleys.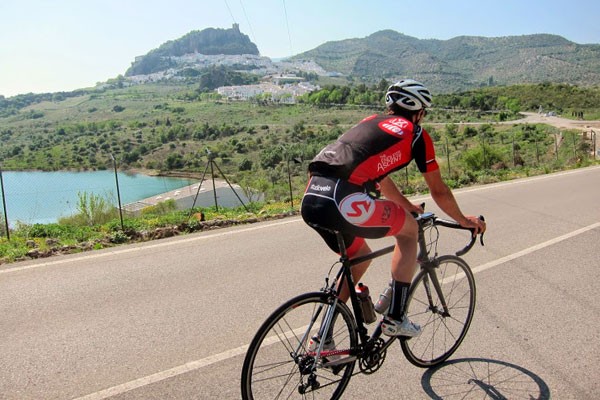 What the Cycling is Like - in a word: awesome. The Spanish roads are generally well maintained and smooth, and off the main-highways traffic is light. As you might expect there are lots of opportunities to climb here, and you'll be well-rewarded with unforgettable vistas and exhilarating downhills. The week was capped with an ascent of Los Reales, the highest point of the Sierra Bermaja, at 4757 feet followed by a rapid 17.7 km descent to the seaside town of Estepona for beachside brews. View a Strava.com map of all the routes.

What You'll Eat – The amazing food I ate in Spain could be an ultimate article by itself. Traveling with a first class cycling tour group means that you eat well (and eat a lot).  Having a private chef prepare you post-ride meals is a hallmark of Studio Velo's cycling trips. Each day, while we were out knocking of the kilometers on our bikes, Chef Chris "Ritchie" Dressick from the StationSF in San Francisco was out scouring the local markets for the freshest produce and seafood. Afternoons saw our patio dining table at our private estate (Finca Maridadi) heaped with various platters mouth-watering of paella or fideo (Spanish pasta), seafood (chipirones-squid, haddock, or salted cod) and various cuts of pork and beef each prepared in a particular Andalusia style. Evenings were typically Spanish with late dining of tapas and salads or out in a local tavern or restaurant.  Particularly memorable was a diner in nearby Ariate at El Muelle, housed in the former train station and run by an amiable ex-pat from Holland named Frank.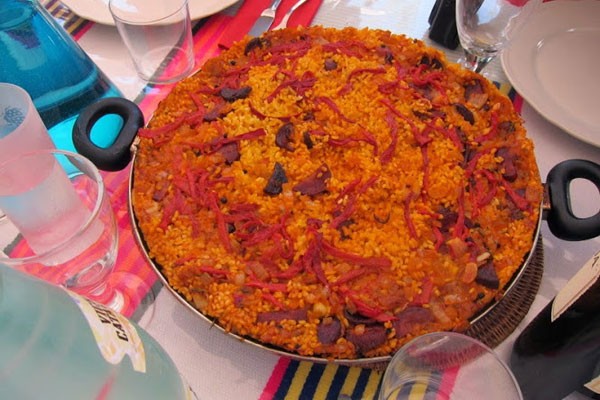 What Else to Do  – This part of Spain has played a pivotal role in history for the better part of two millennia and the land and cities are steeped in history and culture. Dominated by the Moors until their defeat in 1492 by Queen Isabella and King Ferdinand, the region still displays many signs of the 700 years of Islamic rule. Granada and the magnificent Alhambra are just under three hours away, and majestic Seville, with the largest interior volume cathedral in Europe, is just two hours to the northwest. Malaga and the Costa del Sol of the Mediterranean are only one and half hours to the south. Ronda itself is the birthplace of bullfighting and its bullring, the oldest in Spain, has been lovingly restored.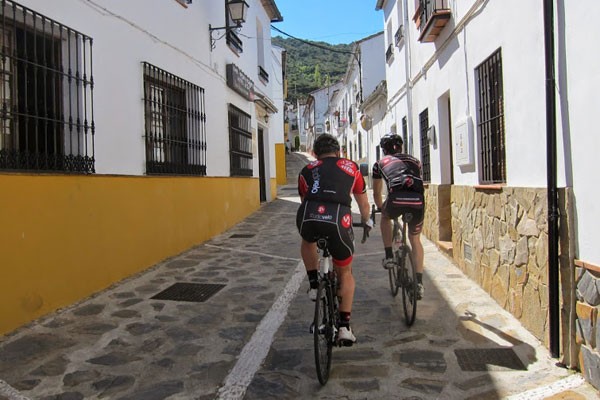 When to Go - Coincidently, our time in Spain coincided with semana santa (holy week), making our day trip to Seville fascinating, where we witnessed a number of religious themed parades sponsored by local churches (below). Spring and fall are the best seasons to visit, as the summer weather is extremely hot. 
How to Get There - Malaga's airport is closest to Ronda, so the most direct route from California is via Paris. Renfe, Spain's national rail service operates regular and high-speed rail to the region from Madrid.
Upcoming Cycling Trips - Studio Velo's  Scott Penzarella reports that Southern Spain 2015 will definitely be on the calendar for next spring; for those that desire a top-notch European cycling trip sooner Scott reports that he still has a few openings left  for their third annual trip to the Piedmont region of Italy on July 26th. Closer to home, they have an Eastern Sierra trip slated for September 22, that should include the incredible climb up to Horseshoe Meadow, a ride we detailed in October 2012 for 7x7.com. All trips offer full SAG, professional guides, maps, nutritionals and airport pick-up for European trips.