By
There are several Bay Area companies eager to sweeten your night of trick-or-treating or trick-or-drinking. Whether you're into ribbons of caramel, coconut or good old fashioned partially hydrogenated vegetable oil, check out these new releases and nostalgic favorites:
Ocho, Lafayette
Co-founders Denis Ring and Scott Kucirek modeled the original OCHO bar on a Snickers with a few modifications: smaller size, organic ingredients, and frequent taste tests from Ring's and Kucirek's kids. As CEO of Bode International, Ring also created the 365 line at Whole Foods. With that kind of brand background, it's not suprising that the company has quickly expanded its line to include a coconut bar (think Mounds but not gluey), wintry peppermint, and my two favorites: peanut butter and dark coffee. The first is intensely peanutty with a hard milk chocolate bottom layer while the second contains whipped coffee nougat laced with black specks of espresso beans. // ochocandy.com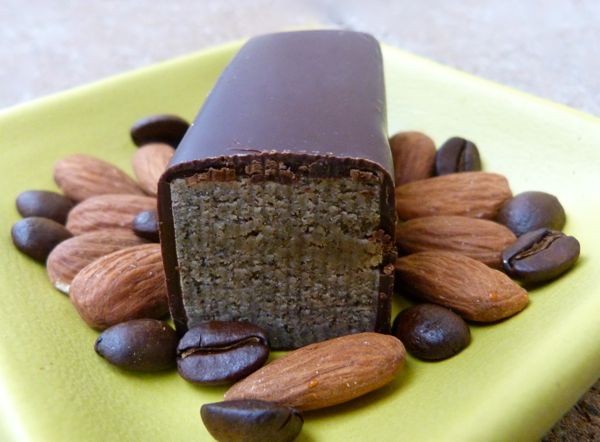 Coffee Vanilla chocolate covered marzipan bar from Nuttyness. (Photo courtesy of Chocolate Banquet)
Nuttyness, Oakland
Marzipan, a paste made from almonds and sugar, is a polarizing sweet in the U.S. where most millennials only know it as the hard molded fruits consumed by their grandparents during the holidays. Growing up in Norway, Kristian Salvesen ate bars of chocolate-covered marzipan, and when he moved to California, he wondered why locals didn't do the same. The Golden State does produce 80% of the world's almonds. Assuming it had to do with the generally low-quality, sugary stuff sold here, Salvesen created his own recipe according to European standards. He uses what's considered the highest quality ratio of ⅔ almonds to ⅓ sugar and cloaks each soft, thick bar in Belgium chocolate. (Salvesen suspects that most American marzipan contains ⅓ almonds to ⅔ sugar.) While his favorite is the traditional Pure Almond, do try his assertive flavor combinations like Lemon Ginger and Coffee Vanilla. And if you crave heat, go with the Orange Cayenne. It'll snap you to attention with fresh orange zest and a burn that lingers long after you swallow.  // nuttyness.com

Rocky Road, Abba-Zaba and Big Hunk, U-no, and Look! from the Annabelle Candy Company, Hayward
As one of the only remaining independently-owned candy manufacturers in the U.S., Annabelle's in Hayward continues to be a family-run operation. Founder Sam Altshule started the company in 1950, naming it for his daughter. Now, granddaughter Susan Gamson Karl controls the business, which still makes her grandfather's original Rocky Road Bars as well as Abba-Zaba, Big Hunk, Look!, and Uno, all of which the company acquired in the 1970s. The formula for Rocky Road, famed for its billowy marshmallow, has not changed, and much of the process is still completed by-hand. The candies are primarily distributed through the West Coast. // annabellecandy.com
Andy's Dandy Candy from Amy's Kitchen, Petaluma
Launched last summer, meet the four candy bars that have joined Amy's line of organic, vegetarian prepared foods. Named for co-owner Andy Berliner, whose father was a candy maker, each is non-GMO and made with cocoa certified sustainable by the Rainforest Alliance. The Crispy bar crams brown rice crisps underneath a thin layer of caramel with crushed almonds in dark chocolate while Crunchy bar is a dark chocolate covered slab of deeply caramely almond toffee that's brittle but won't break your teeth. There's also a Chewy option made with caramel and pecans and a Creamy one with nougat.  All bars come two to a package, making them ideal for sharing…or downing one immediately and saving the other for later. // amys.com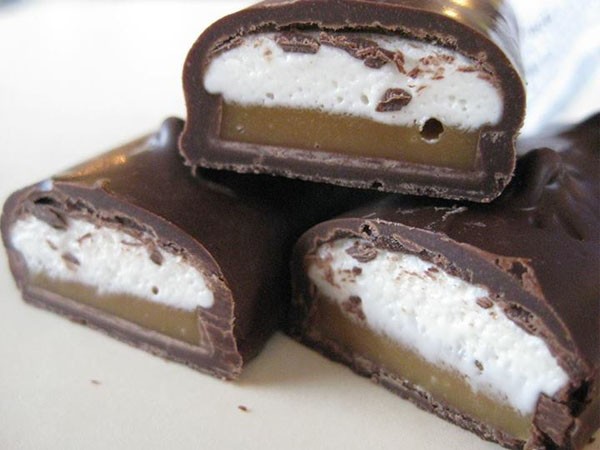 Sasso Bar, (photo courtesy of Sasso Candy Company/Facebook)
Chocolate Bites from Sjaak's Organic Chocolates, Petaluma
Owner Jacques Holten trained in confectionery in his native Holland before marrying his Northern California-reared wife Pam. Their small company in Petaluma emphasizes social responsibility, and the couple crafts a variety of vegan chocolates made with non-bone char sugar, meaning sugar that hasn't been bleached by ground cow bones. For the Halloween candy bowl, opt for the one-bite chocolates filled with peanut butter, orange, or creamy chocolate mint. Those last ones are reminiscent of the green foil wrapped treats hotels used to leave on your pillow. // sjaaks.com
DON'T MISS A BAY AREA BEAT! SUBSCRIBE TO OUR NEWSLETTER.